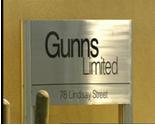 Last month, 30 January 2010, Tasmania's infamous corporate logger, Gunns Ltd, dropped its multi-million dollar defamation suit against environmental activitists protesting against its immoral pulp mill logging threat to Tasmania's old growth native forests.
On 29th January 2010 in the Victorian Supreme Court, before trial Gunns dropped its libel claim against the remaining 13 Tasmanian environmental activists and agreed to pay cost of $155,088 to the Huon Valley Environment Centre and local activists Adam Burling, Lou Geraghty and Brian Dimmick, who protested against the logging of private land near them.
Gunns company secretary Wayne Chapman justified the decision purely as "a commercial decision to avoid the need for a lengthy and expensive court case" saying the case had cost Gunns $2.8 million thus far in legal fees. [Source: 'Gunns payout ends case' by Andrew Darby, 30-Jan-2010].
Senator Brown said the pay-off to the last four defendants amounted to utter defeat for the company.
Gunns' defamation action was a blatant bullying attempt to silence and bankrupt its critics over Gunns immoral environmental destructon of Tasmania for selfish profit. Gunn's corporate bullying action has been appropriately likened to the unethical McLibel case in London in 1989 in which unethical multinational McDonald's Restaurants threatened to sue more than fifty organizations for libel over bad publicity about food poisoning, unpaid overtime, dodgy recycling claims by McDonalds misleading. The infamous law suit was labelled as Strategic Litigation Against Public Participation.and McDonalds stooped so low as infiltrating London Greenpeace and having sex with its staff to gather evidence.[Source]
"In all, the case probably cost Gunns over $4 million — and a lot of bad publicity. It was here that a key precedent was set: a political precedent."
"The whole case generated plenty of bad publicity for Gunns, it damaged their corporate reputation and worked to reignite the corporate campaigning that had triggered the original suit. Forest conservation groups in Japan, Europe and America began campaigning against Gunns' logging practices and targeting Gunns' customers in those countries, while the pulp mill itself became mired in controversy.
Gunns had little social licence left when the global financial crisis sabotaged early attempts to finance the biggest pulp mill in the southern hemisphere — even their bank, ANZ, agreed with critics of the pulp mill and declined to finance it. Gunns' current preferred partner in the mill, the Swedish pulp and paper company Sodra Ltd, is putting conditions on its involvement which will require Gunns to pursue a new model of engagement with the community. It is unlikely that this new model includes suing environmentalists.
The pressure of bad publicity, the risk to the pulp mill project and a court case with little left in it over a protest which took place seven years ago all combined to force Gunns to pull out of the case on the eve of the trial. Gunns stated that this was a "commercial decision to avoid the need for a lengthy and expensive court case". But it was always going to be a lengthy and expensive court case. The fact that Gunns agreed to pay a substantial sum to the defendants to end the case shows the pressure the corporation was under. It was, as a judge described the dropping of claims earlier in the case, a capitulation.
Gunns are still suing 13 other activists in an unrelated case after a protest at Triabunna woodchip mill in December 2008, but, like the Gunns 20 case, it seems unlikely that this case will ever get to court. Rather than dragging out proceedings unnecessarily — only to make another "commercial decision" — Gunns should take another step toward rebuilding its corporate reputation and settle this case."
"The settlement of the Gunns 20 case was a huge victory for those who support free speech and the protection of Tasmania's environment. The world needs to know, however, that Gunns continues to sue Tasmanians who oppose their environmental vandalism," said Gunns 13 spokesperson Warrick Jordan.
"The Gunns 13 are still being sued. While Gunns continue to sue ordinary Tasmanians, and continues to destroy High Conservation Value forests, their hopes of being seen globally as a good corporate citizen are a hollow fantasy."[Source: Greg Ogle, 5-Feb-10, New Matilda]
For a synopsis of the case visit The Friends of Forests and Free Speech
Gunns' arrogant standover attitude is akin to the current Chinese junta engaging in standover tactics to dominate resource markets.
If Gunns desires to earn the right to be an Australian corporate citizen and continue trading in Australia, itt needs to rethink its arrogant attitude and comply with Australian civil, moral and environmental standards. Else its bullying will drive its Neanderthal narrow thinking into extinction. Then so like the demise of the cannibals in the film 'Van Diemens Land, this would be a good thing for Tasmania.