Republished from Voltaire Network. See also: German Intelligence: 95% of free army non-Syrian extremist groups republished from SANA of 13 Jun 2013. The Anglo-American press reports on an internal NATO study (dated June 2013), which takes stock of Syrian public opinion.1
The study shows that 70% of Syrians support President Bashar al-Assad, 20% adopt a neutral position and 10% support the "rebels."
#edf5fa;">See also: Humanitarian Crisis in Syria: "The West should Pay War Reparations to Syria". Interview with Michel Chossudovsky of 9 Jun 2013 (includes embedded interview and text transcription).
Mother Agnes Mariam; UN Human Rights Council; Commission of Inquiry on Syria, 7 June,
Anti-Syrian Blame Game Escalates: Who is Behind Killings of Civilians? of 6 June 2013 on Syria News, Senator John McCain Meets Leaders of Terror Brigade in Syria. The NGOs that Made it Happen of 9 June 2013 by Phil Greaves on Global Research, Syria's Qusair Victory Matters: US-NATO-Israel Supported Death Squads Defeated of 10 June 2013 by Stephen Lendman on Global Research, The Forbidden Truth: The U.S. is Channeling Chemical Weapons to Al Qaeda in Syria, Obama is a Liar and a Terrorist of 14 June 2013 by Prof Michel Chossudovsky on Global Research.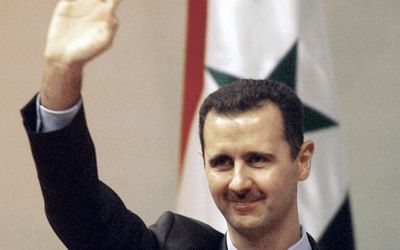 These figures are presented as reflecting a change of heart. The population is tired of the abuses and divisions of the armed opposition. From NATO's perspective, what we are witnessing is not a phenomenon that is occurring in view of the approaching "Geneva-2" peace conference.
For two years, the events in Syria have been portrayed by the Atlanticist and GCC press as a peaceful revolution cruelly suppressed by a tyrant. The Syrian and anti-imperialist press, on the contrary, brands them as a foreign attack, armed and funded to the tune of billions of dollars.
---
[#fntxt1" id="fn1">1] #fntxt1">↑ NATO data: Assad winning the war for Syrians' hearts and minds?, World Tribune, May 31, 2013.
#nonSyrianExtremists">German Intelligence: 95% of free army non-Syrian extremist groups
13 June 2013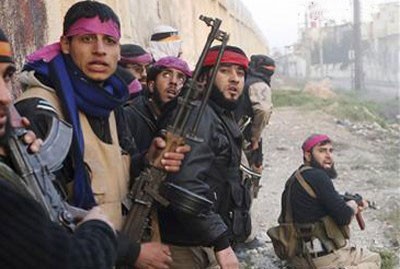 Berlin, (SANA)- German "Die Welt" daily said that only 5% of the armed terrorists in the so-called Free Army are Syrians, while 95% of them are extremist groups which came from several African countries to jihad in Syria baked by the Gulf and Arab countries.
The daily quoted intelligence experts in Germany as saying : "The German intelligence has an official and detailed account of the nationalities of the rebels in Syria and their locations in the country,"
A member of the German intelligence said that some terrorist groups in Syria work in full coordination with al-Qaeda, but the extremist groups are more dangerous than al-Qaeda since they commit genocide against children and women and use them as human shields to achieve the possible biggest number of casualties.
According to a semi-official statistics the number of the gunmen in Syria estimated at 14,800 including experts in many fields like the preparation of improvised explosive devices. Most of those gunmen previously participated in several attacks in Iraq and Afghanistan.
The biggest danger lies in the Arab countries' help releasing Islamic detainees and sending them to Syria with the aim of Jihad against the Syrian state violating the standards of anti-terrorism Conventions.
The armed terrorist groups of the so-called Jabhat al-Nusra have committed a large number of massacres against children, women and elderly in different regions of Syria, the most recently massacre was carried out in Hatleh village in Deir Ezzor Province claiming the lives of over 30 people because of their refusal to support terrorists in their hostile acts against civilians.
H. Zain/ Ghossoun
Topic: