#81F7D8;line-height:120%;">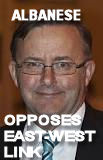 Julianne Bell of Protectors of Public Land Victoria Inc, has approached both ALP leadership contenders on the issue of the East West Link.
Albanese OPPOSES the EAST WEST LINK, questions the 'business case' and points to public transport.
Despite several attempts no view has been forthcoming from Shorten.
(1) Calling Members of the ALP re Voting on Leadership
PPL VIC wishes to advise that we have tried to establish the views of the ALP leadership contenders Mr. Bill Shorten and Mr. Anthony Albanese on the East West Link.. At a recent public meeting at the Wheeler Centre in the city I asked Mr. Albanese about his support or otherwise for the East West Link. He said that he opposed it on the grounds that there was no "business case" for it. He made it clear last year in March when Minister for Infrastructure and Transport that the Government would not provide funds to the State Government then led by Ted Baillieu for a "review" of the East West Link. He pointed to the substantial funding by the Federal Government of the Victorian Regional Rail Link. I have tried unsuccessfully to establish the views of Mr. Shorten. I have have no response to requests for him to contact me on the subject. I have asked a number of people conducting his campaign, including a former Rudd Government Minister, but did not get any information or a response from Mr. Shorten. ALP members have until Friday next to get in a vote on the leadership of the party.
(2) News on Drill Site Pickets in Carlton North and Fitzroy:
SP sent a message on Friday 5 October in the early afternoon saying the following: "Hi all this morning our picketers disrupted drilling on Station Street for a few hours. We now need to use the next few days (over the weekend presumably drilling has stopped) to build more support for our campaign. we want to increase our presence at campaign HQ caravan on crn Brunswick Street and Westgarth Street in Fitzroy but we need your help! If you can come down for a few hours today or over the weekend pls contact Kat ASAP on 0421742452. Thanks!"
On Friday at 6 pm Channel 7 and Channel 9 news covered the protest at the drill site in North Carlton with police hauling off protestors. The Herald Sun on Saturday 5 October yesterday featured an article on Page 4 "Protest Site Turns Ugly" with very indistinct photographs. It is worthwhile having a look at these drill sites. It is quite shocking that quiet suburban streets are invaded by these colossal machines as part of the construction process for the East West Link.
(3) Why Drill in Streets Some Distance from Alexandra Parade and The Tunnel?
I raised the question about why Linking Melbourne Authority is drilling streets in Westgarth and Emma Streets which are some distance from Alexandra Parade and the route of the Tunnel. Jill Koppel of CARA (Collingwood and Abbotsford Residents' Association) wins the prize for finding out what might be the truth of this exercise. She says: "He - a representative of Linking Melbourne Authority" - explained that they were doing the additional drill holes wider away from the route to get an idea of the lay of subterranean features such as a known paleo-channel (ancient waterway leaving a cavity in the otherwise sold rock). He denied that it was in any way to move the route sideways or to construct more off ramps eg 3 additional Holes south on Emma st Collingwood we had begun to surmise (incorrectly) that there might be an off ramp onto Smith St." This illustrates that the EW Link project is a massive monster taking over our suburbs!
Source: Julianne Bell, Protectors of Public Lands Victoria Inc.