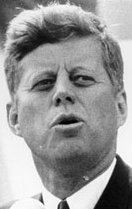 President John Fitzgerald Kennedy (1917-1963) was an outstandingly courageous, kind, visionary, and hardworking leader. Amongst his many achievements, was the prevention of nuclear war on no less than three occasions. For this alone, all humanity owes Kennedy an unrepayable debt of gratitude. Instead of showing gratitude, the mainstream media and the political establishment have chosen to ignore him for most of the time since his murder, particularly in the two decades since the release of Oliver Stone's movie JFK in 1991. As the 50th anniversary of his murder approached, it was not possible for the mainstream media to continue to do so without seriously damaging their own credibility. Instead they are staging a pretense of 'commemorating' the anniversary, whilst concealing or obfuscating the truth about his Presidency and the conspiracy to kill him.
In the two decades since the screening of Oliver Stone's monumental JFK (1991) at cinemas, the mainstream media (msm) has largely succeeded in removing the epic story of President John Fitzgerald Kennedy from the attention of the broader public. Throughout most of the time almost nothing of substance nor anything that reflected well on the late President was said of him. For years at a time, the only mention of Kennedy would be an occasional story about one of a number of alleged sexual indiscretions.
However, as 22 November 2013 approached, the controllers of some of the mainstream media, have evidently judged that their credibility would be harmed if their concealment of President Kennedy continued or if they were not to be seen to speak well of him on the 50th anniversary of his murder.
Phony 'commemoration' staged by the same mass media which made Kennedy vanish
So, some of the msm have construed a 'commemoration' of the assassination, which is ostensibly sympathetic to Kennedy. The material broadcast, for example on SBS, concealed critical facts about his murder, those who conspired to murder him, and the cover-up by the mainstream and phony alternate newsmedia.
The four part biography of Kennedy, of which three have been broadcast so far, is somewhat more informative than the garbage so far broadcast by SBS. However, it falsely depicts President Kennedy as an ineffective leader both domestically and internationally. It makes the demonstrably untrue claim that Kennedy decided to govern domestically, not by doing things, but instead by the use of lofty rhetoric.
It is claimed that Kennedy was humiliated by Nikita Khruschev, when he met him at Vienna. That was news to me!
Quite possibly, President Kennedy may have come off second best during that encounter, but he was a young leader who was learning and, many times, had shown himself capable of taking setbacks in his stride. How the mutual respect subsequently shown for each other by the two leaders and, amongst other things, Kennedy's appeal to mount a joint US/USSR space program, is to be dealt with in episode 4 - if it is at all - will be most interesting.
For its part, the ABC have used the occasion to more openly promote the discredited Warren Commission narrative of the assassination of the late President. Late on 21 November, the ABC published Fact file: 10 unusual facts about JFK's assassination. These 'unusual facts' are little different from what is to be found in the time-worn the Warren Commission narrative.
In recent years, since the first Gulf War of 1990-1991, independent Arab and the Central Asian nations have suffered bloody invasions, death-squad terror, destruction, starvation and disease, through sanctions imposed by the United States and its allies. Many tens of thousands of lives have been lost in Afghanistan, Iraq, Libya, Syria, and possibly as many as 3.3 million lives were lost in Iraq. If Kennedy's support for Arab nationalism from the early 1950's were more widely understood, there would be even less tolerance by international public opinion for the aggression by the government of President Barack Obama. However, even many who speak truthfully about Kennedy's legacy seem unaware of this.#fnSubj_2" id="txtSubj_2">2
Ted Sorrenson's (1928-2010) biography Kennedy tells of how American journalists visiting Algeria amidst the war of independence in 1960 were surprised when Algerian FLN guerrilla fighters enquired about the 1960 Presidential elections and told them that they hoped that Kennedy would win. Prior to his election to the office of President, Senator Kennedy had succeeded in changing the stance of the United States Government from one of support of the French colonists to one of neutrality. After he became President, United States policy was changed to support for the Algerian freedom fighters against the French.
Kennedy's support for Algeria is also described#fnSubj_3" id="txtSubj_3">3 by francophile English historian, Alistair Horne :
"Through 1957 and 1958, official American policy began to change ...

"At home, policy had been influenced by the vigorous campaign of the FLN at the United Nations. Here, the FLN were fortunate in the exceptionally good choice they had made by sending in 1956 their two best-fitted talents to New York, Abdelkader Chanderli and M'hamed Yazid. ...

"[Chanderli] became friendly with the up-and-coming young Democratic Senator, John F. Kennedy. ...

"Support from Senator John F. Kennedy
The FLN had registered its first success at the United Nations by getting the Algerian issue tabled, thereby administering a first rude shock to the French. ...

"... in July, Chanderli's influential friend ... Senator John F. Kennedy, rose to make an important pronouncement in the United States Senate. He challenged Eisenhower and Dulles to 'place the efforts of the United States behind efforts ... to achieve a solution which will recognise the independent personality of Algeria ...' ... No speech on foreign affairs by Senator Kennedy attracted more attention, both at home and abroad, and under such pressure, United States Official policy on Algeria now began to shift. Henceforth, instead of backing France at the United Nations, the United States would abstain. It was a serious blow for the French, and a triumph for Chanderli, Yazid and the FLN. Finally, at the end of December, another success was registered by Algerians when, at a new Afro-Asian conference, hosted by Nasser in Cairo, they were accepted on an equal footing amongst the sovereign powers."#fnSubj_4" id="txtSubj_4">4
"[In November 1960] young Senator Kennedy launched his campaign [for the Presidency of the United States] with some pointed remarks about the necessity of France to withdraw from Algeria."#fnSubj_5" id="txtSubj_5">5
"... everything now seemed to be going for the FLN. Both at home and abroad, the pressures had been mounting on de Gaulle to make peace. In the United states John F. Kennedy, the avowed friend of Algerian Independence, had become president and was soon leaning heavily on de Galle to make peace. If the pressure needed an adumbration, in 1961 United States military aid to France was to be reduced to a tiny fraction of its 1953 total. ..."#fnSubj_6" id="txtSubj_6">6
Appendix 1: Informative material about President Kennedy
Footnote[s]
#fnSubj_1" id="fnSubj_1">1.Hunt, E. Howard, American Spy: My Secret History in the CIA, Watergate and Beyond, Wiley, 2007. ISBN 0-471-78982-8
"Hunt Blames Jfk Hit On Lbj," NY Post, 11/4/2007.
The Last Confessions of E. Howard Hunt, Hedegaard, Erik, Rolling Stone 4/5/2007.
#fnSubj_2" id="fnSubj_2">2. #txtSubj_2">↑ An exception is Thierry Meyssan, author of the article Kennedy, the lobby and the bomb, republished from Voltaire Net.
#fnSubj_3" id="fnSubj_3">3. #txtSubj_3">↑ A savage war of peace — Algeria 1954-1962 (1977, 1987) by Alistair Horne.
#fnSubj_4" id="fnSubj_4">4. #txtSubj_4">↑ Op. cit. pp244-247.
#fnSubj_5" id="fnSubj_5">5. #txtSubj_5">↑ Op. cit. p417.
#fnSubj_6" id="fnSubj_6">6. #txtSubj_6">↑ Op. cit. p463.