"How thick can a political skin get?" writes Victorian wildlife ecologist, Hans Brunner.
Mr. Brumby's minister for the Environment, Gavin Jennings, turns a damning report by the Auditor-General on endangered species into receiving a "pat on the back".
In a media report he welcomes the Auditor-General's report and stating, " The findings are a "pat on the back" as well as a remainder that we must continue working to protect Victoria's unique plants and animals", hence, nothing will change.
He has received this report with a poker face grin and treated it like water of a duck.
Here are some of the Auditor-General's remarks:
• " At the current rate of progress, with existing resources, it will take a further 22 years for the department to complete action statements for the 653 items currently listed threatened."
• " Of those threatened species listed as threatened, less than half had an action statement prepared".
• " The gap between listed items and items with action statements continue to widen."
• "On the advisory list are 2249 species of flora and vertebrate fauna."
• " Listing decisions are compromised by a lack of reliable, up to date, scientific data and limited stakeholder participation."
• " The Act enables the department secretary to prepare formal plans to guide the management of threatened flora, or potentially threatening processes – NO MANAGEMENT PLAN HAS BEEN PREPARED TO DATE."
• " This review concluded that the existing regulatory policy framework for the protection of threatened species is in need for a major overhaul."
• " There is no legal power to compel department or other agencies to complete the directions within action statements. Departmental staff who prepare and monitor action statements relay on GOOD WILL of other departmental and agency staff to undertake tasks in the action statements."
• " The full range of management processes and consideration and control measures available in the act has NOT BEEN USED."
• " The greatest human threat to other species is habitat loss. Accordingly, tools to protect ecologically significant areas of habitat are essential.'
The report also pointed out on numerous occasions on inefficiencies, duplications and limits of resources. What it missed to clearly highlight is that huge amount of time and money is spent on listing endangered species and the production of management plans but no further action is taken or enforced to properly rectify the problems.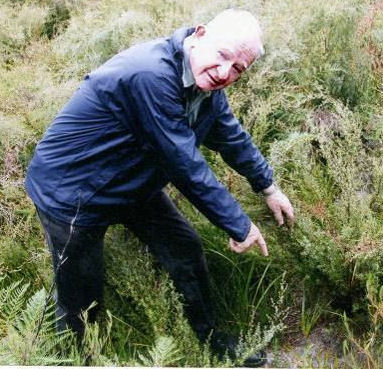 A typical example is the under resourced and incompetent handling of the nationally endangered Eastern Barred- and Southern Brown Bandicoot. Further more, habitat loss is still continuing unchecked with no realistic offsets possible.
If this deserves "a pat on the back" for Mr. Brumby, ordinary, daily work would have to make him immortal.
Hans Brunner
Wildlife Ecologist, Victoria
(shown left pointing out bandicoot activity in the Frankston area, Victoria)