See also: Victorian Architects Oppose East-West Link Proposal of 19 Aug 2013; East-West Link will be an environmental disaster: Australian Institute of Landscape Architects (AILA)of 19 Aug 2013;
Gardens guru Wes Fleming warns of an 'urban development crisis' as national campaign launchedof 15 Aug 2013.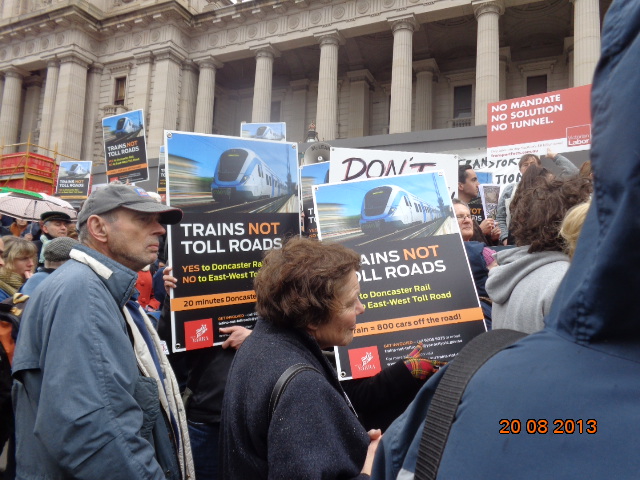 At 2:00PM on Thursday 20 August, Parliament House steps, in Melbourne, were overflowing with protesters today against the proposed East–West Link. Environmental groups especially associated with Royal Park have averted this catastrophe many times before over the last 10 years and hope to do so again. The Victorian Napthine government seems determined to go ahead with the project in the name of linking east and west road traffic either side of Melbourne. This ignores the fact that it has been proven, review after review, that most traffic is headed north/south in particular to the city, not east west.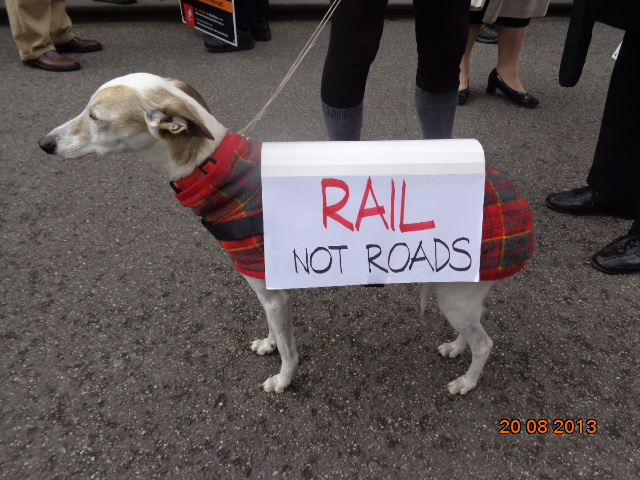 The fallout from this project includes major earthworks in Royal Park which will take over about 20% of what is left of it for about 5 years, permanent loss of amenity for the zoo, especially with respect to noise, loss of the Royal Park wetlands, demolition of historic houses in Collingwood and Fitzroy plus West Parkville, North Melbourne and Kensington affecting about 200 people, and the loss of amenity for those who will not actually lose their houses but will find themselves living adjacent to monster on/off ramps of a busy toll way instead of a park or neighbours in quiet streets.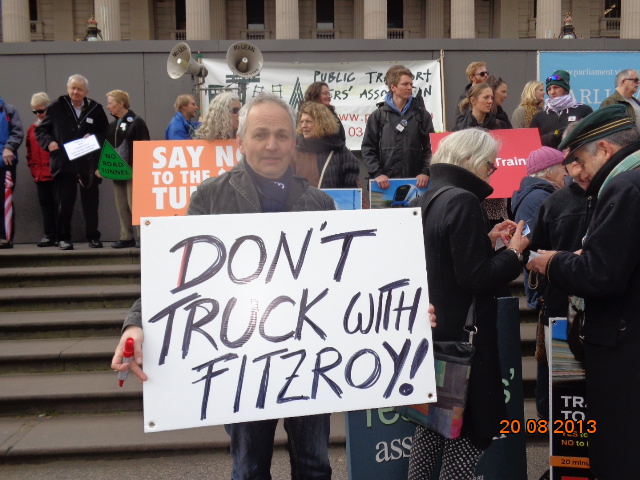 The Napthine government has pig-headedly preferred this road project over the much wanted and needed and much cheaper, much less disruptive Doncaster rail line, a project which would significantly ease traffic coming from the east of Melbourne into the city. Speakers at the rally pointed out that it is estimated that one train will carry passengers equivalent to 800 cars.
The people of Melbourne want rail transport and have proven that when it is on offer, that they will use it.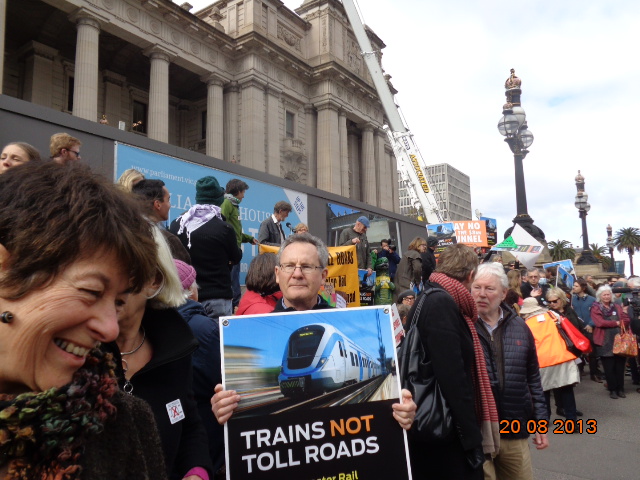 Of course the East West Link is just another largely unwanted project which is part of a government modis operandi facilitating the endless growth of environmentally unfriendly infrastructure accompanying endless population growth.
Nothing was said at the rally about the endless growth paradigm. Speakers were State Opposition leader, Daniel Andrews who now belatedly is making no bones about being completely opposed to the East West Link project; Greens Upper House MP Greg Barber, enthusiastically pro rail and anti the EW link; Richard Wynne, Labor Member for Richmond (an electorate threatened with destruction by the EW Link) was decidedly in tune with the rally, Cr. Jackie Fristacky, Mayor of the City of Yarra, who has lead the charge all along against the EW Link and for the Doncaster rail link; and lastly, Tony Morton, Secretary of the Public Transport Users' Association touchingly and very appropriately invoked the memory of the late Dr Paul Mees, academic and passionate public transport advocate in calling for the government to make a decision for the people, for public transport.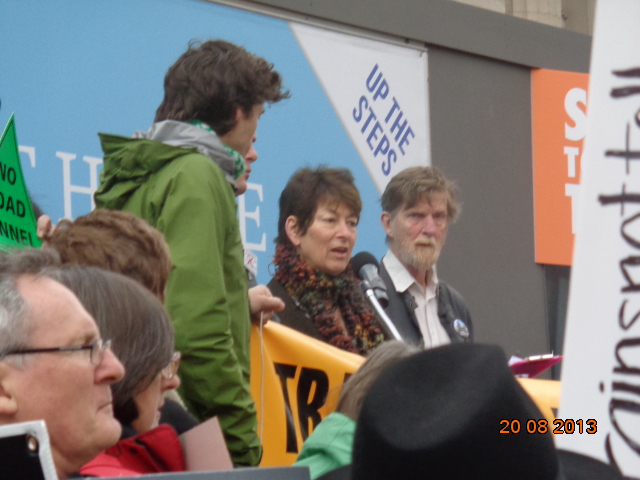 As I walked away from the rally with 2 of the participants, one of them ruefully said to me. "I just wonder what these people in government think they are doing since we constantly have to remind them of our needs and wishes and that we are actually here."
Fair comment!
Topic: