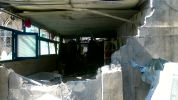 ALEPPO, SYRIA, October 5, 2015: I hesitated about sending this information, as it's only a little detail in a huge long conflict. Then I thought it was better to share such photos, the ones you never see in the daily propaganda against Syria and its people and government, who are facing such random attacks daily. I also talk about how Syrians seem to feel about Russia coming to help defend us against the terrorists.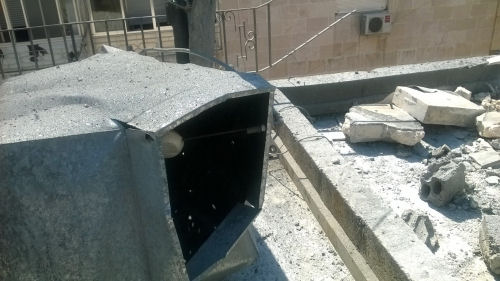 This is a roof of 4-story building, that was shelled by the terrorists yesterday. The building is on the way to the Military Hospital, so shootings and mortars hit it from time to time accidentally, while targeting the hospital.
A cooking-gas-cylinder bomb damaged two water cisterns on the roof, a solar cell heating system for water, plus a room that looks like a studio with a master bed and toilet. Window glass on the 4th floor was shattered.
The Syrian Arab Army [the national army defending Syria] investigated the spot and removed the shrapnel from the bomb.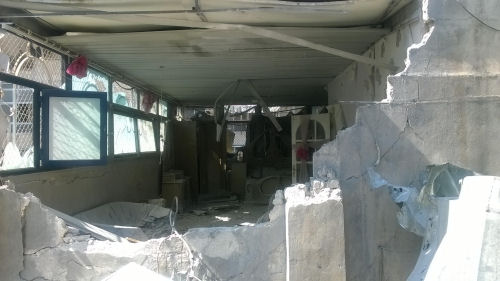 How Syrians seem to feel about Russia helping the Syrian government
I was asked for my assessment of the morale of the Syrian people in the post-Russian intervention phase. It was commented that across the world there seems to be a genuine support for the Russian role in Syria.
I can say that almost everyone I have met over here and everyone one I know online, in other Syrian provinces or among the diaspora, supports the Russians and their coalition with Iran, Iraq, Syria and Lebanese Resistance against the terrorists.
I wish to see the end of this nightmare before the end of the year. That dream is closer now, thanks to the Russians, who are targeting the real bases of terrorists, not just claiming to do so like the U.S. Coalition.
Only now, terrorists in Idleb are fleeing to Turkey, and the ones in Reqqa are fleeing to Iraq.
Some people have expressed fear that this could be a new trap for the Russians, like the one in Afghanistan back in the 70's and 80's. However I am guessing that they learned their lesson and won't make the mistake again.
I'm waiting for the Russians to start intervening in Aleppo. So far nothing happened over here. But they are preparing the arena for it.