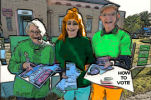 After the recent elections where I have been actively involved with campaigning and handing out how to vote cards, I have tried to gather some understanding of the Australian political psyche from talking to people and then from puzzling over the results of the various elections. Of course there probably is no such thing as an "Australian political psyche" since we are NOT in fact one but many (too many, actually with the population at over 24 million and the effects being felt very keenly especially in Melbourne, Sydney and Perth). It's hard enough to understand just one person's political psyche without trying to understand the nation's whole populace!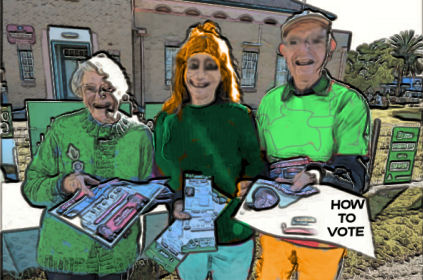 All the people I spoke to at the polling place yesterday largely remain an enigma to me. By the end of the day, it became apparent how fragmented most of the political views were. Or was it that I was not getting a real overview but just seeing a splinter of something that was important to each that prompted them to engage by doing as I was - distributing How To Vote material, or by being there to vote and entering into conversation?
My party was the "Sustainable Australia Party." A man giving out Liberal HTVs sneeringly asked me "what's sustainable? It's just an abstract term." I replied, "It's no more abstract than Liberal." He then agreed with me.
I had as many curious conversations as I had the energy for with Greens, and Liberals, one with the actual Labor candidate which was tinged with what I read as, "God I wonder if I really should be speaking to this person, I've got no idea what this party is and no urge to find out."
One conversation was with a young ex-policeman from the David Lyeonhelm (un spell-able) Party who was there as he was in favour of more participation of smaller parties. He mentioned, as something he objected to, the amazing number of traffic offences there are in Victoria that people can be booked for. The obvious examples are the large number of speed limit changes within small distances - a recipe for errors on the part of unsuspecting motorists. He thought they were way beyond reasonable. Population growth was not mentioned in this conversation but in fact fines for minor traffic infringements are a benefit to the State from population growth and a dis-benefit to the public who are caught in the state infrastructure web of fines.
A young woman outside the entrance to the school where the polling took place was gathering signatures on a petition against a "sky rail" which is to cater for increased traffic, fix up crossings and enable more capacity on the trains because of ……..population growth. Inside the gate was a Greens representative in green tee-shirt who told me she was opposed to the anti-sky rail woman's stance because the overcrowding has prevented her from using the trains, although she wants to.
"This will fix it", she said. She had no idea of the underlying cause of all this. I think I could sum up her view like this: People are moving into the area because they like being close to public transport. They prefer to spend "$900,000 on a unit" in the area rather than on a house further out. This explains why all the old houses are being knocked down for units. It's a trend - nothing to do with outside forces.
I could characterise the day by saying that people raised many issues that related to population growth, but did not acknowledge this as a cause. I raised it and got the occasional agreement but no great epiphanies.