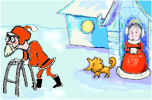 Santa is feeling the pressure of increased work as population and density of housing in cities increases. He sympathises with the nurses.
'Twas the night before Christmas and Santa was stressed
His elves overworked but doing their best,
To keep up the good work which grew more and more
To satisfy children entitled by law,
To a visit from Santa on December 24
Down steep sooty chimneys and then out the door.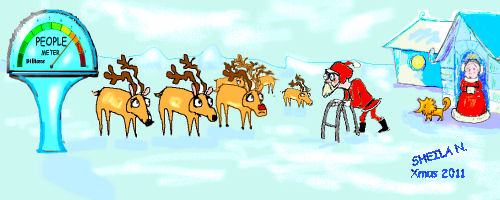 "There're too many houses and too many toys
To make and distribute to girls and to boys!"
Cried the elves overworked to skin and to bone ,
Stressed out of their brains while they talked on the phone,
Of how to deliver those millions of presents
When the moon on that night would be only a crescent
And since their last trip,10 million new houses
Awaited delivery of toys and of blouses,
They knew from last year the work had expanded
Crafting millions more toys e'er Santa landed
Back at the north pole from his twenty ten orbit,
Which took him so long he was candidly morbid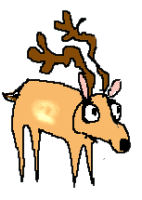 Crying "How can they ask for more work each year?
Productivity improvements come very dear
To us in our workplace we cannot do better
Please think of our health and do not send letters!
There's too many of you and too few of us,
Our reindeer hang in there and don't make a fuss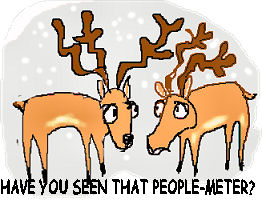 But when they look for a house and then they find eight.
Poor Santa gets worried as he's running so late!
Those planners and pollies do not think ahead,
Not even to the night when their kids go to bed
Expecting one man to come to ever more homes
With wonderful trinkets and be-jeweled combs."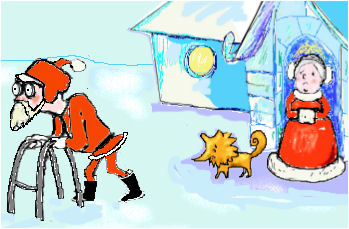 "It's all very well for them and for theirs
I now have to climb all those millions of stairs!
I'm not getting younger and neither are they
But their superannuation will save the day.
Like all those dear nurses, I love what I do
But pressure from others just stuffs me up too."