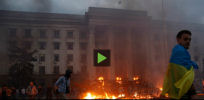 Video inside: I am absolutely sickened by Australian, US and other pro-NATO reports of what is going on in Ukraine. Friday 2 May 2014, right-wing Kiev junta supporters set fire to the Odessa Trade Union building, then lay in wait, 'like wolves' to beat up anyone who escaped. Day after day footage has been available for anyone who wants to see what is really going on, from ordinary people, unarmed, trying to stop tanks with their bodies. They are filming with mobile phones as they struggle, trying to show the world that they are peacefully protesting, yet pro-NATO media hardly show this. I hereby include a link to the Russian media reporting on the Odessa massacre today. If a third world war begins in this region, I think it is 'our' side that will be to blame. First in line for blame will be Australian, US and similar careerist reporters who shamelessly comply with news-doctoring the information that Australians and other NATO-aligned countries receive about Odessa and the surrounding region, which includes Syria. Candobetter.net formed largely to attempt to provide a voice for those whose voice is dismissed by the commercial and government media in Australia and elsewhere.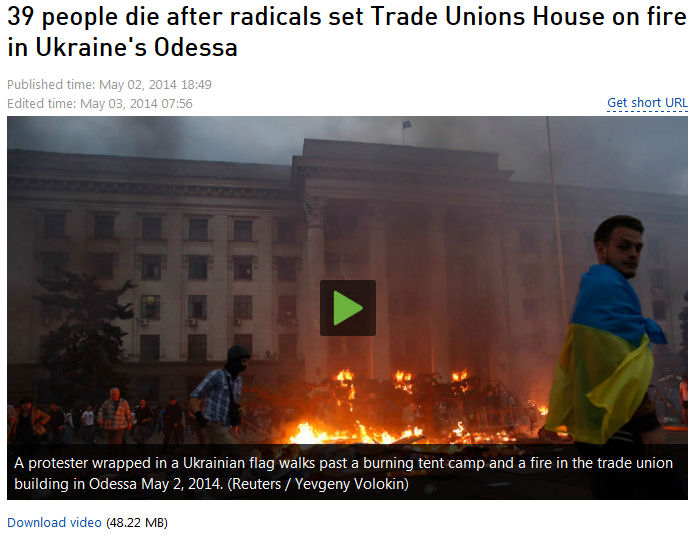 Someone recently asked, what has candobetter.net got to do with foreign affairs and what is our expertise? We are a website for reform in democracy, environment, population, land use planning and energy policy This issue fits in under population and energy resources, as well as democracy. Under population, this kind of event creates refugees and Ukraine is about to become part of the entire refugee-asylum-seeker diaspora from around the East and middle East, due to the warmongering of pro-NATO politicians. Under democracy, it is clear that NATO is against referendums and is misleading the world about how people in Ukraine feel about the junta in Kiev. Yes, J-U-N-T-A. Under energy resources, this region is the site of massive piped transports of oil and gas from the Caspian Sea and surrounding areas to Germany, Britain and China. That is what NATO is messing around with. Russia has to defend its position here because if it allows NATO-et al to take over Ukraine (which most of the people there do not want) then it will have allowed NATO forces to isolate it, preparatory to seizing oil and gas in the region in order to dominate energy production and providing another jump-off spot to predate Middle Eastern resources. For more on this see my detailed article, "Why are we warmongering in the Ukraine and nearby?" My qualifications for analysing events in this region are as below, but I am also in discussion with other people who have complementary qualifications in political history.
Background to opinion
Sheila Newman's research thesis for environmental sociology, "The Growth lobby in Australia and its Absence in France" (pdf - 100,000 words plus) , was about differences in the way that Australia and France adapted their population, housing and environmental policies after the first oil shock. It contains an historical comparison of pre-oil shock oil-economics in both countries. Later she was co-editor for the first edition of Andrew McKillop and Sheila Newman, The Final Energy Crisis, Pluto Press, UK, 2006; and sole editor for Sheila Newman (Ed. and Author), The Final Energy Crisis, 2nd Edition, Pluto Press, UK, 2008, which is a collection of her work plus scientific articles by nine scientists in disciplines ranging from particle physics through agriculture to environmental science and one economist. In 2013 she published, Demography, Territory, Law: The Rules of Animal and Human Populations, Countershock Press, 2013. [Paperback and Kindle.] The second in the Demography Territory Law series: Demography Territory Law 2: Land-tenure and the origins of Capitalism in Britain, is due for publication by June or July 2014 and asks whether the confluence of coal and iron in Britain caused its massive population growth, assisted it, or followed on from it, whether capitalism was inevitable and why it happened in Britain rather than elsewhere in Europe.