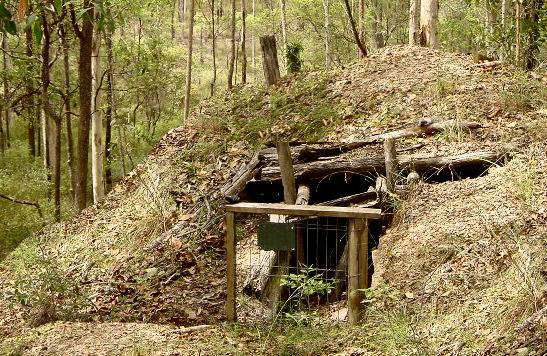 #DisappearedBunkers" id="DisappearedBunkers">The bush-fire bunker, once common in Australian country towns, has mysteriously disappeared.
Important: See, also, article "How misconceptions about bushfire bunkers may cost lives", which disputes some of the content of this article and comments.
Living in a designated "fire storm" area as I do, I've gone to great lengths to find out how best to protect my home. In fact, the whole house was built with fire in mind, but whether or not it would stand up to the cyclonic wind and fire associated with these latest fires, well, who knows?? You simply cannot prepare for a day as bad as that was. Some say it's a 1 in 70 year event, others are now saying that because of climatic change, it will become a 1 in 15 year event. Time will tell.
The question of shelter is, of course, very present in peoples' minds today.
#ExtensiveUse" id="ExtensiveUse">Fire bunkers were once used extensively
It could be that, the best protection you can have is a fire bunker. These were used extensively during the earlier part of the 1900's around towns and timber milling operations. All they were was simply a ditch dug 3 or 4 foot into the ground, preferably in a cleared area, covered with logs leaving a small entrance and exit at both ends and 2 foot of earth piled on top. The way they work is that under the smoke and running along the ground is a two inch layer of cool air. The fire brings it with it to keep burning. As the fire front passes over the bunker, cool air enters the open ends. Radiant heat travels in straight lines and so passes over the bunker. You don't need doors or anything fancy, although in today's age, you'd need very sturdy beams or logs in case a 4x4 fire truck ran over the thing. In fact, some of the last bunkers to be built were clearly marked both for ease of entrance and to prevent being crushed.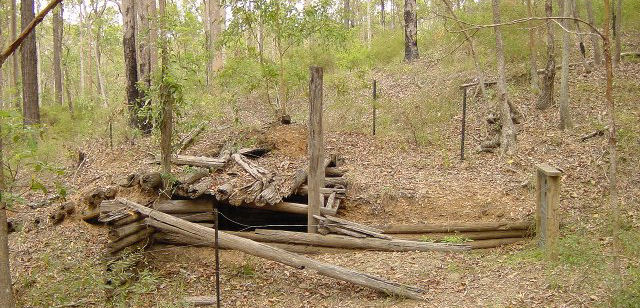 #BelowGround" id="BelowGround">Bunkers should be below ground-level, not in raised banks
I've been advised against tunnelling into a dirt bank. The trick is to get below ground level where the two inch layer of cool air can enter the dug-out/shelter.
I recently read in a book of old Australia where a fire came through a timber cutters camp. The manager, who had a residence and small family in situ, had his men construct a tunnel into the wall of an adjacent hill as protection against a possible bushfire. It had heavy calico or Hessian covering the entrance. In the event of a bushfire, that was the place he intended to shelter with his wife and children. The men, on the other hand, had to make do with an old abandoned mine shaft. It was a 'drive' into an adjacent hill and had a short right angle turn a several feet inside the entrance. It too was fitted with a heavy Hessian flap and a drum of water with buckets was situated just inside the entrance.
Of course the inevitable fire came through and the family took it's place in the specially constructed tunnel, the other workers in the old mine. The workers splashed water from the barrel onto the Hessian for some time, taking it in turns while the others stayed out of the direct path of the radiant heat by sheltering around the bend in the mine. When the fire had passed, the family in the constructed tunnel were found to have perished, the radiant heat which travels in a straight line got to them in minutes.
#SaintFillans" id="SaintFillans">Document indicates lives saved by a big bunker somewhere near St. Fillans.
www.abc.net.au/blackfriday/oral/oral_mick_omeara.htm
"(...) Now he shut the engine off and of course all the blokes were watching him do this and they started to mill around him and somebody said 'Right, well we'd better get to the dug-out'. (...)

"(...) And then he thought, well he'd run down to his house, which I suppose was about 100 yards away from the mill, down a track, like a road, and he ran down towards it, because in his house he had two suitcases on the bed, and the only 50 pounds he had in the world were in those two suitcases. (...)

"(...) Now he was a young man, he'd be 24 or 25 I suppose, he wouldn't be much more and he was as fit as a fiddle, but by the time he got back near the dug-out, he was blind. Blind with smoke. And he didn't know anywhere, he didn't even know where the dug-out was because it was that smoky.

"Suddenly the fire was everywhere and he said it was as black as night. He said he was blind with the smoke and flying embers in his eyes. He couldn't see and the only thing that saved him was that there was an old bloke that he used to work with, a fellow called Sid Smith, he came from Yarra Junction.

"Smithy came out of the dug-out because he knew that Tom had headed down towards his house and he started singing out, 'Over here Tom. Hey, Tom, come over here', because Smithy couldn't see Tom either.

"Tom said that he heard Smithy's voice, and yelled out to him that he was blind and Smithy came out of the dug-out and they yelled at one another, and they gradually got closer and Smithy came over and grabbed him and took him into the dug-out, otherwise he would have been dead. He was very lucky, if it wasn't for old Smithy, he would have been dead.

"About eight hours I think they were in the dug-out. This happened at about nine or 10 in the morning and when they were walking out they had to walk from the mill out to Warburton and they were joking and happy to be alive. (...)"
St. Fillans, is described as "down along the Acheron Way about six miles - where the junction of the Marysville Road and the Maroondah Highway meet."
Editor's note: About the illustrations: The illustrations were mocked up from several photos, mostly from this page, which tells an interesting story. "Possible crash of a B-25 Mitchell in the Bunyaville State Forest, Brisbane on an unknown date. About 60 meters away from the crash site, there is a wooden and earthen bunker structure.
American munitions disposal activities in the forest caused a bushfire in late October 1944 when hot bomb fragments ignited the undergrowth. In July 1945 the Australian Military Forces notified the Forestry Sub-Department that they no longer required the bunker and that Forestry could regain possession of the site.'