See also: Major Media Keep Propagandizing for Hillary Clinton (4/5/15) by Eric Zuesse.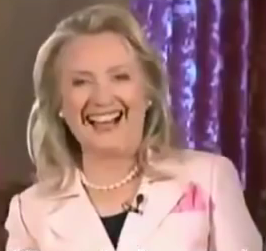 In the video embedded below,
Hillary Clinton bursts out into
laughter after her fellow inter-
viewee says, "then we ought
to take [Iran] out" - Feb 2012
Hillary Clinton is not a liberal - no more than Bill Clinton was a liberal - these people have absolutely no moral compass or political principles. They are opportunists of the worst kind - they are virtual psychopaths who will do anything and say anything in order to obtain power. Hillary Clinton was a "goldwater girl" back in 1964 - she was a right-wing Republican. But when she found it more convenient to pretend to be a liberal in order to obtain power, then she pretended to be a liberal. But make no mistake - the Clintons have NO principles at all.  1 
Follow us on Facebook | http://fb.com/handsoffsyria
In this video Hilary Clinton admits that the US government created and funded Al-Qaeda in order to fight the Soviet Union, and she even considers that as a good thing. But she claims that the Americans are fighting Al-Qaeda nowadays.
Well, if you really fighting Al-Qaeda, then who are the scum and terrorists you used in order to topple the government of Gaddafi in Libya?...
The American media describes "Aldel Hakim Belhaj" as an x-terrorist or as an x-jihadist. How funny and hypocritical!
...
Al-Qaeda didn't leave the US government bed ... Let us review the history and see that Al-Qaeda acts served only the US foreign policy ... Al-Qaeda terrorists are multipurpose fighters who are being used efficiently by the US government ...
Follow our Facebook on: #10;<p>Follow our Twitter on: <a href=" http:="">http://twitter.com/handsoffsyria
Footnote[s]
#fnHc1" id="fnHc1">1.#txtHc1"> ↑  This comment, about the video by Steven Yourke embedded immediately below, was published '3 months ago', as of 19 May 2015. The length of the video is 1:30:16.