The New South Wales Australia Premier, Dominic Perrottet, a practising Catholic with six children and a seventh on the way, took over from Gladys Berajicklan, a childless, unmarried woman. He took over on the occasion of her sudden resignation, when she found herself the subject of an inquiry into her most deeply personal feelings about a member of parliament who had taken backsheesh for organising property deals. Gladys had tightrope-walked the COVID-19 epidemic, managing somehow to steer a path between the public and the commercial lobby, notably Australian property developers.
Not so the new Premier Perrottet, who only three years previously, had condemned the political practice of using mass immigration to bolster the impression of economic growth, whilst trampling democratic wishes. (See "2GB Interview: Perrottet 2018: 'immigration a lazy and costly economic 'solution''"  There was close competition to replace Gladys, and it seemed to require him to reverse his previous stance.
Immediately, he announced that he was going to start up mass migration in greater numbers than ever before, an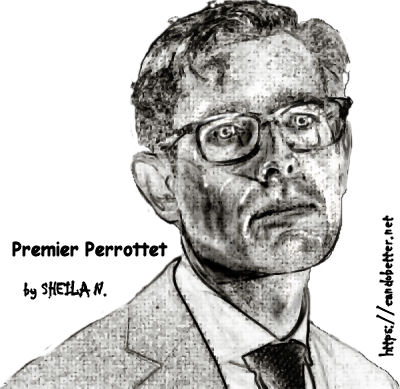 d he intended quickly abandoning COVID restrictions, opening Sydney and NSW up for 'normal business'.  He accelerated the plans for opening the state that Gladys had put in place, even as the new Omicron variant of COVID-19, many more times infectious than any variant previously seen, began to turn up in the community.
Briefly, and irrelevantly, he put in place rules stopping people coming to Sydney from or via Africa - but Omicron, by its very nature - had already travelled invisibly well beyond Africa. Almost nothing was known of the new variant, beyond some hopes expressed by some South African doctors, who had had barely a fortnight to observe its behaviour, that Omicron was apparently much milder than Delta or the previous variants.  There was a caveat though - because elderly people tended to avoid crowds in order to avoid COVID, no-one could say if they might still be more vulnerable than other population cohorts. After a few days, various virologists, epidemiologists, and pharmacologists, suggested, and then agreed, that booster shots of most vaccines would probably sufficiently arm the elderly and any other vulnerable demographics.
 No-one, especially not the Prime Minister or Dominic Perrottet - seemed to consider that there would be a delay before most people could qualify for and obtain a booster vaccination, nor how long it would take - perhaps three weeks - until it reached full effect. No-one seemed to consider, either, that second doses of pre-Omicron vaccines had been given earlier and earlier to cope with the experience of COVID-19 Delta variant, a practice that reduced their efficiency by as much as 30 per cent or more.
Ignoring medical advice, or any precautionary principle, on the basis of saving the economy, the NSW government powered ahead as Christmas approached.
Models were built at the end of 2021, estimating how many people would have COVID-19 in the new year, but within days, Omicron raced past them. According to daily graphs on ABC Australia News, Delta-variant cases and deaths in NSW had been dwindling against all odds - once again vindicating the previous tight-rope-walking Premier, but now they began to double, daily.
Still Premier Perrottet went ahead with his 'opening up'.

It was reported approvingly that people were going out, getting together in large groups and celebrating Christmas and New Year, at least young people were.  The elderly and the not so young were more circumspect.  Cases started showing up among the young, who then began to tone down their activity.  Pretty soon, only a few days into 2022, it was as if Australia had gone into voluntary lockdown, despite the rapidly disappearing legal restraints. The economy was going backwards again, despite the very religious Premier Perrottett throwing his people to the wolves to satisfy Mammon.
The queues to get PCR tests stretched for kilometers. People slept in their cars in the hope of advancing in the queue, only to get to the testing tents and find that they had closed. Pathology labs made dreadful mistakes, declaring thousands of people as testing negative for COVID when they were positive, and positive when they were actually negative. Pathology labs could not cope, and closed down. Or went on holidays.
A bit of a stick was thrown to the drowning, in the form of "RATS" or Rapid Antigen Testing kits, which are less reliable than the PCR ones. Almost immediately, the supply ran down to a staccato over-priced dribble.  There were calls for RATS to be free, but Prime Minister Scott Morrison (a devout Pentecostal) thought that would be exaggerating - or words to that effect.
As the cases climbed, hospital staff diminished, either because illness took them out, or because they had a close association with someone infected with COVID-19.
Now rules were being bent, so that if you had few or no symptoms, you could go back to work in a hospital. After all, you would be wearing PPE.
If you were elderly, or fat, or had underlying health issues, or associated with someone in those categories, you realised that you needed to get the booster, at the very least, and then to wait about three weeks.  'Seniors' received SMSs urging them to book for boosters in government clinics, at pharmacists, or with their GPs, as soon as they were eligible. Soon the 'authorities' reduced the waiting period required after your second dose of the previous vaccine sequence, and the lanky Premier Perrottett grinned tetanically, rubbing his hands like an avuncular praying-mantis, as he recommended people get the booster-shot.
The problem was that all the booster shots at the government clinics were booked out, and GPs and pharmacists ran out of their allocations almost immediately. Using the websites to book in any of these categories was disturbingly circular and unrewarding. Every day, as we turned on the news, the numbers were growing. At first newsreaders expressed some surprise at how fast they were doubling, but they must have learned about the exponential function, and stopped being surprised.
And, even then, no-one could know how many people were infected, because the testing clinics had long-since stopped being able to keep up with demand, even though people were urged to stay away from them, unless they absolutely had to know that they were infected for work or some other reason.  Everyone else was urged to test themselves with RATS, which almost no-one could obtain. And, anyway, the results of those tests were not reported.
Then they started getting people to report their RATS results - those who could obtain the tests.
So, you can see that the quality of the stats was plummeting.
We were now really down to counting the numbers of people admitted to hospital, to ICU, and dying. 
Trade in clothing shops was down 70%, same for restaurants, pubs.  
Now it was not just the nurses and doctors who were being decimated.
The newsreaders became unfamiliar, as the usual ones went off sick.
Worse, the truck drivers and workers in essential industries, like the meat industry, were going off sick like nine-pins.
Supermarket shelves were emptying again.
This authority and that authority (they were disappearing too) counseled us all not to hoard food or toilet paper …
Stranger than strange, in the middle of all this, after President Trump had withdrawn from the 1987 Intermediate-Range Nuclear Forces (INF) Treaty, his successor, President Biden, with Russian President Vladimir Putin, concluded a new nuclear arms reduction treaty on the 3rd of January 2022. Russia, the United States, France, the UK and Northern Ireland, all agreed to this new hope for the world, yet only the Kremlin and one youtuber reported it.
Meanwhile, Julian Assange remained in the dungeon of a British Prison, awaiting his US torturers.
Some of us may have wondered if we were already dead, and if this strangely reductionist, depleted, disorganised dream of a pandemic virus that we could not defend ourselves against because of our just-in-time growth economies with their massive rapid-fire real-time turnover, was just the random firing of necrosing tissues as we lay in a cosmic field somewhere, waiting to join the stardust.