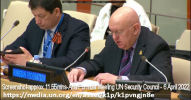 This was a presentation of videoed interviews, by multiple journalists, of Ukrainian complaints about war-crimes committed by Ukrainian Nationalist soldiers.  Unfortunately, but predictably, some US-NATO allies did not react to the actual material presented, but used the forum to promote, yet again, the same positions that saturate the mainstream media, and to accuse the Russian Federation of promoting disinformation. The complacency of the US-NATO side would be comical if it were not so lethal. The French ambassador to the UN missed Russia's presentation entirely, but lectured the Federation, undeterred. Some delegates expressed sincere concern about the role of the mass media in fueling polarisation, and we have highlighted those remarks. Below we have summarised or quickly transcribed most of the statements by UN member countries present. Strong accents and imperfect English sometimes made it hard to transcribe every word with strong confidence. Please let us know where you find errors in the transcriptions.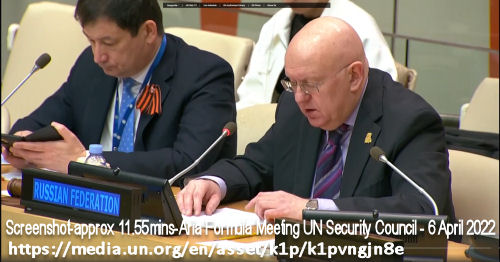 https://media.un.org/en/asset/k1p/k1pvngjn8e
Mexico called for independent investigation and honoring of the Rome Treaty.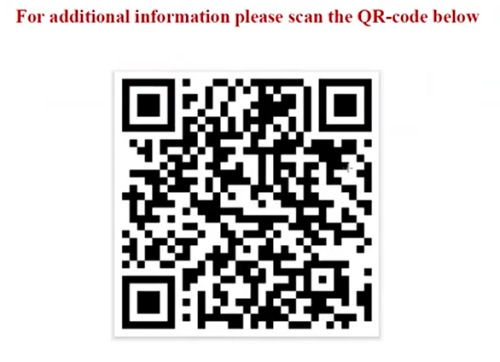 FRANCE: The French Ambassador set about countering Russia's claims, despite the fact that he had not actually heard the presentation, having arrived after it had finished. Although he was not  present during Russia's presentation of its view of war-crimes in Ukraine, France's representative announced that he would like to counter Russia's narrative about the events before 'the aggression of February 24, 2022'. He said, "France has worked tirelessly since 2015, together with Germany, for the implementation of the Minsk Agreements, to which both Russia and Ukraine had subscribed, in order to put an end to the war in the Donbass. The implementation of these agreements was not an easy task, but it was a peaceful way to resolve the situation in the region. It was Russia, and Russia alone, that choosed to put an end to the path of dialogue and negotiation, and to resort to violence and destruction. Mr President, in the headlong rush to justify what cannot be justified, the Russian authorities are resulting through the worst outrages. The historical manipulation that the Russian Prime Minister and his ministry are indulging in on the atrocities of the Second World War is just abject. We condemn this unacceptable and abhorrent rhetoric. We will continue to fight against Russian disinformation in Ukraine. This outrageous and dangerous the Russian authority is by trivialising hate speech, enabling the worst atrocities to take place. It must be held accountable."
RUSSIA: The Russian Federation presenter thanked the French Ambassador and added that he wished that the French Ambassador had been present at the beginning of the meeting in order to listen first-hand to the uncensored witnesses that Russia had presented on the atrocities.  To spell out the implication: The French Ambassador had  come to the UN with a prepared speech condemning Russia, failing in the most basic elements of justice by not actually hearing Russia's case or the relevant testimony of Ukrainians.  (Of course, if France considered and found merit in Russia's claims, France would have to withdraw its support from Ukraine.)
UNITED ARAB EMIRATES: Expressed concern about disinformation and need to focus on impartial investigation. Expressed appreciation for all journalists who risk their lives on the front lines of conflict. Called on both parties to the conflict to strictly adhere to their obligations under international law. Need for accountability. Appreciate efforts of Secretary General, including his visit to Russia and the Ukraine. Welcome and encourage the progress we have seen in recent days, the safe evacuation of civilians through coordination of the UN authorities and Russia and Ukraine and the international committee of the Red Cross. Calls for cessation of hostilities and a negotiated solution to the conflict.
Although Norway's ambassador was apparently present from the beginning of the presentation, she gave no sign that she had actually watched it. Instead, she launched into an obviously prepared speech, which made no reference to the human testimonies in the actual presentation.
NORWAY: Expressed concern regarding framing of the topic and the allegations presented in the concept note. Claimed to be witnessing, yet again, the Russian Federation's misuse of the UN forum as a platform for disinformation and a smokescreen to draw attention away from the brutal warfare it is waging against the Ukrainian people. Said: "The intensity of this disinformation campaign is alarming. Russia has failed to offer any credible evidence for its accusations or to cooperate with international bodies tasked with gathering facts and documentation. Russia has instead made unsubstantiated claims and insinuations.  Today's meeting is nothing more than another attempt to spread confusion and deflect attention from Russia's role as aggressor in the illegal invasion of Ukraine. The UN Charter applies to all nations, including Russia. "There is no doubt that Russia's invasion of Ukraine is a blatant violation of  international law, including the UN Charter. It is not a 'special military operation'. It is an illegal aggression against another sovereign country.  It is a war of choice. Norway is appalled by Russia's methods of warfare. Numerous credible reports have described, in horrible detail, the relentless attacks and unimaginable atrocities committed against civilians. These atrocities shock the very conscience of humanity. There are clear and abundant indications of systematic and large-scale war-crimes being committed by the Russian armed forces and their proxies, as outlined in the OSCE Moscow Mechanism Report. The adoption of the General Assembly of the Resolution Aggression against Ukraine, calling on all parties to strictly respect international humanitarian law and international human rights law, sends an important signal from the international community. Violations of international law cannot go unchallenged.  International law is not optional. All reports of atrocities must be properly investigated and the perpetrators of any crimes be brought to justice. The same resolution clearly names Russia as the aggressor. This is a fundamental fact. We will not be fooled by attempts to divert attention from its own crimes by shamelessly launching a barrage of accusations at the very state it has attacked."
RUSSIA: Russia's response: "Frankly I was surprised when we - not for the first time, of course - were accused for use of the UN as a platform for disinformation. Today, we are not speaking, we are just providing the floor for people who have first-hand experience on what is happening at the front line and on how they survived and who were those that committed atrocities there. And these are not our words. As I said, we never censored anything they want to say. This is an account of journalists who interviewed those people. If you don't want to hear, that's another question. If you prefer to stay 'comfortably numb,' as Pink Floyd said, that's your choice, but the purpose of today's event, to give the floor to those who can give the testimony, not to 'spread propaganda,' as you say.
ALBANIA: [Summary]: Unprovoked and unjustified aggression by Russia in Ukraine has entered the third month and we are  ... Russian armed forces shelling civilians and hospitals, schools and civilian infrastructure, actions that may amount to war-crimes, as UN High Commissioner for Human Rights has repeatedly stated. 
[Candobetter Editor: Ironically and tragically, US-NATO and allies, notably the UK, have repeatedly ignored, and continue to ignore, on behalf of the USA, the UN Commission for Human Rights, with regard to their illegal imprisonment of Julian Assange, who exposed US war-crimes.]
RUSSIA: Russian Federation response: "Thank you. I still hear Russia is accused of spreading disinformation.  I have a question, perhaps rhetorical, to you: And what do you consider information? The testimony of the witnesses? This is disinformation? Or you consider 'information' an interview with the survivor, Azov-style, by Reuters, which was redacted to turn the meaning of the interview upside down. This is 'information' for you?  This is a rhetorical question. You are not requested to answer." [Candobetter Editor: He is referring to a video by Reuters of an interview with a Ukrainian woman, finally able to leave the Azov Steelworks Bunker, where nationalists had kept civilians from leaving, leaves out the fact that she blamed the nationalists, not the Russians, and that she wanted to be evacuated to Russia. See the uncensored version here.]
[...]
RUSSIA: "Sorry, you want to answer? Please."
ALBANIA: "During this time here, I was wondering how can be that such independent journalists have recognised the so-called republics in Ukraine: On personal capacity, or which capacity? Thank you."
RUSSIA: "They are not countries to recognise any legal entity. They are just working. They have been there. They have been interviewing the people. I don't know what you mean by 'recognition.' They're just journalists doing their job, interviewing people in areas where they are."
GHANA: "Mr Chair, we thank you for your remarks and have taken note of the information provided by the presenters. Such deep suffering of any people is indeed troubling, and should not be the characterisation of conflict at this time of humanity's history. Ghana maintains that all violations of international law, international humanitarian law and human rights law, as well as actual atrocities committed by whomever in Ukraine, should be the subject of independent, impartial, and thorough investigations, to establish the facts, assign responsibility, and hold all the perpetrators accountable for their actions and inactions. We stress the importance of our collective support to ensure accountability and prevent impunity, and underscore, in this context, the role of the media, in highlighting the facts and documenting admissable evidence, to support effective accountability. We remain deeply concerned about the military escalations, which have given rise to the rapidly deteriorating situation, and urge compliance with obligations and commitments, under international law, international humanitarian law, and human rights laws. We reiterate the necessity of immediate cessation of hostilities, which has formed the breeding ground for the systematic violations of the people, and the very principles and values that bind international community. We conclude by emphasising that a sustainable solution of the conflicts can only be arrived through diplomacy and a constructive dialogue among the parties and stakeholders."
IRELAND: [Summary]: Illegal invasion. Disregard for UN charter. Disdain for Geneva Conventions. Attacks of nuclear power plants [See "IAEA report refutes smear that Russians disregarded safety," for a more responsible account of this allegation.] Homes, hospitals, kindergartens and train stations. Summary executions and use of torture. [Candobetter Editor: Allegations fail to take Russia's explanations or denials into account, so should not stand.] Refers to the 'international community' as if it only included US-NATO allies. Refers to the OSCE Moscow Mechanism investigations as a source and complains about Russia's failure to cooperate. [Candobetter Editor: Note that these were closed down due to a failure of consensus among member states between 31 March 2022 and 28 April 2022. See,"OSCE Chairman-in-Office and Secretary General announce upcoming closure of Special Monitoring Mission to Ukraine,"Warsaw/Vienna, 28 April 2022.] https://www.osce.org/chairmanship/516933. Ireland notes that, 'ultimately,' individual guilt for war-crimes requires an independent tribunal.  [Candobetter Editor: Unfortunately US-NATO domination of media and such tribunals makes their independence doubtful.]
US contempt for justice process
The United States, despite its frequent boasts of representing the 'free world' and 'democracy', fails here to respect the need to show a willingness for justice to be seen to be done. Instead it dismisses Russia's attempts to be heard. It uses its world mass-media-dominant position as if that endows it with an indisputable authority to assert, based merely on its say-so, that its enemies do not deserve an opportunity to present their side of the argument.
UNITED STATES: "We are not going to legitimise today's discussion by delivering a lengthy formal statement. Russia's actions speak for themselves, time and time again. Today is no different. Russia's misuse of the security Council of the UN, is not new. In the wake of Moscow's brutal unjustified, and unprovoked war, it has called for briefings in Arria Formula discussions numerous times to spew falsehoods. And this trend started long before the full-scale invasion of Ukraine this year. The Russian federation's mission to the UN has been using the security. Counsel to spread disinformation lies, and false narratives for years. The representative of the Russian Federation seems to think the repeating lies makes them true. But it only makes Russia's tactics more transparent for the entire world to see. Russia has never been more isolated. As United States has said before, Russia must stop its war of aggression against Ukraine and stop using the Security Council to spread lies and disinformation."
UNITED KINGDOM: "It's often been said about propaganda, that a lie told often enough becomes the truth. We have a duty to stop that from happening. The Russian Federation systemically attempts to spread false narratives about neo-nazis and imaginary NATO threats against Russia, to justify its illegal and unprovoked invasion of Ukraine, but it won't succeed because the facts tell a different story. The truth is Russia was responsible for the illegal annexation of Crimea in 2014. Russia instigated and fueled the secessionist conflict in eastern Ukraine, which dragged on for almost eight years and led to the deaths of over 13,000 people. Russian-backed separatists, with a Russian BUK missile shot down Malaysian Flight Mh17 over Ukraine, killing 298 innocent civilians. And then Russia amassed over 100,000 troops on Ukraine's border, under the false pretense of exercises, and launched a full-scale unprovoked premeditated attack against a sovereign Democratic state. 
This invasion has been overwhelmingly condemned by the International Community [Candobetter Editor: meaning NATO and its allies] and the Ukrainian people have resisted it heroically. The Kremlin uses disinformation operations to undermine Ukrainian sovereignty, to create false pretext to obscure the truth and to hide the brutality of its assault on Ukraine's people. Today's meeting is a further example. All credible allegations of crimes on the territory of Ukraine should be investigated. We are supporting the Ukrainian Prosecutor General with her investigations into war crimes as well as the work of the ICC. We welcome president Zelinsky's commitment that the perpetrators of all war crimes and Ukraine should face Justice. There is no such commitment from the Russian regime. This is because Russian forces are perpetrating heinous crimes in their desperation to claim military victory. In Urban, Bucha, Mariupol, and elsewhere, Russians have murdered civilians and buried them in mass graves. Russia has attacked schools, sheltering civilians and abducted and forcibly removed Ukrainians to Russia. These are acts of desperation, as Putin fails to achieve his objectives and Ukraine. In the face of Russian aggression, we must remain resolute in our support for a free sovereign and independent Ukraine, in our defense of the UN Charter, and in our determination to counter Russian attempts to debase the United Nations, as a forum for disinformation. We must never allow Russian lies to become the truth. Thank you." 
RUSSIA: "Thank you. Two short comments. It was surprising to me to hear from from the guardian of the international legal system about a few things - in particular MH 17, which is still being discussed at the Dutch Court. Perhaps you know the results already? That's why you are so assured that Russia has done it before the court made a decision. And perhaps you are so sure that Bucha Provocation - that we exposed – You're so sure it was done by Russia. That's why you didn't give us a chance to call for an urgent meeting of the Security Council." [Candobetter Editor: Refer to https://www.candobetter.net/admin/blog/6307/video-transcript-russia-denies-bucha-massacre-uk-us-try-muzzle-russia].
KENYA: "Thank you, Mr. Chair. We have listened with concern to the serious allegations of violation of international humanitarian law and in international human rights law. We also recall the charges of similar gravity during the area formula meeting on ensuring accountability for atrocities committed in Ukraine held last week on 27th of April. 
Our solidarity is with the people of Ukraine who are suffering from the attacks, atrocities, and war-crimes underway. We offer their families and friends our deepest condolences. 
We also recognize the agony of survivors and families that comes with the deliberate or accidental distortation of their experiences in public record. As such, we must observe that there are unprecedented efforts by multiple organized state and non-state actors to shape the information environment. 
To the extent that charges of human rights violations, rather than being the basis of a ceasefire mediation and accountability are part of the strategic conflict. As individual delegations, we lack the mandates and ability to verify the reports we are receiving from the media. Fortunately, the United Nations has the credibility and means to undertake a thorough investigation into the human rights violations underway in Ukraine. To deliver on this responsibility, three actions are required. Number one: First, all allegations from all parties, should be treated seriously by the Council and relevant UN bodies. Two: All conflicting parties, including those making allegations of Human Rights abuses, or who stand accused, should agree to prompt independent and impartial investigations. That all conflicting parties should cooperate with the UN organs and agencies charged with the responsibility to conduct investigations and abide by the findings thereof. Chair, we urge the conflicting parties to be aware of the risk of escalation that may grow in line with the inflamed public mood due to these serious allegations. 
The combination of angry domestic and global publics, the emergence, the emerging rhetoric of this war having existential implications, and advanced weaponry, can make this catastrophe markedly worse. We further urge all mainstream media and social media outlets to be extremely careful in their verification processes, as well as detection and disruption of organized ciber operations that use atrocities as one more dimension of war. Finally: We remind the parties of their obligations under Article 2 of the charter. I thank you."
GABON: "Mr. President I've prepared my my remarks in French and I wanted to deliver it in front, but for us not to to accommodate to inconvenience the colleagues. I will try to restitute it in English. So, Mr President, the war in Ukraine has been going on for 72 days now. Every day has its share of dead - of course combatants of the belligerent process - but above all civilians in very large number. The violence of the fighting is accompanied by the destruction of civilians' properties, flows of refugees, and displaced persons in particular, women and children, many of whom are victims of inhuman treatment. So many violations of the Geneva conventions and the additional protocols, which regulate work and protect people who are no longer able to take part in the fighting. This is why, in the drive to condemn atrocities and abuses of international humanitarian law, it is important to bear in mind the stark reality that there is no war crimes without war, and as long as the fighting continues, as long as weapons continue to be the mode of expression, the door is open to violations of all kind. Clearly, Mr. President, war is absurd, and its consequences are deumanising. It is essential that allegations of atrocities, abuses, and mass crimes, be investigated in independent and impartial way, in order to establish the facts and determine the responsibilities. 
My delegation takes this opportunity to call on the belligerent to put an end to the fighting. This is the only way out of the current situation. We believe that there is still time to get out of the logic of belligerence and give peace, give peace and peaceful coexistence, a chance. Diplomacy must resume its course and the bilateral and multilateral initiatives of recent days must be intensified and be part of the objective of ending the war. 
Each of the parties must engage in good faith in the discussions with the firm will to silence the guns. My country is concerned about the signals tending to prolong the war in Ukraine. The war in Ukraine should not be added to the list of protracted conflicts. We must end this war 
Mr. President, it is crucial that diplomacy prevail over war. I would therefore like to reiterate my country's call for the establishment of a ceasefire to encourage ongoing dialogue initiatives and above all, to call on the belligerent to allow unimpeded access for humanitarian aid, intended to turned it to people in distress, caught in the grip of the fighting. I thank you."
BRAZIL: "Thank you, Mr Chair. We thank you for the information you provided. I also thank the journalists for the previous. We also thank our mission for make the information presented retrievable by the QR code link.  Mr Chair, as we entered into another yet, another week of the conflict in Ukraine, we continued to witness in pain screaming suffering, with appalling scenes of thousands of desperate civilians trapped in the battlefield. Once again, we renew our plea for a broad, effective, an immediate ceasefire, and call on Russia and Ukraine to resume the negotiations. conducive to a political solution to the conflict. Only after the silence of the guns and the withdrawal of troops is achieved, will it be possible to halt the immense toll of human lives this conflict has brought upon. 
We call on Russia and Ukraine to work towards agreement to allow civilians, wishing to flee the hostilities to those, in safety. Those who decide to stay cannot become targets of attacks. In the same vein, parties must grant safe passage to relief consignments to goes in it. Adopt adequate measures to prevent disappearances and share information on the status of protected persons under their control.
Brazil reiterates the call for all parties to fully respect and ensure respect for international humanitarian law. The causes of the conflict, whatever they are, do not exempt the parties from their universal obligations to guarantee that civilians,be protected, that the wounded receive medical care, that humanitarian assistance reach those in need, and that detainees be treated humanely in all circumstances. 
There must be no politicization of humanitarian actions, nor selective application of international humanitarian law. Also, geopolitical objectives must not supersede the endeavor for peace nor prolong the human suffering caused by war. Regarding the disturbing reports about gender-based, gender related violence, targeting of civilians, placing of weapons near civilian infrastructure, bombing of residential areas, massacre of Innocents, and torture of prisoners, we favour the independent and thorough investigation of these human rights violations. 
Perpetrators must be held accountable promoting compliance with international humanitarian law. Protecting civilians, calling for peace: These are the objectives that should unite rather than divide us, and I thank you."
CHINA: "China is deeply saddened by the increasing civilian casualties in Ukraine. We call on relevant parties to exercise maximum restraint, minimize the damage to civilians, and civilian infrastructure, and facilitate, civilian evacuation, and humanitarian operations. At the same time, prisoners of wars should be treated humanely, in accordance with the Geneva conventions. 
On the humanitarian front, we call for the strengthening of communication and coordination among the parties concerned and we welcome the agreement reached by Russia and Ukraine. With the coordination of the UN and ICRC on the evacuation of civilians from Azov Steel Plant in Mariupol, under International humanitarian, law civilians should be spared of any forms of violence in armed conflicts. Attacks against civilians are not acceptable and should not occur. The relevant circumstances and specific courses with incidents should be verified and established. Any accusations should be based on facts before the full picture is clear. All sides should exercise restraint and avoid unfounded accusations. 
The relevant international mechanisms should remain objective and impartial. They should work in strict accordance with the mandates to avoid politicisation. The prospect of an extended and a prolonged conflict is worrying. Dialogue and negotiation is the only viable way to prevent the further escalation. We all see that Russia and Ukraine have already accumulated some basis in previous negotiations and we believe cops should continue despite difficulties. The international community should foster enabling conditions and atmosphere for the negotiations and political settlement, instead of fueling tensions. China, on its part will continue its constructive role in solving the Ukraine crisis. I thank you Mr. Chair."
Syria calls out savage US attacks on distant countries
SYRIA: "Thank you. Mr. Chair. My delegation, the Syrian Arab Republic, thanks the permanent representative of the Russian Federation for organizing this important meeting, which provides an opportunity for the member states to realize the truth of what is happening in Ukraine, and expose the false allegations and misleading whistling campaigns, aimed at harming the Russian Federation. I would also like to thank the briefers for the valuable information provided. My delegation condemns the orchestrated campaign launch and by Western countries and their media arms against the Russian Federation, which includes the dissemination of disinformation, false accusations, fabricated photos and video, aimed at undermining the legitimate right of the Russian Federation to ward off threats to the security of its people, as guaranteed by the UN Charter.
The paradox is that the countries that wage their hostile campaign against the Russian Federation today and criticize its defense of its security against threats existing on its direct borders, are the same countries that have launched barbaric, aggressive acts targeting member states that are thousands of miles far away and don't pose any direct or indirect threats, under the false pretext of defending their National Security. These countries destroy entire cities and killed thousands of civilians, as was the case with the Syrian city of Raqqa and [?Al-Baghuz] area. The Western approach towards the special military operation in Ukraine is an example of the selective and double standard policies used by the United States and its NATO allies as these countries have ignored the [? indistinct] and inhumane practices of Kiev authorities against the people of Donetsk and Luhansk and their continuous suffering, for 8 years since the coup in Ukraine in 2014. Not only that, but those countries violated the [? indistinct] they made to the Russian Federation three decades ago. And so, to extend NATO to the east, to threaten Russian national security. They also deliberately fuel tension and turn Ukraine into a battlefield with Russia by supporting Kiev authorities with weapons and foreign fighters in a manner similar to the sending thousands of foreign terrorist fighters to spread chaos and destruction in Syria. My delegation strongly condemns the violations of the rules of the international humanitarian law, by the Ukrainian armed forces, and the national paramilitary battalions and calls on them to refrain from using civilians as human shields, and to desist from their crimes, as worsening the humanitarian situation. My country appreciates the efforts of the Russian Federation to achieve stability, ensure the safety and security of the Russian and Ukrainian peoples, host hundreds of thousands of refugees. ensure the delivery of humanitarian aid, and provide safe corridors for civilians. Thank you. Mr. Chair."
The meeting concluded with the Russian presenters giving the floor to three journalists whose work had been used in the presentation.