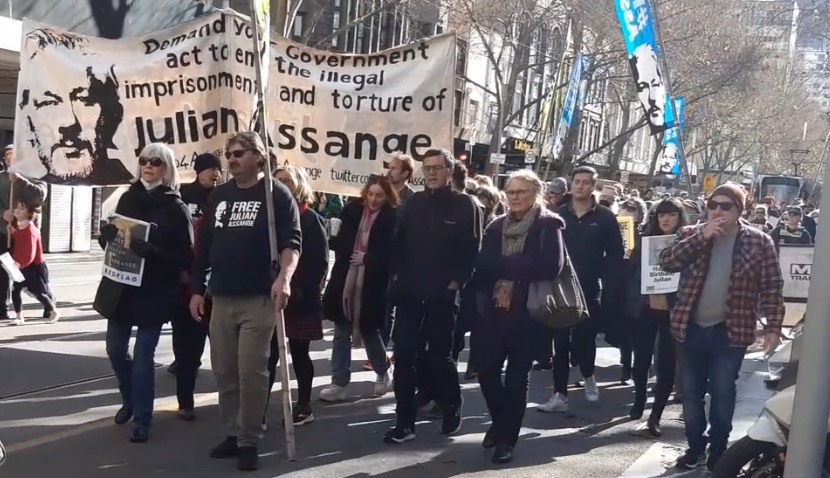 On last Sunday 23 July, Julian Assange's 51st birthday, supporters of Julian Asssange in Melbourne held two events to both celebrate his birthday and to demand the Australian government act to make the British government end its illegal imprisonmment of julian Assange and to prevent the no less illegal efforts by the United States to extradite Julian Assange.
11:00am protest in front of the State Library and march to British Consulate
The first event was a rally for Julian Assange, held in Swanston Street Melbourne, outside the Victorian State Library. It commenced at 11:00pm with a number of speeches made to the assembled crowd of around 200 people. Speakers included Greens Senator Janet Rice and Dave Noonan, the national secretary of the Construction Forestry Energy and Mining Union (CFMEU). (As I was unavoidably delayed, I only arrived at around 12:00pm as the speeches were finishing.)
Shortly after the speeches concluded, the crowd set off to march southwards down Swanston Street. See video below.
After it reached Collins Street, the march turned east towards the building in which the Melbourne British Consulate is located, at 90 Collins Street. More speeches in support of Julian Assange were made outside the British Consulate.
1:00pm vigil for Julian Assange at Flinders Street Railway Station
I left the protest at the British consulate a little early so I could attend the Vigil for Julian Assange scheduled to start at 1:00pm at Flinders Street Station.
At Flinders Street Station a group of supporters had set up a table with literature, in addition to cakes, cheese, chocolates and other snack food to celebrate Julian Assange's 51st birthday. After a short while speeches in support of Julian Assange were made. The first was made by Joe and is embedded below:
Speech: Why won't the Australian government act to end the illegal imprisonment of Julian Assange?
After Joe spoke, I made a short impromptu speech. A shortened version is embedded below:
Other reports on this protest
This protest has also been reported on the World Socialist Web Site (wsws) in Workers and students demand freedom for Assange at Melbourne protest (5/7/22). An extensive coverage of efforts to save for Julian Assange from the attempts to extradite Julian Assange can be found in the section on its main page, entitled "Free Julian Assange!". I am not aware of any reporting of this event by any of the corporate or government newsmedia in Australia.