Racism is:
1 : a belief that race is the primary determinant of human traits and capacities and that racial differences produce an inherent superiority of a particular race, and that one's own race is superior, and has the right to rule others.
2 : racial prejudice or discrimination, hatred or intolerance of another race or races
3: a policy, system of government, etc., based upon or fostering such a doctrine; discrimination.
(photo: from Wikimedia commons: Australian Government poster — "The Southern Cross, the call of the stars to British Men & Women" issued by the Overseas Settlement Office to attract immigrants).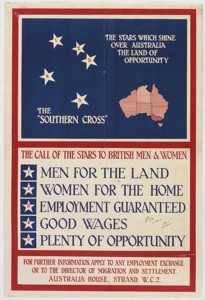 Racism is a global phenomenon which is influenced by a range of historical, social, political and economic factors.
It takes different forms in different contexts and as a result has been defined in many different ways. In Australia, the Human Rights and Equal Opportunity Commission (1998) defines it as:
Racism is an ideology that gives expression to myths about other racial and ethnic groups that devalues and renders inferior those groups that reflects and is perpetuated by deeply rooted historical, social, cultural and power inequalities in society.
Institutional racism (or systemic racism) describes forms of racism which are structured into political and social institutions. It occurs when organisations, institutions or governments discriminate, either deliberately or indirectly, against certain groups of people to limit their rights.
Historical perspective
In May 1901, the Australian parliament met for the first time. Its first major act was to pass the Immigration Restriction Act. Under this policy, people from Asia and other "non-white" people were systematically kept out of Australia. The "White Australia" policy was the product of decades of racist agitation against Chinese immigration.
Henry Parkes, now venerated as the "father of Federation", was often at the head of anti-Chinese laws restricting where they could live. In 1857 his newspaper Empire railed: "Total exclusion of the Chinese from the goldfields should be the law".
The first identified threat by white settlers was from thieving, dispossessed Aborigines, who were placed in the same category as Australian fauna. Racism included the removal of Indigenous children from their families and the denial of full citizenship rights to Indigenous people.
People with similar backgrounds naturally like to be together. The ideals of multiculturalism were welcome here in Australia when most people were Anglo background, and Prime Minister Bob Hawke promoted it well. Most people embraced it, and we have benefited from immigration both economically and culturally. However, in recent years, the numbers of immigrants has risen so high, a twist of racism has seeped in.
Immigration today
The Australian government, acting on behalf of their mates in the real estate industry, is effectively inviting foreign populations to move in and colonise parts of the country.
Australians are forced to carry the costs. They have to compete with rich foreigners for housing in a country already facing a chronic housing shortage. They have to pay their taxes just so that wealthy foreigners can simply move in and make use of Australia's public services and infrastructure.
(Eye on Immigration: selling Australia)
The Howard government left behind a robust immigration program of more than 120,000 net immigrants a year. The Rudd Government set a target of 190,000 migration places in 2008-09, a 20 per cent increase over the previous year's target. It increased the working visa program to double its size four years earlier. Not a word was said about this during the 2007 election campaign.
Racism phobia
Are we so terrified of the R-word, racism, so brainwashed by the thought police, that no dares mention skin colour any more? Not even the cops when seeking a
crime suspect?
Surely skin colour is just as objective as hair colour?
Hey Hey It's Saturday ratings success has been marred by accusations of racism after a skit on the Red Faces talent segment featured a group of doctors in black face paint re-enacting a Jackson 5 song. Would a similar skit about ABBA have been racist if they painted their faces white?
Racism today
In the UK, Pakistanis are twice as likely as Indians to be unemployed. Two years ago, their government's research showed almost half of British Asians and blacks arguing that there are too many immigrants.
Particularly following the September 11 attacks, both Muslim and Arab Australians have experienced a significant rise in Islamophobia and racism.
More recently we have witnessed race-based confrontations in Cronulla and now fears have grown over the perceived violence and gang culture of Sudanese immigrants.
There was a backlash against Sudanese immigrants and a move by our Government to attempt to justify a freeze on our African refugee intake.
Kevin Rudd scrapped the "Pacific Solution", abolished temporary protection visas, and let illegal arrivals get more lawyers. The Federal Police warned that this may increase the number of attempted arrivals to Australia. The dismantling of the Howard government's border protection policies has led to a surge in boats. 255 Sri Lankans asylum seekers, now bobbing off Java, are refusing to leave their boat. They now face detention in Sumatra rather than Nauru. Is it not surprising that Australia is their choice of refuge, knowing that we have the highest migrant intake in the developed world?
Our heavy intake of well-educated and well-off immigrants is a stark contrast to those that are turned away or places in detention.
The recent attacks on Indian students have thrust the issue of racism in Australia into the mainstream news bulletins.
Over populating Australia
Australia's population is forecast to surge from 22 million to well over 35 million in 40 years. . Our population this year grew by 439,000, or 2.1 per cent, the highest in the developed world.
In the past anyone questioning immigration to Australia risked being labeled racist. But now there's a new accusation leveled against anyone speaking against the massive surge in immigration to Australia. Now debate is being shut down by economic and political 'correctness'.
Modeling by the Centre for Population and Urban Research at Monash University shows each additional one million people adds 25 million tonnes of pollution to Australia's greenhouse accounts.
"An increase in population to 35 million by 2050 would mean 325 million tonnes of additional pollution, costing us at least $10 billion a year in extra carbon pollution costs alone," Mr Berger of Australian Conservation Foundation said.
GDP ignores the cost of the environmental damage done by immigration. Head hunting skilled workers from developing countries roughly doubles their greenhouse gas emissions, in the process making it all the harder for us to achieve the necessary reduction in our emissions. Our greenhouse gas emissions are rising, contrary to Kevin Rudd's climate change commitments.
Immigration-fed growth in the economy is good only if it raises the real average incomes of the existing population. If it doesn't, we're running a high immigration policy mainly for the benefit of the immigrants who are able to earn more in our country than they were in their own country. Sharing finite resources means an erosion of the quality of life.
The
ABC's Four Corners program recently ran a piece on the 'new homeless'; families that couldn't find an affordable house to rent.
What do you do when you've lost your job, lost your home and you have three kids to feed? You end up in a motel cooking, eating and sleeping in one room at the taxpayer's expense. These are Australia's new homeless.
The narrator failed to mention one of the causes of the homelessness - the increased demand for housing fueled by high immigration levels.
Time for debate on immigration
It's time to drop the political correctness that for years has meant anybody who questioned immigration levels was labeled racist, or a supporter of Pauline Hanson!
One Nation was anti-immigration, anti-economic liberalization party. According to their web site, "One Nation is not, nor has ever been, a racist party. We are however a fiercely nationalistic party that puts the well being of Australia and it's people before anything else. It is obvious by the tens of thousands that came out to support us that there is a ground swell of ordinary people in this country who are sick of the self serving, on both sides of politics, that has been passed off as leadership for so many decades."
There was no hint of racism, just a questioning of our high immigration and how it serves the interests of Australians. Racism was muddied by an immigration debate!
The issue now is not about race.
This is about numbers, and the future. (Herald Sun)
Capitalist leaders have always known immigration was a great way to permanently weaken unions and culture in favour of economics. Are our leaders deliberately diluting Australian-ism, patriotism, so we are accommodated into a global market? Already our real estate, many industries, tertiary education, job markets, consumer items and our population are being quietly globalised.
THE Rudd government must urgently rein in migration or tens of thousands more young Australians will miss out on their first jobs , a new report warns. (The Australian)
Already, 15- to 24-year-old Australians are bearing the brunt of burgeoning migration levels, their unemployment rate rising from 8.8 per cent to 11.7 per cent in the year to September, the study by Monash University academic Ernest Healy reveals.
Cut migrants to aid jobless:
India as a nation is faced with massive problem of unemployment. Unemployment rates for women are higher than those for men. The incidence of unemployment among the educated is much higher than the overall unemployment. If our definition of unemployment is defined to include any job which does not move an individual to living wages within one year, then India's unemployment is not the official 7-9% but about 26%!
If our unemployed, or underemployed, or students went to India to access their tertiary education system and raided their limited casual or professional job opportunities, surely there would be a "racist" backlash!
Let's get back to some basic good old-fashioned Australian patriotism instead of all the globalisation that is being inflicted on us. Tertiary educational institutions should be funded to educate primarily Australian citizens, not internationals, and jobs should be for Australians, not outsourced overseas or for opportunist students hoping to stay here.
Australia's population growth has been historically driven by immigration. Now we need to be stabilized and established as a distinct but multicultural entity.
The abuse of the word "racist" is manipulating us into silence and being used to enforce policies that were appropriate and beneficial in past decades, but are not appropriate for Australia in the 21st century.