Make Poverty History aims to halving global poverty by 2015 and achieving the Millennium Development Goals by:
More and better aid
Dropping poor country debt
Making trade fair
Helping poor communities keep their governments accountable
Tackling climate change
Sub-Saharan Africa is headed for a "population emergency" according to a new French NGO analysis of demographic trends.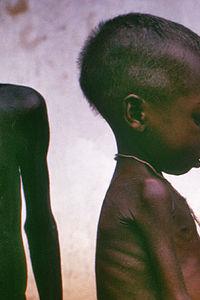 Africa takes up more than 12 percent of the world's population, while its Gross Domestic Products (GDP) accounts for a mere 2 percent. With a population growth of 3 percent annually and an agriculture growth of 2.5 percent, the continent can hardly feed its increasing population. The words 'population explosion' are hardly ever heard nowadays, even though Africa's population is still doubling every twenty-odd years.
The population of the continent south of the Sahara, decimated by the slave trade and colonization, stood at 100 million in 1900. It had grown more than seven-fold to 770 million by 2005. By 2050, it will grow by as much as 2.6 times above that level, to 2 billion. Abnormal climate and natural disasters have resulted in the emergence of a new kind of "eco-refugees."
Campaigns promoting the balanced family such as those successfully run in other developing countries (Bangladesh, Jamaica for instance) have never really been implemented in Sub-Saharan Africa.
Today, two out of three inhabitants of this large region of Africa are under 25 years of age (twice the number prevailing in Europe) and, with 32 inhabitants per km2, Sub-Saharan Africa is more densely populated on average than Latin America (28 inhabitants/km2).
Band Aid was a supergroup founded in 1984 by Bob Geldof and to raise money for "Famine relief" in Ethiopia. In 1950 the population of Ethiopia was just 16 million. According to the nation's only census, conducted in 1984, Ethiopia's population was about 42 million. By 2005 it had increased to nearly 78 million and is forecast to increase a further 80 million over the next 25 years.
The UN has admitted that it won't meet its Millennium Development Goals in Africa but fails to explain the underlying causes for pessimism. Africa has had more than ten times the Marshall Aid given to Europe since the Second World War - a trillion dollars, or $5,000 for every African alive today. Yet many African countries are poorer now than in the 1980s.
According to the United Nations' Food and Agriculture Organisation, the world faces the challenge of producing 70 per cent more food for another 2.3 billion people by 2050. Meat production will need to increase by more than 200 million tonnes on the current 270 million tonnes by 2050. Unrealistic Western livestock-based diets means that grains fed to livestock could be distributed more equitably throughout the world to avoid some of the starvation.
In Australia, Make Poverty History is a coalition of more than 60 aid agencies, community groups and religious organisations. Make Poverty History has some lofty aims, but ignores the impact of Western diets, makes no mention of family planning or contraception schemes, or even population growth. Unless the people of Africa take some ownership of their own destiny we could be trying to fill a bottomless bucket! Neither will the campaign be achievable until we recognise the threat to our planet and humanity due to runaway global population growth. World poverty (like climate change) is unavoidable whilst governments, including ours, willfully encourage unsustainable population growth. Growing our own population will do nothing to alleviate the portion of the world's population that is already starving, and violence will escalate as resources diminish. Immigration globalises overpopulation.
Increasing population might seem to be a way of growing the economy in the short term, but in the third world it is only likely to lead to even greater poverty.