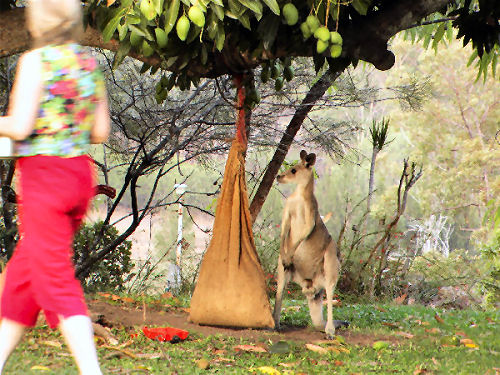 Picture:3 year old kangaroo stops his recreational boxing to watch wildlife carer,
Anne-Marie Dineen (Oakview Refuge, Queensland) go past in her front garden.
Campaign supported by high profile actress
Philip Woolley, UK Rep and EU Campaign Director for the Australian Wildlife Protection Council writes that Dame Judi Dench, star of the new Robert Marshall film NINE to be released on 26 December, has become the latest celebrity to add her voice to the campaign to have kangaroo products banned from all EU member states.
Dame Judi, one of Britain's best loved and respected actors and a great animal welfare supporter said:
"As a lover of animals and their welfare I am pleased to add my name to the many others across the world who are supporting this very worthwhile campaign."
She joins a growing list of well known people who are appalled at what is happening to these sentient beings in Australia, all for the sake of a few dollars and the manufacture of sports footwear.
Philip Woolley expressed his pleasure at Dame Judi's support.
" It is just amazing to get Dame Judi to support the campaign. We have wonderful people now supporting us and we look forward to starting off the New Year off on a very high note. Other celebrities have signed up and their names will be released in the New Year. This campaign needs as much support as we can gather and already over 5000 citizens have signed up."
Dame Judi, well known for such roles as M in the James Bond films, Miss Matty in the successful BBC series Cranford with a special appearing over Christmas and now the film Nine went on to say that,
"Cruelty to any animal is barbarism and killing a joey after killing the mother is totally unacceptable."
The petition can be signed at:- www.440000joeys.eu
END
NOTE TO EDITORS
Further information can be obtained by contacting the campaign office:-
Contact name:-
Philip Woolley, EU Campaign Director / Australian Wildlife Protection Council - UK Rep.
www.440000joeys.eu
E:-philip[AT]440000joeys.eu