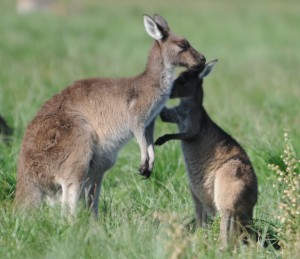 Once again the Preston Beach Golf Club near Mandurah, Western Australia is undergoing a kangaroo cull. In 2007 the Shire of Waroona was granted permission to shoot 50 western grey kangaroos on this two-bit golf course and now the DEC is allowing them to kill 100. Officially the cull started on the 1st of May and the shire has until the 16th to obtain their quota.
This bargain basement 9 hole golf course is situated on sand dunes and strategically located next to Yalgorup National Park. It appears the voluntary green fees are not sufficient to raise enough cash to dig a few bunkers let alone erect a fence to try and prevent kangaroos from entering the course. I would suggest this is not the desired outcome for those managing the course anyway as kangaroos are used as a drawcard when advertising the area.
Complaints regarding the kangaroos include aggressive behaviour, ripping up grass and tick infestations. I toured the course over the weekend and experienced none of this. What I did notice was a distinct lack of golfers using the course. On a beautiful Saturday morning there was not a soul in sight except for the author searching for a roo he could pick a fight with. I could not get within 15 – 20 metres of a single individual. There were several kangaroos on a few holes, I counted 18 on a single fairway next to the National Park. The vegetation on this fairway was exactly what you would expect from an attempt to plant grass on sand dunes infested with rabbits. The most visible signs of kangaroos were several hip holes located in various areas that appeared to compensate for the distinct lack of man made fairway hazards.
#protest" id="protest">Protest on Wednesday the 5th of May at 4pm
A professional kangaroo shooter has been called in to shoot 100 kangaroos that will then be turned into pet food. Anyone opposed to this barbaric cull is invited to meet at Preston Beach on Wednesday, the 5th of May at 4pm. Meet at the totem poles located at the town's entrance. The protest is being organised by Trish Brown, a local resident.