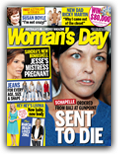 Schapelle Corby was falsely convicted by the corrupt Indonesian judicial system for the ludicrous crime of having smuggled Marijuhana worth $35,000 in Australia to a country in which it would have been worth $5,000. Having been cynically abandoned by the successive Howard and Rudd Governments, she is now to be transferred away from the life-sustaining support she now receives from her sister Mercedes, a resident of Bali, to a prison in Java.
The following is taken from a promotion for 1 April issue of Woman's Day.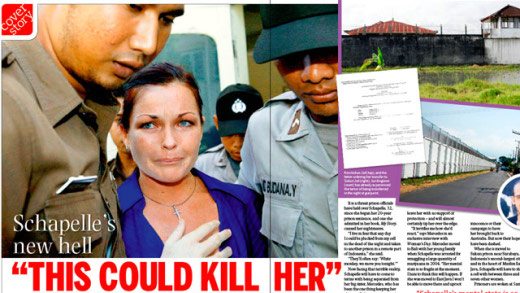 There are new fears for her life with a top secret plan to transfer her from her Bali jail to a remote prison in Java, reports Corby biographer Kathryn Bonella. The nightmare Schapelle Corby has been fearing for the past five years is now a reality, as a secret document outlining her transfer to a new faraway prison has been leaked exclusively to Woman's Day.
The document, from the Indonesian Ministry of Law and Human Rights, confirms Schapelle's worst fears that she will be taken away from her lifeline of family and friends and forced to move to a remote East Javanese jail.
"Hereby ordering the Head of Kerobokan Detention Centre, Denpasar, Bali, to carry out the transfer of the convict in the name of Sceppele (sic) Corby … to be transferred to Women's Detention Centre in Malang, East Java. The order becomes effective from the date the transfer is signed."
For the full story, including Mercedes Corby's exclusive interview with Woman's Day and the impact this move will have on Schapelle's unstable state, see this week's Woman's Day, on sale April 1, 2010.
Your Say: Do you think this move is necessary? Will this move destroy Schapelle? Share your thoughts below.
Editorial Comment: I wasn't able on my Firefox browser to find where to post my thoughts, although I did vote. Currently 5283 or 69% of the respondents want Schapelle to be brought home and 2337 or 31% think that she should remain in Indonesia. It the Australian newsmedia reported the evidence of Schapelle's innocence, the figure would be much higher still. The Woman's Day story appears to be an unusually sympathetic treatment of Schapelle by the Australian newsmedia. The treatment has otherwise been shameful.
What you can do: Vote for Schapelle to be returned home to Australia in an online Women's Day poll.
See also: freeschapelle.com.au and forum, Women for Schapelle on Facebook, A selective capacity for human compassion? of 24 Feb 10.
Topic: