#F5F6CE;line-height:120%;">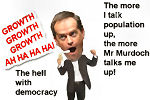 Bill Shorten's simplistic statement on immigration population and refugees in Tuesday night's ALP leadership debate was also open ended and "cornucopian", ignoring the important issues directly affected by high population growth: environment , quality of life , employment, resources and future sustainability. Is Bill Shorten unaware of the sequelae of continuing rapid population growth or is he ignoring them?
Further to this, Shorten either deliberately or naively melded the issues of Australia's immigration program with the issue of refugees, seen by most of Australia, it seems as "boat people" thanks to the mainstream media who make it seem so. This is what Shorten said:
"We in Labor, we're pro-immigration. We are pro the growth of our population through immigration. We are pro-refugees. It is not a bad thing to want to come here. People should know where we stand."
It should not be necessary for a political leader or anyone in our "civilized "society to say "we are pro refugees" ! Really, who would be or declare themselves to be "anti refugees", the opposite of what Shorten declares the ALP to be? To be anti refugees is in a similar moral category to being "anti homeless" or "anti unemployed" That is say anti people in unfortunate circumstances! Who was brought up like that? I don't know anyone who was!
All these predicaments that people can find themselves in are the responsibility of governments to do something about. But neither of the major parties in recent years has given the impression of welcoming refugees. Maybe this is just "bad press", because Australia actually continues quietly to re-settle about 20,000 refugees per year and I understand that most of the asylum seekers who arrive by boat are assessed to have genuine claims to asylum and have been settled in Australia. In August, however Kevin Rudd announced a plan to send all boat arrivals to Papua New Guinea, never to be settled in Australia!
Neither party knows quite what to say to the Australian people it seems but everyone is agreed that it is good if the Australian people see refugees as interchangeable with the county's immigration program. Both parties have wished to appear to the Australian populace to be very unwelcoming of refugees or at least reluctantly accepting .
As any real numbers person would know (and I think they are few and far between), the Australian refugee intake is chicken feed compared with the actual immigration program including all other categories. The difference is about tenfold! The annual immigration program is about 200,000. ABS data released today show that the Australian population grew by nearly 400,000 in the year to March 2013.
From the Australian Bureau of Statistics:
"The preliminary estimates of net overseas migration (NOM) recorded for the year ended 31 March 2013 (238,300 people) was 10.5%, or 22,600 people, higher than the net overseas migration recorded for the year ended 31 March 2012 (215,700 people). (3101.0 - Australian Demographic Statistics, Mar 2013).
Australian governments, Labor or Liberal preside over huge numbers of invitees moving to Australia. These are people who already have a country of their own, already live in a house or apartment in that country and are by global standards not badly off. Many of these people are business migrants, or skilled workers and, of course, about 30,000 per year are New Zealanders, who can move to Australia at will due to the Trans Tasman agreement
It is disingenuous of Bill Shorten to bundle together in the same statement the issues of refugees immigration and Australia's population now and in the future . To do this is a sort of emotional blackmail.
It is the 90% of people from overseas annually who are shaping our future as an overpopulated land mass rather than the relatively small number of refugees. A good numbers person will not stress too much over the environmental effects of an additional 20,000 refugees who need somewhere to call home (unless you are Fiona Scott now the Liberal MP for Lindsay who in a televised interview before the election attributed heavy Western Sydney road traffic to refugees!) when 200,000 + people annually who really want to increase consumption and therefore their environmental impact are coming to Australia to do just that!
When Shorten put population growth, immigration programs and refugees all in one basket what could his opponent, Mr. Albanese say? Had Albanese wanted to clarify the situation - and I don't know that he did - he would have run the risk of sounding like someone who was trying to explain when he stopped beating his wife! He might as well have let that one go through to the keeper – and I believe he did.