Melbourne people can hear MP Hon. Kelvin Thomson speak at the A.G.M. of Sustainable Population Australia (Victorian branch) on July 16th at 2.00p.m. The topic will be, "The population issue in Australia - post Population Strategy." The title refers to Minister Burke's recent "Population Strategy." In this article, after giving details of the meeting venue etc., we talk about why this meeting is so important for Victorians and Australians and discuss events leading up to it, from Barry Jones's Australia's Population Carrying Capacity Inquiry (1994), through the Bracks Population Summit (2002) and Tony Burke's "Population Strategy" (2011). We at http://candobetter.net hope that subsequent events in Victoria will maintain and support SPA Vic's promotion of a better population policy for Australia.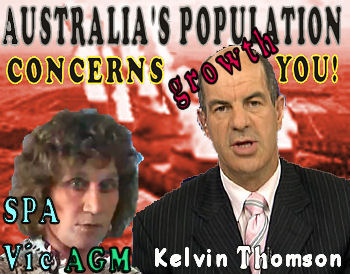 Kelvin Thomson will be the speaker at the Sustainable Population Australia (Victorian branch) Annual General Meeting (brought to you by Jill Quirk, President). Members of SPA and members of the Public are welcome to attend.
WHEN?
2.00 p.m. Saturday July 16th 2011
WHERE?
Balwyn Library Meeting Room,
336, Whitehorse Road Balwyn
For more information about the event, please contact: Jill Quirk- 0409742927 or Email the Victorian President
Following formal business, guest speaker, Hon. Kelvin Thomson, M.H.R. for Wills, will address the meeting on the subject of
"The population issue in Australia - post Population Strategy."
(See below for links and more information about Minister Burke's 'Strategy.')
Australia's Population policies
Almost no-one (pro-or anti-growth) was pleased with the outcome of the Sustainable Population Inquiry, which received many public submissions arguing for an end to population growth. Many commentators so far feel that the 'strategy' was a political strategy to do nothing rather than a doable, let alone sustainable, strategy. The Minister himself has seemed almost careless in his attempts to explain and defend his policies.
If you want a quick and enjoyable lesson on these recent policies, I recommend listening to the following unusual and instructive #10;http://www.mtr1377.com.au/index2.php?option=com_podcasting&task=playaudio&id=40&f=53&Itemid=41">

Steve Vizard radio program on Australian population policy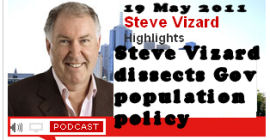 .
In this program Vizard dissects Tony Burke's policy or lack of policy with surprising skill and passion.
You will be half-way to becoming expert on the crucial matter of what population policy Australia should have if you then go along to the SPA Vic meeting on July 16, 2011, (advertised above) to hear Kelvin Thomson speak.
Kelvin Thomson
(Thomson has his own subject heading in candobetter.net here if you want to know more).
Thomson is himself a most unusual politician because he is able to be intellectually honest and rigorous on the subject of population policy in Australia. Thomson's treatment of population policy is actually far more comprehensive and satisfactory than that of Barry Jones, which none-the-less seems outstanding compared to Minister Tony Burke's more recent effort.
Steve Vizard
Steve Vizard's quality analysis in his recent broadcasts (18th and 19th May 2011) contrasts surprisingly with his earlier uncritical promotional role for unsustainable population growth in Victorian Premier Steve Bracks "Population Summit" in 2002. The next year with Tim Watts (of the U.S. subsidized OzPop), he followed up with a book edited by S. Vizard, H. Martin and T. Watts, Australia's Population Challenge, Penguin, Camberwell (Vic), 2003. In it are chapters by Richard Pratt, Steve Bracks, and Malcolm Fraser ('Recapturing a nation-building zeal'). The book's pro-growth bias reflects the bias of the Population Summit 2002, containing only a few cases critical of growth by Bob Birrell, Tim Flannery and Robyn Spencer. Along with Steve Vizard,
(I was myself a witness at the Jones Population Carrying Capacity inquiry in 1994 and I have read every single submission to it. I even painted a portrait of Jones, in an attempt to understand his treatment of the subject. After the 1994 inquiry I went into the matter in detail and finished up doing a post graduate research thesis in environmental sociology at Swinburne - "The Growth Lobby and its Absence" - in which I explained why Australia's population kept growing rapidly after the 1973 oil shock whereas France's population growth rate declined and has continued to decline.)
The day before his excellent analysis of Australian Population Policy, Vizard had interviewed Tony Burke on population policy 18/5/2011. This interview seems to demonstrate that the Minister is not across or on top of his portfolio at all.
Gillard needs to get someone else. How about Kelvin Thomson?
Links to the Report and Government promotion of it
For your information, below are links for downloading the government's report on its policies, plus the press release it published on the Australian Government page of the Department of Sustainability, Environment, Water, Population and Communities.
"On Friday 13 May 2011, the Minister for Sustainability, Environment, Water, Population and Communities, the Hon Tony Burke MP, released Sustainable Australia – Sustainable Communities: A Sustainable Population Strategy for Australia at the Housing Industry Association Conference, [email protected] Coast 2011. -
Media release

Sustainable Australia – Sustainable Communities: A Sustainable Population Strategy for Australia will help to ensure that future population change is compatible with the economic, environmental and social wellbeing of Australia.

A package of measures has been funded through the 2011-12 Budget to support a sustainable population in Australia.

The 2011-12 Budget provides $150 million to support a sustainable population in Australia through four measures: Suburban Jobs; Sustainable Regional Development; Promoting Regional Living; and Measuring Sustainability. These measures have strong links to other government initiatives, including changes to the Regional Sponsored Migrant Scheme, making it easier for skilled migrants to progress to permanent residency in regional Australia.

The $100 million Suburban Jobs initiative is intended to drive the development of more job opportunities within easy reach of where people live in the outer suburbs of Australia's major capital cities. It will support local and state governments to plan and help deliver employment precincts, manufacturing hubs and multifunction developments close to residential areas in growing outer suburbs.

The $29.2 million Sustainable Regional Development program will support better sustainability planning in regions that are experiencing high growth, through strategic assessments under national environmental law in up to seven additional regional and coastal growth areas.

The $11.5 million Promoting Regional Living program will support Australia's regions to promote the lifestyle and business opportunities in regional areas. This will build on the Government's commitment to build more affordable homes in regional cities to relieve pressure on major capital cities through Building Better Regional Cities.

The $10.1 million Measuring Sustainability program will develop a set of Sustainability Indicators to measure Australia's progress towards more sustainable communities. This set of sustainability indicators can be factored in at a regional level to better inform decision makers. The Government will work with key data agencies such as the Australian Bureau of Statistics, with data to be regularly released at national, state and where available regional level.

In addition to these measures, the Government will provide a further $81.4 million in new investments to help cities become more productive, sustainable and liveable. These commitments include:

$61.4 million for managed motorways that allow more efficient use of our road infrastructure, bringing mums and dads home from work faster; and
$20 million for Urban Renewal to help improve planning and design of the outer suburbs and major regional centres that are experiencing population growth pressures and housing and transport affordability cost pressures.

The Issues Paper, A Sustainable Population Strategy for Australia, was released on 16 December 2010. 380 submissions were received, reflecting a wide variety of views. Submissions helped to inform the government's development of the sustainable population strategy."
Many of the submissions are far more informed than the Government's policy.