It is great to see how Kelvin Thomson has leapt into action on behalf of Planning Democracy.  Here he reports on Fawkner Park; Melbourne tree-canopy; Queen Vic Market; Mary-Lous Howie's letter to Mayor Capp; RESCODE; Buxton on Sub Loop Bill; Blackburn Village Res group; Herald-Sun cover of Planning Democracy...(Candobetter Ed.)
Dear Planning Democracy supporter,
Here is my third Convenor's Report. As you can see, it's been a busy couple of weeks.
HERALD-SUN REPORT OF CHANGEOVER
On Monday December 20 the Herald-Sun reported the handover from Mary Drost to me as Convenor. A copy of the report is attached.

SAVE FAWKNER PARK PROTEST
On Monday December 13 we held a protest, together with local residents in the vicinity of Fawkner Park, concerning plans by the City of Melbourne to remove trees and green space, adjacent to the heritage significant Avenue of Elms in the core area of Fawkner Park. Thanks to Bea McNicholas, Director of Walk in St Kilda Road and Environs, and Jennifer McDonald, for their work in making this protest happen at short notice. Thanks also to 2 Victorian Legislative Councillors from the Southern Metropolitan Region, David Davis, Liberal Party Leader in the Upper House, and Clifford Hayes, Sustainable Australia Party MP, for coming along and speaking strongly against the removal of trees and in favour of the protection of heritage and green space in this area. Thanks also to our supporters, who came along at a tricky time of the day/week/year.

Unfortunately, the City of Melbourne has proceeded to remove the trees and pave a significant section of Fawkner Park. Both David Davis and Clifford Hayes have written letters to the State Government seeking its intervention. I know that Mary Drost, and Geoffrey Goode from Beaumaris Conservation Society, have been circulating information from Bea about the issue. We will continue to campaign for the protection of Fawkner Park, which is of great heritage significance. I have attached a copy of a Herald Sun report of our protest, as well as a photo of the protest.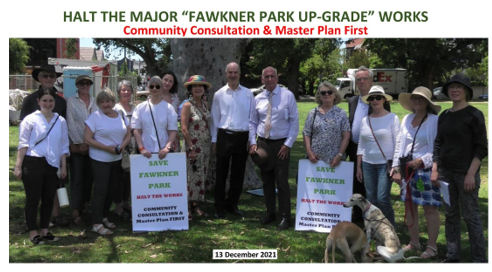 HERALD-SUN MENTIONS ON MELBOURNE'S POPULATION, AND TREE CANOPY COVER
The Herald-Sun also gave me a mention in reports concerning Melbourne's population, and tree canopy cover, on Friday December 17 and Monday December 20. The latter story also referred to the protest at Fawkner Park. In relation to Melbourne's population, which for the first time in a decade and a half has paused, due to the pandemic, I said this was not a bad thing, because Melbourne has become too dense for its own good. In relation to tree canopy cover, I noted that while the State Government and Councils have urban forest policies which aim to protect and increase our tree canopy cover, in reality they are allowing ever more density and the bulldozing of trees, particularly on private land. I have attached a copy of both articles.
Declining tree canopy cover is a major problem, particularly with climate change making Melbourne more likely to have extreme heatwaves in summer. In my home municipality, formerly known as Moreland, tree canopy cover increased in the years between 1989 and 2005, from 14% to 15.6% - moving in the right direction. However, after 2005, Moreland's population started to grow rapidly, and tree canopy cover went into decline. By 2016 it was 14.2%, basically back to where it was in 1989, and falling. Tree clearing in private yards for unit developments saw a 24% drop in private tree canopy. From 2010 to 2015 the suburb of Pascoe Vale, in which I live, lost 345 netball courts of tree canopy!

QUEEN VICTORIA MARKET HERITAGE VALUES UNDER THREAT
On Thursday 16 December I toured the Queen Victoria Market with the President of the Friends of Queen Victoria Market Inc., Mary-Lou Howie. We talked with traders about their concerns about plans the City of Melbourne has for the market. Unfortunately, quite a few traders are reluctant to speak publicly about the City of Melbourne's plans, because they are tenants and fear reprisals. They depend on people like Mary-Lou and us to speak up on their behalf, and fight for the unique heritage which is the Queen Victoria Market.
A Future Melbourne Committee Meeting on 7 December saw Council vote to proceed with "Precinct Renewal" of the Market. Lord Mayor Sally Capp said this was consistent with the work of the People's Panel, which Council had established. Mary-Lou Howie has written an Open Letter to the Lord Mayor expressly rejecting this claim. In particular, Council has ignored Recommendation No. 3, about retaining the existing on street car parking spaces, which are important for trader viability. It has also ignored Recommendation No 1, which opposes gold-plating of the existing infrastructure and storage arrangements, which traders fear will also adversely affect their viability.
Speaking of gold plating, I was told that Council/tenants are paying for over 50 staff to manage the market! Wouldn't you love to have that contract!
Mary-Lou's letter has been supported by People's Panel member Tom Burstall, and by Sigrid Thornton, who has lamented the Liberal Government's gerrymandering of the City of Melbourne, and the Labor Government's capture by the building industry. It has also been supported by the Royal Historical Society of Victoria Heritage Committee, which opposes Council pressing ahead with "a drastic remake of the Queen Victoria Market, in line with the discredited Doyle Plan". Professor Charles Sowerwine and Ass. Prof Judith Smart, also a member of the People's Panel, stress the importance of protecting "the social and intangible cultural heritage significance of the market".
There are plenty of sanitised retail outlets both in the CBD and in the suburbs. But there is only one Queen Victoria Market. Its heritage is worthy of protection. I have attached Mary-Lou's Open Letter, and also a photo of us at the market.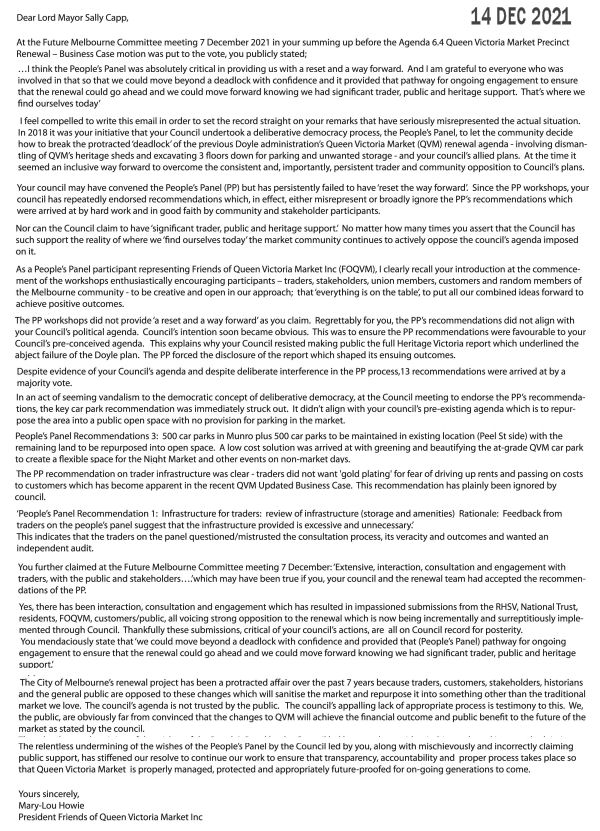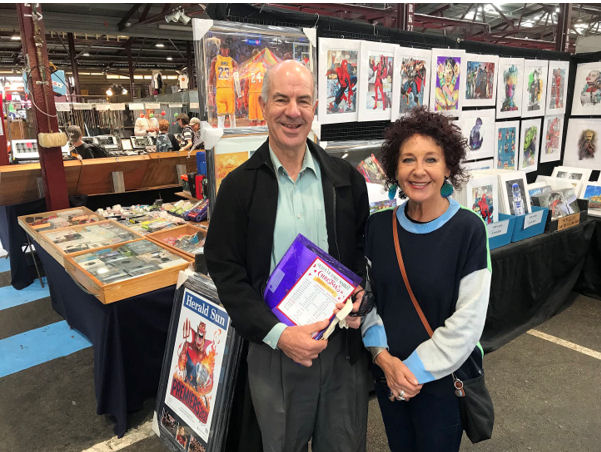 PLANNED CHANGES TO RESCODE – BLACKBURN VILLAGE RESIDENTS GROUP INC.
I mentioned in my last Report that Stephen Rowley had sent me a detailed report on planned changes to ResCode. The changes could sideline the crucial role of context and character in decisions in the Neighbourhood Residential and General Residential Zones, and devalue local policies, ie resident say.
I have now received from Secretary David Morrison a submission to the Department of Environment, Land, Water and Planning from the Blackburn Village Residents Group Inc. Formed in 1987, this Group has sought to ensure that the interests of local residents are recognised in planning issues affecting Blackburn. It is particularly focussed on protecting Blackburn's significant tree cover.
The submission expresses a number of concerns about the ResCode changes. It says the revised performance objectives of the ResCode in relation to Significant Trees need to be strengthened. It says that without amendment the revised criteria would see the wholesale devastation of the Bush Environment precincts in Blackburn.
The Blackburn Village Residents also express opposition to the broader use of VIcSmart. They see the expansion of VicSmart "as further sidelining the community and councils in relation to planning decisions. They note that applicants have been using VicSmart to apply for multiple single tree removals, which is "having a detrimental impact on tree canopy".
Removing tree canopy is not Smart, it is dumb. While the time for submissions to the Department has closed, I would encourage people and groups concerned about this issue to contact their MPs and Councillors about it. We need more decision makers to be more engaged with this kind of detail. I have attached the Blackburn Village Residents Submission.
SUBURBAN RAIL LOOP BILL 2021 AND EES
Professor Michael Buxton has prepared a detailed analysis of the Victorian Government's Suburban Rail Loop Bill and the Environment Effects Statement for the Suburban Rail Loop East project.
The Bill establishes a new statutory authority, the Suburban Rail Loop Authority. The Bill gives the new Authority wide planning powers over a proposed new 90 kilometre orbital rail line and development projects in a 1600 metre zone around stations.
In so doing it relegates the Department of Planning, which should be in charge of Melbourne's planning, "to the status of a client of a statutory authority which has a limited capacity for land use planning". This is very concerning. There is no reason to believe the Authority will have either the expertise, or the motivation, to adequately discharge the major responsibility which comes with having such power.
He finds that the Environment Effects Statement is deficient. For example, a Stabling Facility in the South Eastern Green Wedge is inconsistent with Kingston City Council's Open Space Strategy and Council's vision for the implementation of the Chain of Parks, or the Green Wedge Management Plan for the area. Furthermore, 410 trees will be removed from Bayside/Kingston, 515 from Monash, and 441 trees from Whitehorse. Professor Buxton notes that "Newly planted vegetation cannot replace established vegetation with the existing range of biodiversity, aesthetic and landscape benefits".
I have attached Michael's reports in full.
MALVERN EAST GROUP
The Malvern East Group November/December Newsletter covers a lot of important ground – it is attached.
SURREY HILLS AND MONT ALBERT PROGRESS ASSOCIATION
The group campaigning to save trees and open space from the Level Crossing Removal Project at Surrey Hills has re-named itself the Surrey Hills and Mont Albert Progress Association. What hasn't changed is its commitment to saving mature trees. As the association points out in a recent letter to Victorian Government Ministers, the replacements "will in fact be saplings and cannot possibly replace or compensate for the mature canopy tree cover lost in the neighbourhood. It will be many decades before these saplings reach maturity". They are seeking a halt to further tree removal in their neighbourhood.
PROTECTORS OF PUBLIC LANDS AGM
I attended the Protectors of Public Lands AGM on 27 November. The meeting had a strong focus on Royal Park, including the relevance of the Victorian Heritage Register and the Aboriginal Cultural Heritage Register. Secretary Michael Petit is engaged in a range of activities to better protect Royal Park. President Ernest Healy reported on membership activities, which included objecting to proposals at the State Government's Standing Advisory Committee on Golf Course Redevelopment to convert valuable areas of open space into housing, or commercial enterprises.
YARRA ACTIVITY CENTRES STANDING ADVISORY COMMITTEE
I have had brought to my attention the Planning Minister's intention to establish a Yarra Activity Centres Standing Advisory Committee. My informant is concerned that this is a smokescreen for property developer plans for large towers in Cremorne. More detail is attached.
DEVELOPMENT OVER FLINDERS STREET YARDS (GROUNDHOG DAY).
Connex Capital has offered to buy airspace above the rail lines between Flinders Street and South Yarra stations from the State Government. They plan to build a string of towers and buildings over the land. Melbourne's Lord Mayor has praised the idea, but former Premier Ted Baillieu has described it as "unfriendly crap that would divide the city". Inner City News reports that the director of RMIT's Urban Research, Professor Jago Dodson, believes no developments should occur over rail lines in public airspace, without the state government first undertaking master planning in consultation with the community.
Hear, hear. As Professor Dodson says, this proposal is an extreme change which would considerably re-shape the structure of the city. This is one of a number of so-called "market led" proposals from industry to government. I think the principle of "market-led proposals" is wrong, and poses a corruption risk. Governments should decide what the community needs, not developers. For most projects, there is no reason why political parties shouldn't take the proposal to an election, and get a mandate for it. Then they should put it out to a transparent, public, tender. The risk of cosy deals between governments and corporations, with the public interest taking a kicking, is great. The West Gate Tunnel project was a "market led proposal". Last week we learned it would cost taxpayers $1.9 billion more than originally budgeted, and completion has blown out till 2025. And the Treasurer complains that the company underestimated the cost!
CITY OF MELBOURNE CARLTON HERITAGE REVIEW
Inner City News reports that 24 new sites in Carlton will receive heritage protections under the City of Melbourne's final Carlton Heritage Review. The additional listings are largely in response to concerns that some interwar, post-war and postmodern buildings weren't protected. East Melbourne Group planning convenor Greg Bisinella said the group was pleased about the protections, and hopes for similar outcomes in East Melbourne. He called for stronger heritage controls "Not only to protect heritage properties, but also limit the damage to the heritage fabric of our suburbs that is occurring with excessive development approvals of buildings that are excessively high and dominating of the suburbs".
KEEP THE SUN IN SUNBURY
Former MP and local Sunbury resident Peter Gavin has put in a submission to Hume City Council opposing a 6 storey building at 52 O'Shanassy Street Sunbury. He notes that Sunbury is a dormitory township, where low density accommodation marks their brand and makes living there desirable. He says that plonking a 6 storey building in the middle of the business district would set a new standard, so Council's decision is not only about the site in question. He also raises health issues associated with higher density, and parking problems.
WARBURTON MOUNTAIN BIKE DESTINATION
The Victorian National Parks Association does not support the Yarra Ranges Council's plan for a "Warburton Mountain Bike Destination". The VNPA says the proposal would see 177 kms of new tracks constructed, a third of those within the Yarra Ranges National Park. To create the "northern section" of the trail, ten hectares (5 MCGs) of native vegetation will be razed. You can go to the Victorian National Parks Association website to see how to lodge an objection to this proposal.
BUSINESS PUSH TO INCREASE MIGRANT WORKER PROGRAMS ILL-INFORMED, IGNORANT
Business leaders are urging the Federal Government to increase the migrant worker programs even beyond the Government's world record 160,000 p.a. BCA Chief Executive Jennifer Westacott says that we need more workers with the right skills to "get key projects and investments off the ground". She said "You can't employ hundreds of Australians on a construction job if you don't have a surveyor and you can't deliver an infrastructure pipeline without engineers".
So, we must be short of engineers, right? Not exactly. As Macrobusiness points out, 47% of migrant engineers looking for work are unemployed. More than a third who do find jobs in engineering are underemployed, working at jobs below their experience and skill level. According to Engineers Australia Chief Executive Bronwyn Evans, "They're working as Uber drivers, they're working in the limited hospitality areas that are available, or they're unemployed". Nearly 60% of the 106,000 members of Engineers Australia were born overseas. Many of them came to Australia because the Business Council said they were required. You would think the Business Council would pay some attention to what happened to them.
UNIVERSITIES WERE WARNED ABOUT RELYING ON OVERSEAS STUDENTS
As well as business leaders pushing for ever more migrant workers, we have Universities pushing for an ever-increasing number of international students. When the coronavirus pandemic forced a halt to the overseas student program, the anguished cries of the (extremely highly paid) University administrators could be heard from space. But they can't say they weren't warned.
For example, Salvatore Babones in a 2019 paper for the Centre for Independent Studies warned of the financial risk of reliance on Chinese students, who have made up 40% of the overseas students of both the University of Melbourne and the University of Sydney, which have been getting over a third of their revenue from overseas students. He said "Australian universities are extraordinarily exposed to the Chinese market, and by extraordinarily, I mean that the Australian universities have a multiple of several times the number of Chinese students of any comparable university in the world. At these levels of exposure, even small percentage declines in Chinese student numbers could induce significant financial hardship as universities struggle to meet the fixed costs of infrastructure and permanent staff salaries in the midst of a revenue shortfall. Large percentage declines could be catastrophic". Indeed. But don't bet on the University administrators being clever enough not to make the same mistake again.
VICTORIAN VOLUNTEERING AWARDS
Nominations are now open for the 2021 Volunteering Awards, which celebrate the extraordinary efforts of Victoria's hard-working volunteers. Nominations close 5pm, Friday 14 January 2022. More details available from Volunteering Victoria.
NATIONAL TRUST OF AUSTRALIA SUMMER DISCOVERY TRAIL
The National Trust has created a Summer Discovery Trail. It includes great heritage locations such as Como House, Polly Woodside, Rippon Lea Estate, Old Melbourne Gaol, La Trobe's Cottage, and Gulf Station. Great family entertainment. For more details, go to the National Trust website.
That's all folks. Let me know if there's anything happening in your area that we should be aware of. Best wishes for Christmas, and see you on the other side. Let's make 2022 a big year for heritage protection!
Kelvin