Local residents of the Tweed and Kyogle areas are concerned about the risk of dangerous copycat driving in the lead up, during and after the planned Repco Rally Australia in September.
This is in addition to other environmental, social and economic concerns about the proposed car rally
.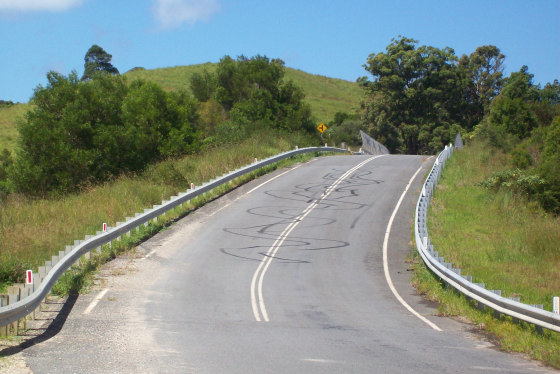 Skid marks on Round Mountain Rd, 29 Mar 09
There is already a problem with dangerous driving on our rural roads. We don't need alcohol fuelled revheads trying to emulate their rally driver heroes on our (mostly gravel) narrow, winding rural roads.
The pictures attached show evidence of dangerous driving already happening on Round Mountain Road and Cudgera Creek Road. Both these roads are proposed to be included in the rally route.
Research shows that accident rates soar in the aftermath of motor sports events.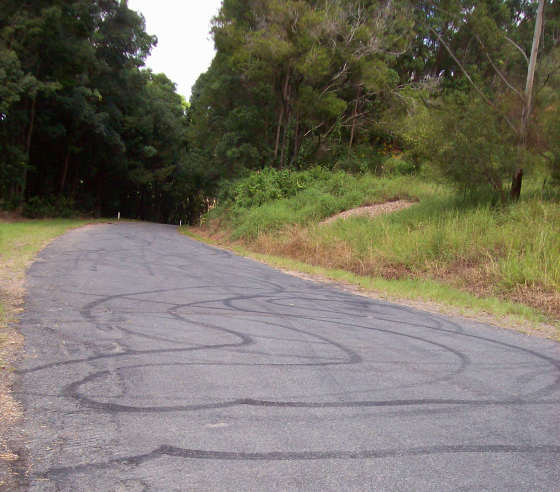 Skid marks on Cudgera Rd, 29 Mar 09
It is not just the drivers who will be at risk. Passengers, occupants of other cars, pedestrians, endangered local wildlife and vegetation will also be put at risk.
Please help us to fight this insane proposal. Join other concerned locals at our next meeting at Uki on Saturday 11 April at 12noon. The meeting will be held behind the Buttery or in the Hall (depending on the weather).
Michael McNamara
What you can do: Attend meeting in Uki behind buttery at 12 noon Sat 2 May, (if raining, back of Uki Main Hall). Contact no.rally[AT]yahoo.com.