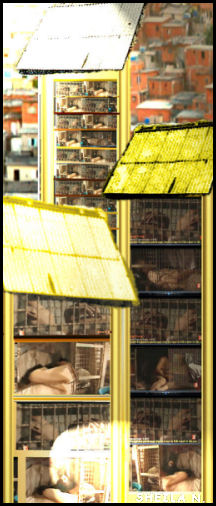 Jacob Saulwick, in "Libs back Greens call for inquiry into 'big Australia'",
March 16, 2010 Sydney Morning Herald, writes,
'The Greens leader, Bob Brown, said yesterday that the inquiry would hold hearings in every capital city, asking whether Australia had the environmental, housing and transport capacity to meet a predicted increase in population to 36 million by mid-century.
''We don't have the infrastructure to deal with 21 million people at the moment - for example, public transport and water infrastructure - let alone the estimated 35 million people by mid-century,'' Senator Brown said.'
[...]
'The opposition immigration spokesman, Scott Morrison, said the opposition would work with the Greens on the proposed inquiry.
''Australians want to be heard on this issue,'' he said. ''I think Australians are very frustrated by a prime minister who just signs us up to a 36 million population and they don't have any say about it.''
The capacity of state and local governments to provide services for their growing constituencies needed to be examined, he said.
''All of these issues require some very careful analysis to know what our migration intake should be.''
The Greens will move a motion in the Senate in May calling for the inquiry to be set up.'
Dick Smith, however, has suggested that what is needed is a proper risk study, ie. a study which shows what the risks are at various population numbers (milestones) and growth. .... "It could show that with 36 million in 2050 what our risks are and what the chance of those risks of occurring are. Anything like that can be more objective, and allow people then to work out what they think an optimum number may be."
High Rise does not solve population growth problems: State of Australian Cities Report
High rise is often touted as a panacea for population growth energy costs, but the State of Australian Cities Report, which has just been released, shows this is yet another furphy produced by the growth lobby.
The State of Australian Cities Report 2010 has been released, to assist the Australian Government, in cooperation with state, territory and local government, and in partnership with the community and industry, to improve Australian urban policies.
The report is designed to redress an information deficiency about economic, environmental, social and demographic changes, and to reveal trends and provide a platform of knowledge for the development and implementation of future urban policies.
The report found that the past outward urban expansion has meant a greater distance between residential and employment areas with a resultant greater use of cars, higher transport costs, more vulnerability to oil price rises and the loss of agricultural land or habitat. More recently, however, the pattern of growth has seen an increasing proportion of population growth accommodated in existing inner and middle suburban areas, most notably in Sydney.
The level of car dependency in Australian cities has increased at a faster rate than population growth, creating traffic congestion problems as infrastructure and public transport have failed to keep pace with population growth.
Other key findings include:
* Australian cities rank highly on an international comparison, particularly on indices that measure quality of life and global connectivity, and measures related to the social condition of people.There is evidence to suggest that Australian cities suffer with respect to infrastructure. Of concern is the evidence that suggests a decline in international relative performance and perception in the past five years.
* Water restrictions in major cities across the nation saw total consumption by households fall by 7 per cent between 200001 and 200405 despite population growth over the period.
* Residential energy use accounted for approximately 7 per cent of total energy consumption in 200708, but grew at a high rate (2.2 per cent) relative to other sectors over the period. This growth is attributed to population increase, higher ownership of appliances and IT equipment per household, and increases in the average size of homes. Standby power was the greatest contributor to average annual growth in household energy use over the period 198990 to 200607.
* Transport emissions are one of the strongest sources of emissions growth in Australia. Strong growth in emissions from the transport sector is expected to continue, with direct CO2 equivalent emissions projected to increase 22.6 per cent over the period 2007 to 2020 (or around 1.58 per cent a year).
* Climate change is affecting rainfall patterns. Since 1950 much of eastern Australia and the far southwest, where our largest cities are located and the majority of the population lives, have experienced an annual decline of up to 50 mm in rainfall per decade affecting both the availability and quality of water supplies across urban areas.
* Levels of the key pollutants of lead, carbon monoxide, sulphur dioxide and nitrogen dioxide in the largest capital cities have decreased significantly over a ten-year period. However, particulate air pollution and ozone levels have remained at or above national air quality standard levels over the period and showed no evidence of decline.
* While national recycling rates have increased, total waste generation has also continued to increaseby around 31 per cent from 200203 to 200607 (4 years), exceeding the rate of population growth of 5.6 per cent over the period.
* When both direct and indirect environmental impacts are taken into account, higher [per capita?] environmental impacts at the household level are associated with higher incomes and smaller household sizes. Therefore, despite the opportunities for efficiency and reduced environmental impacts offered by more compact forms of urban living, inner city households of capital cities, followed by the inner suburban areas, feature the highest consumption of water use, energy use and ecological footprints even when reduced car use is taken into account.