Lord Mayor Clover Moore has nothing to congratulate herself on with regard to homelessness in Sydney. The City of Sydney's most recent street count has revealed that homelessness has risen and crisis shelters are at capacity. Although the City has been collecting levies from developers to create affordable housing since 2004, it has only created 835 new affordable housing dwellings in that time. Whilst the *official* number of homeless in Sydney reached 592 in August 2019 (with so many more couch-surfing and living on credit), Australia has continued to import approximately one million immigrants every two years, pushing up the price of housing and causing pressure on Sydney's very scarce land, to the extent that NSW State Premier, Gladys Berejiklian asked the Federal Government to halve the immigration numbers - to no avail. Lendlease private developments is forcing new suburbs into koala territory despite years of organised protests from nearby residents. It is clear that property development is disorganising human communities, extinguishing wildlife, and over-riding every democratic measure in our society. It is ironic that the City of Sydney, in a country run by property developers for their own enrichment through population growth, should give the biggest private landowner in Australia (the Catholic Church) $100,000 to pay various humble workers to telephone between services looking for empty beds each night for the homeless. The same Catholic Church is a notable property developer, owner of the oldest bank in the world, and a chronic promoter of mass immigration.
According to a press release from the City of Sydney, while the number of those sleeping rough fell by 24 people compared to the count in August last year, occupation of temporary or crisis accommodation rose by 16.8 per cent to 592 people – 94 per cent of available bed capacity.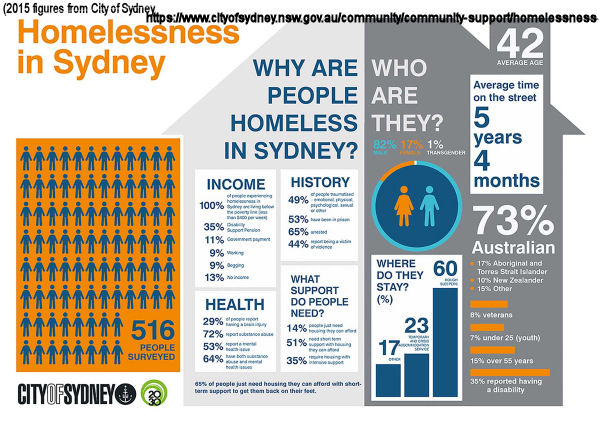 August 2019
People Sleeping Rough: 254
Occupied Crisis and Temporary Accommodation Beds: 592
August 2018
People Sleeping Rough: 278
Occupied Crisis and Temporary Accommodation Beds: 495
Sydney Lord Mayor Clover Moore said that the high level of temporary bed occupancy showed outreach services run by the NSW Government, City of Sydney and non-government organisations were working, but that those numbers would remain high without the provision of more stable, long-term affordable and social housing. In 2017 she had blamed the State Government for not providing enough accommodation, and had refused to move people out of Sydney's "tent city".
In NSW State Premier, Gladys Berejiklian's defense, Ms Berejiklian had, in 2018, asked the Federal Goverment to reduce immigration to NSW by half, with no success.[1]
Sydney's Mayor has a complete disconnect about the problem of massive immigration numbers driving up demand for housing and personally welcomes 1000 international students each year, observing that there are now more than 35,000 studying in the City's local area. Whilst homelessness is increasing, she actually describes student immigration as 'increasing Sydney's livability'.
"International students enhance Sydney's vibrancy and liveability through contributing to our city's cultural diversity. The international student community also plays an important role to grow and strengthen Sydney's global connections – today and in the future." [2]
According to Australia's 2016 census, the number of homeless people in Australia jumped by more than 15,000 — or 14 per cent — in the five years to 2016. The Australian Bureau of Statistics (ABS) said 116,000 people were homeless on census night in 2016, representing 50 homeless people per 10,000.
Let them eat cake, eh, Clover?
"These figures tell us that people experiencing homelessness are seeking help, and know where to find the services that can offer them a bed or a free meal for the night, but these are temporary solutions to a systemic crisis," the Lord Mayor said.

"254 people sleeping on our streets is 254 too many. In a prosperous city like Sydney, this is an unacceptable situation demanding decisive and compassionate action. To break the cycle of homelessness we need the NSW and Federal governments to fund provide more social and affordable housing in the inner city. We cannot allow Sydney to become an enclave for the rich. We need a diverse range of housing to accommodate our diverse community."
Minister for Families, Communities and Disability Services, Gareth Ward, participated in the count and said the figures showed the NSW Government's assertive outreach programs are making a real impact.
"Since 2017, our assertive outreach teams have helped house more than 450 people previously sleeping rough on inner city streets," Mr Ward said. "Our staff are compassionate, skilled professionals and to see a drop in the number of people sleeping rough compared to last year is encouraging, but of course there is still more work to be done. The reality is that across the state, homelessness is an issue. That's why we recently announced the expansion of assertive outreach to Tweed Heads and Newcastle and the extension of the street count to regional areas. We're delighted to partner with the City of Sydney in tackling this issue and we will continue to work with other local councils and non-government organisations to build on the strong foundations we have set."
Member for Sydney Alex Greenwich welcomed the joint action between local and state government on homelessness.
"Sadly, it is no secret that homelessness has reached a crisis point in NSW," the Member for Sydney said. "The latest street count results prove once again that people are seeking help, but that the system is at capacity – we need to provide safe and affordable homes in order to truly stop the cycle of homelessness in our state."
The homeless in Sydney count was conducted in the early hours of Tuesday, 6 August. A total of 195 volunteers made up of residents, sector workers, students, local businesses 15 advisers who have lived experience of homelessness and 30 City staff members took part in the count from 1am to 3am.
In February, the City signed an agreement with the NSW Government, the Institute of Global Homelessness, St Vincent de Paul, St Vincent's Health, Mission Australia, Salvation Army, Wesley Mission, Neami National and Yfoundations to:
- reduce rough sleeping in the City of Sydney area by 25 per cent by 2020
- reduce rough sleeping in the City of Sydney area and NSW by 50 per cent by 2025
- work towards zero rough sleeping in the City of Sydney area and NSW
These goals are totally inadequate given the number of new migrants coming into Sydney every day plus all the overseas immigrants and the likely total by 2025.
The City has contributed $100,000 to the St Vincent de Paul Society[3] to establish a Sydney office to coordinate the project. It says that the local, *independent* organisation is bringing together organisations and services working to reduce homelessness. The city believes that this will allow for greater information sharing and enable a more coordinated response to reduce the number of people sleeping rough and to prevent people entering in to homelessness.
It is ironic that a City in a country run by property developers for their own enrichment through population growth should give an organisation affiliated with the biggest private landowner in Australia (the Catholic Church) $100,000 to pay various humble workers to telephone between services looking for empty beds each night for the homeless.
The City has also invested $6.6 million over three years to help reduce homelessness in the city. This includes a $3.5 million contribution to the NSW Government's Department of Family and Community Services over three years to fund specialist homelessness services.
The City of Sydney says that it has helped build 835 new affordable housing dwellings since 2004, by collecting levies from developers and selling *our* land to affordable housing providers at discount rates.
Meanwhile, between 2014 and 2017 'Cloud Arch', a single ribbon of steel shaped sculpture intended to be installed over George Street in Sydney, had its budget rise from A$3.5 million to 11.3 million dollars. It has been criticised on cost and aesthetics, but the mayor has said that it will become a "drawcard for residents, workers, tourists and visitors." She obviously hasn't figured out that Sydney isn't coping with its current population, if she wants to attract even more people.
NOTES
[1] "On Wednesday the New South Wales premier, herself the daughter of Armenian immigrants, called for a halving of the state's migrant intake, citing concerns about population growth in Sydney. But a Guardian analysis of immigration data shows any reduction in migration in Australia would involve hard and potentially costly choices for the state's economy. While permanent arrivals in Australia are at the same level as they were under the Howard government, the increase in net overseas migrants has been driven by the lucrative international student market, tourists and skilled workers." source: https://www.theguardian.com/australia-news/2018/oct/10/gladys-berejikilian-calls-for-immigration-cut-but-it-could-cost-nsw.
[2] Source: https://www.cityofsydney.nsw.gov.au/community/community-support/international-students
[3] "The St Vincent de Paul Society is a lay Catholic organisation and does not receive any direct funding from the Catholic Church. The Society enjoys a close relationship with the Catholic Church and is assisted through parishes and schools." (Source: https://www.vinnies.org.au/page/About/FAQs/Is_the_St_Vincent_de_Paul_Society_a_part_of_the_Catholic_Church/)
The Vatican, on the other hand, manages $64 billion of assets on behalf of its 17,400 customers, according to a Dec. 5, 2014, article in International Business Times .
The Vatican bank owns $764 million in equity. The bank keeps gold reserves worth over $20 million with the U.S. Federal Reserve. (Source: https://www.nasdaq.com/article/how-much-money-does-the-vatican-have-cm500605.