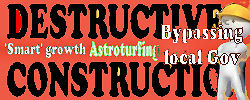 The information in this article, which most Australians find quite shocking, has for a couple of years remained at the bottom of a very long article about Melbourne 2030. Since we are working on an article about the Property Council of Australia's latest good cop campaign, it seems very important to draw peoples' attention to the much more naked bad cop Property Council campaign of 2010. We have therefore reproduced the guts of it below. (And below that, another way forward, a counter-growth lobby view.)


Property Council Powerhouse Update 2010
Here are the main aims of the Property Council of Australia, from their own document, "Powerhouse 2010 Update" downloadable as a powerpoint file here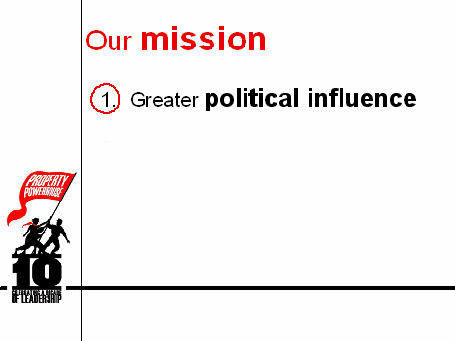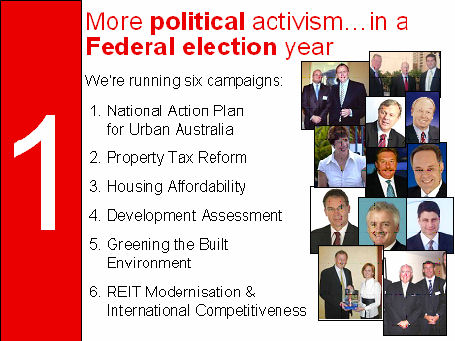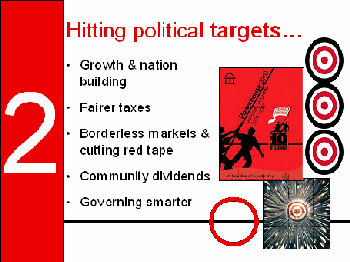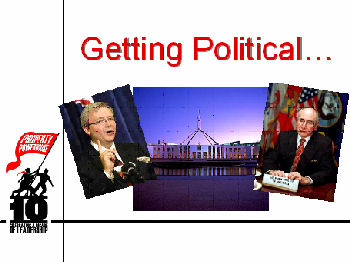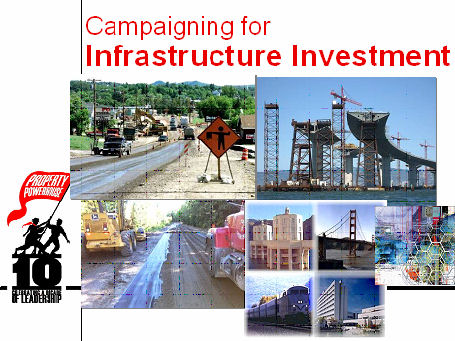 Don't you love it! Melbourne - and the rest of Australia - under permanent construction.

Ah, the excitement of choking traffic in the mornings; the challenge of breathing in that dust.

The joy of watching your favourite piece of nature paved over.

The engagement of foregoing sleep to write useless submissions to your local member and state government.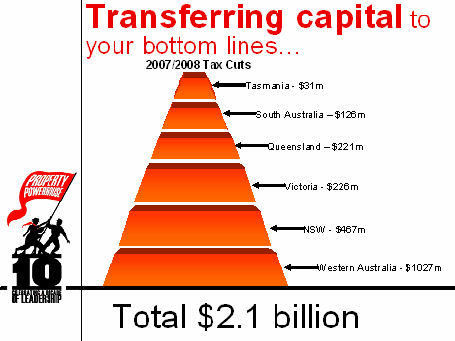 Gee, our taxes at work! 33% of my wages. And then, on top of that, there are those rising council rates, that burgeoning homelessness, those skyrocketing rents, those outrageous property prices, that choking traffic...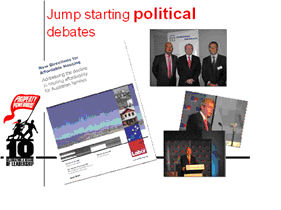 And, here was their latest 'branch' member - the Victorian Government - in 2010. However you may be certain that every state government in Australia has departments signed up to the Property Council. That is why it is hard to say where government ends and Property Council begins.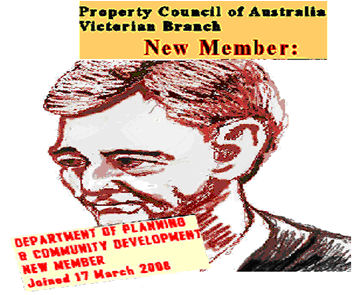 THERE IS ANOTHER WAY
A Counter-growth lobby view:
The Problem: Organising against population growth, dispossession and life-threatening hardship as oil and water deplete.
The mainstream media and government are corporatised and represent the interests of the corporate world. We cannot rely on them for information, guidance or to organise. We need to communicate outside of them: Internet, word of mouth, books, films, meetings and markets.
Organising requires comunication between neighbours and kin and power at a local level.
Default human social structure is along kinship lines of family and clan.
• Local Communities with a history together and especially with intact or strong kinship structures have the best chance of organising to survive well.
• Current land-use planning and population programs structurally split- up communities and prevent them from organising.
We need to challenge local laws that stop us having livestock and water for growing food.
• We need to re-design our communities so that we can grow food and keep domestic animals.
• It is vital to get back and conserve full use of suburban land and water. So look out for ways to do this.
The government is public-private corporatising rural land and giving more and cheaper water to their agribusiness program. Agribusiness does not care about you and me; agribusiness quotidienly watches people starve. That is why we have to fight government attempts to retain our water for other uses. We need it.
Laws should be primarily for benefit of local communities, then integrated into region and continent
Inheritance and Land-tenure systems need reform along Roman-law lines, like Western Continental Europe.
Roman-style laws

• Preserve land within families

• Share land equally between men and women

• Minimise land fragmentation and speculation
Basically this means that our inheritance system and land-use allocation and planning system need reform towards:
• male and female equal inheritance,
• prohibition against disinheritance of children (legitmate or illegitimate), and
• leasing to substitute for land-sales
Remember:
Cheap goods are the baubles to seduce and distract today's indigenous populations.

Today's indigenous populations are us.

We who were born here.

Let us not be distracted by beads and baubles.
• Land with water and a stable population and society are what counts.

• Land speculation is a mug's and a con-man's game.

• High profits in any field are not sustainable in the long term.

• No society that encourages one class to profit at the expense of all the other citizens is sustainable.
(Linked to from Twitter. tinyurl.com/bvaupkb bit.ly/HeU7FM)