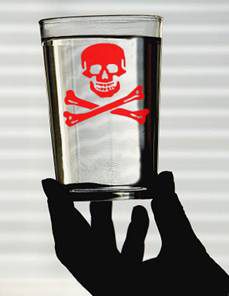 You are invited to attend the
Public meeting at West End, Brisbane on Nov 15th
The Dark Side of Water Treatments by Queensland Government
Date:  Saturday, 15th November, 2008
Time:  2pm–5pm
Venue: Ahimsa house 26 HoranStreet, West End, Brisbane
Entry: Gold coin donation appreciated
Tea Included: Approx 3.30pm
The Issues: Recycled Water, Fluoridated Water
The Speakers:
1. Mr Snow Manners B.Econ., API (Toowoomba) (speaking at approx 2.15pm)
Snow is an economist and property valuer. He researched the issue of recycled water when it was proposed as a solution for Toowoomba. Snow coordinated the various opposition groups in Toowoomba which forced a poll and defeated the proposal. Two months after the poll he was elected to the Toowoomba City Council in a by-election and served the balance of the Council term as Chair of Strategy and Governance.
2. Dr. Andrew Harms, BDS ( speaking at approx 2.45pm )
Andrew is a dentist and Past President, Australian Dental Association, South Australia Branch. During a period of illness some years ago he changed his views drastically and is now an authority on fluoride toxicity.
3. Dr John Ryan (MB. BS. Qld)
John is a doctor, a Fellow and Former National Examiner of both Royal Australian College of General Practitioners and Australian College of Nutritional and Environmental Medicine. He has post graduate qualifications in Nutrition (M. Sc. Distinction, London), and Children's Diseases (DCH Ireland). He was for five years a member of the Therapeutic Goods Advisory Committee on Complementary Medicines in Australia. He is a founding member of Professionals Against Water Fluoridation with 1800 professional members worldwide.
4. Mrs Merilyn Haines (B.App.Sc Med Lab Tech)
Merilyn is a medical scientist who has worked in most areas of pathology. She has a keen interest in social justice and applies these values to a heavy commitment in community and environmental projects. Merilyn is Chair and Founder of Queenslanders for Safe Water, Food and Air Inc and is a strong voice for those people who feel they have been harmed and neglected in the process of water fluoridation in Queensland. Merilyn had a family member harmed by Townsville's fluoridated water, which sparked her interest and concern at the practice.
For further information, phone: Angus: 07 3254 4596 or Jeanie 0408 006 544
Web Site: www.qawf.org E-mail info[AT]qawf.org
Water fluoridation and the use of recycled sewage effluent are two of the most important health issues ever to face the people of Queensland. Hear from Professionals who have studied these issues over many years.