Dear Supporters,
Our friends at Operation Quarrantine say:
Don't R.I.P. the RIP. The Queen of the Netherlands is heading to The Heads and so is concern for the Bay.
So - Operation Quarrantine has organized a land and water action at Point Nepean and Point Lonsdale, and is calling on people who love the Bay to join them on Saturday 5th April. As well as people on land at Pt. Nepean and Pt. Lonsdale, protesters in boats and board riders will also be confronting the dredge
Participants will include a number of groups and individuals who all share a desire to Save the Bay from Boskalis and see the Queen swiftly and safely back in Holland where she belongs. Holland needs her, we don't!
Details: Saturday 5th of April
On-Land supporters Meet at Point Nepean National Park Carpark at 11 am and Point Lonsdale Pier at 11.30 am
Boats meet at Sorrento Pier at 10 am or at the dredge at 12 noon
Distress signals from land and water 12.30 pm onwards
Along with the toxic dump, dredging of the Heads is the most contentious and foolhardy of the PoMC's plans for the Bay. If work proceeds:
Unique species and habitats will be destroyed.
More water will flow in and out of the Bay on every tide, increasing risks of coastal erosion and inundation of low lying land
Shipping risks will increase
The dive and eco-tourism industry will be severely compromised or may face closure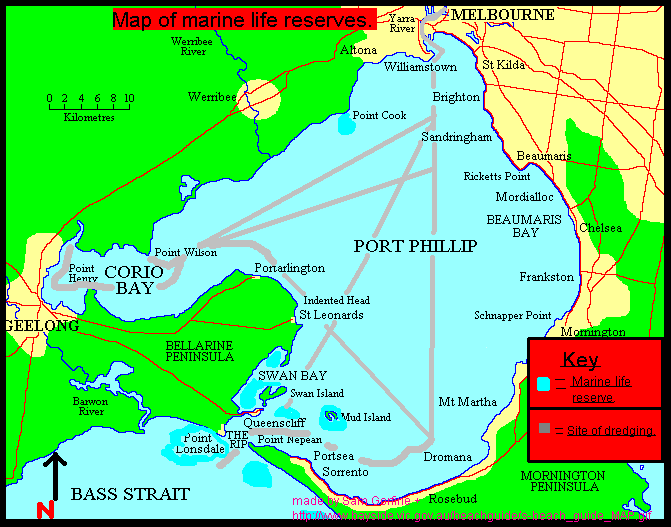 Trial dredging in 2005 caused thousands of tonnes of rock to fall into the canyon and Marine Park – almost one quarter of Boskalis' work ended up somewhere it shouldn't be, causing extensive damage.
PoMC concealed information about damage from the trial dredge until the eleventh hour of the 2007 Inquiry. Large volumes of mobile rock are still present in the Great Ship Channel as a result of the 2005 Trial dredge, and are a shipping hazard. It could have been responsible for the grounding of the tanker Desh Rakshak in January 2006. With over 500,000 cubic metres of rock set to be quarried, the damage and risks could be exponentially worse.
This planned destruction is irreversible and permanent. It is an act of vandalism, and without any reasonable justification. It should not be tolerated in the 21st Century.
Carey Priest, media spokesperson for Operation Quarrantine, says: "This is one of the last opportunities we have to protect this vital resource for generations to come. We need to show the Brumby government that they will lose office over this dredging project. The people of Victoria do not want the Bay turned into a Quarry! The science is on the table – no ifs, buts or maybes – this is a massively destructive operation to one of the most pristine and unique marine ecosystems in the world."
If you can help Operation Quarrantine especially with boat support for Bellarine Peninsula please contact Carey 0438 353 243.
For further information contacts: Carey Priest 0438 353 243 (Pt. Nepean side) and Catherine Jones (Pt. Lonsdale side) on 0408 202 187 or email bellarineseastar |AT| gmail com
Visit: www.operationquarrantine.com for more information and SMS 0438 353 243 to be in the loop for up coming actions and events.