Late 2008 a school teacher helped worried children in Epping write to the Minister for the Environment, Mr Jennings, asking him to help kangaroos marooned by development and battered by traffic. Why did DSE allow Wildlife Victoria to spend time and money on a plan to relocate the 21 remaining kangaroos to safe territory, but then secretly kill the kangaroos in a unilateral decision in January this year? Why did DSE, which is also responsible for planning, allow development to trap the kangaroos? A memorial protest will be held for these kangaroos on Sunday 28 March at 2pm at Oleander Drive off McDonalds Rd in South Morang.We the People can do more about this - see inside! See also "Children in Epping tread where politicians fear to go" and "Our State government appears to be on a campaign to eradicate native wildlife from Victoria, especially kangaroos"

Mill Park/South Morang kangaroos
In late 2008 a school teacher helped worried children in Epping write to the Minister for the Environment, Mr Jennings, pleading for his department to look after kangaroos in the area,[1] which were landlocked by Government policy to artificially stimulate human population growth and the associated commercial and housing development.[2]
The children were especially distressed by the frequent sight of injured kangaroos on roads which they tried to cross in efforts to find food and water.
To our knowledge, the Minister never answered the children's emails, but the schoolteacher and children were silenced. Obviously one would write more about this except that it would not be in the interests of the children and their teacher. Why this should be so in Victoria in 2010, I leave to the reader's imagination.
Wildlife Victoria searched for kangaroos which DSE has shot without telling them
McDonalds Rd., South Morang and Bunnings, Mill Park, Feb 13, 2006 (Google Earth) with Inset of local kangaroos caught in further commercial development (Photo Fiona Corke).

Note that this area has changed enormously since the latest google-view of Feb 13 2006, such is the forced pace of change in Australian cities. South of McDonalds Road is where the mob was, and that is now quite heavily built on, with commercial development, including Bunnings. North of McDonalds Rd is largely overtaken by residential development, but there are also kangaroos over there, particularly near the two water tanks that can be seen on the top right hand edge of the area. There are not as many as there used to be. Wildlife rescuers are trying to ascertain with regular monitoring how many may have disappeared from there as well, and if any of these may have been killed. The kangaroos can get some passage through up into the northern area and beyond. Alas that takes them into farming areas where they are likely to also be shot with permits issued by the DSE to farmers.
The Department of Sustainability and Environment (DSE) dissolved the South Morang Kangaroo Working Group Committee last year, but DSE told Wildlife Victoria that they could submit a relocation plan, although it clearly stated that the plan would have to meet all recommendations. So far these recommendations have all been met and the plan is currently under review with an Ethics Committee that is chaired by a DSE employee.
On Friday 19th March 2010, however, after being questioned by Wildlife Victoria about the disappearance of kangaroos under focus, the Department put out a media release, stating that the kangaroos had been shot in January. The DSE employee who was left continuing to chair the ethics committee had not been informed either.
The grounds given for killing the kangaroos were that development was reducing them to starvation, but Wildlife Victoria says that recipient sites were available for them. Yes, there is land available, because of the depletion of populations due to last year's bushfires in other areas. This relocation option was to be presented before the ethics committee for approval next week.
Why did DSE, which is also responsible for planning, allow the situation which preceded this final tragedy to arise in the first place? Why did they also allow Wildlife Victoria to spend considerable time and money on a plan to relocate these animals to safe territory, then secretly kill the kangaroos in a unilateral decision?
Substantial Wildlife Corridors are still possible and must be created
It would still be possible to create corridors to safeguard Victoria's kangaroo population if it were not for the attitude of the commercially obsessed and development-mad Victorian Government, which seems to intend to get rid of every kangaroo in the State without letting anyone know what it is doing. Since similar attitudes prevail in other States, it seems possible that Australian governments could have plans which will make the kangaroo extinct, for all the public knows.
See also "Children in Epping tread where politicians fear to go" and "Our State government appears to be on a campaign to eradicate native wildlife from Victoria, especially kangaroos"
Secretive elimination of wild kangaroos in South Morang and Mill Park
The Sth Morang kangaroos that people have fought so long to save have been secretly killed by commercial shooters contracted by the Department of Sustainability and Environment.
The kill happened in January, although their relocation was and theoretically still is under review by an Ethics Committee. The chair of that Ethics Committee is a Senior DSE Wildlife employee who was not informed that the kangaroos had been killed.
21 remaining members of the original mob of 30 (depleted by road accidents), which rescuers had been focusing on, had been missing for weeks. Wildlife Victoria Members, Fiona Rowley, Narelle Smith and their northern network, Wildlife Rescuers, had been searching the area. All the while they suspected that the kangaroos had secretly been killed.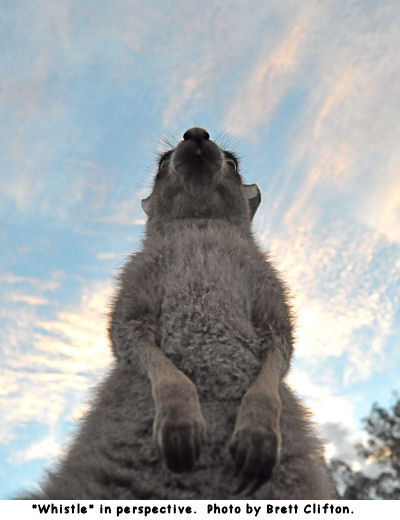 After Freedom of Information (FOI) notification and recent questions from Wildlife Victoria, the DSE issued a media release dated 19 March 2010.
The DSE media release [cited below] uses the fact that property development in the area was eliminating these animals' habitat and that they would starve to death to excuse the unilateral kill and implies that relocation was too unsure and costly an option to consider.
Kangaroo defenders say, however, that Wildlife Victoria's submission to relocate the kangaroos was panning out well. Fiona Rowley had been an effective advocate for a rescue plan and both she and Narelle Smith had been involved in key aspects of the relocation plan and submission, and were keeping up monitoring of the area. The City of Whittlesea and Westfield Shopping Centre were prepared to cover the costs of the relocation, according to Fiona Rowley.
DSE "Out of touch" on wildlife issues
In response to the DSE press release, a distressed Fiona Rowley said:
"No proper study of the effects of relocating kangaroos has ever been undertaken, so how do they know it's not possible. We were prepared to undertake one and the relocation project was pending approval via an expert panel.

"Money has been spent on statistical consultants, having site assessments done on recipient sites and it was determined by these consultants that the sites were suitable and could accommodate this mob of kangaroos with little to no environmental impact.

"Furthermore the City of Whittlesea and Westfield Shopping Centre were also supportive in relocating the kangaroos and were prepared to cover the costs of this project. The DSE are out of touch with wildlife issues and don't consider what the community wants or expects in these situations."
Ms Rowley added:
"In the South Morang Kangaroo Working Group Committee that many of us were involved in over the past few years the DSE admitted to being afraid of public backlash and noted the media attention when hundreds of kangaroos were killed at the Belconnen Naval Transmission site in Canberra 2 years ago. They also admitted on a number of occasions during the working group meetings that they were opposed to relocating these kangaroos as they did not want to set a precedent of relocating kangaroos in Victoria. DSE finally agreed that a relocation plan could be submitted and that it would have to go through an animal ethics committee for approval.
Why is the Department of Sustainability and Environment so cruel, callous, devious and incompetent?
The Department of Sustainability and Environment may have perceived an interest in defeating Wildlife Victoria's attempt to relocate kangaroos because, had this attempt succeeded, it could have been the first of many. The Department would then have been forced to admit that their duty of care towards these indigenous animals involves finding them alternative habitat or ceasing to grant new building permits in affected areas.
There are many groups of kangaroos in similar man-made predicaments - more every day. Kangaroos are high visibility animals (unlike some solitary, smaller creatures which often die unnoticed). Relocating kangaroos requires very noticeable efforts and organisation, drawing even more attention to their plight and government responsibility, cruelty, and over-release of building permits.
The public get very upset when they are confronted with the merciless impact of population growth and development on wildlife and the last thing that DSE wants the public to realise is the extent of the suffering of kangaroos and other wildlife through its already unpopular and unnecessary population growth and development objectives. The public really need to know about this, however.
DSE Victoria is already in trouble for failing to collect and maintain competent wildlife statistics, which means that it has failed to identify threatened and endangered species, let alone fulfill its international obligations to draw up plans. A recent auditor general's report on the matter estimated that it would take the Department nearly 30 years to catch up with its obligations if it continued to allocate so few resources to the task.
The Department of Sustainability and Environment is in charge of all the planning in Victoria and responsible for releasing too many building permits and inviting too many people to come and live in Victoria. To allow the DSE to be responsible for the welfare of kangaroos is like putting the fox in charge of the welfare of hens, a maniac in charge of a child, or a drunk in charge of a bar.
DSE should reimburse Wildlife Victoria and Volunteers involved in relocation efforts for their time
Is DSE going to reimburse the many weeks and months which volunteers have spent doing the department's work for them in researching relocation options and plans? In my view, the volunteers deserve the same hourly compensation as DSE managers would expect for undertaking similar responsibilities. If DSE is prepared to pay shooters rates to kill the kangaroos, it can pay volunteers for their time that it has wasted.
Reimburse Stress and suffering for Wildlife volunteers as well
Some also speak of compensation for pain and suffering - the awful stress of putting yourself out - literally for years - to find a solution for wildlife to a problem caused by incompetent planning - only to be assaulted with the information that the department was apparently not even attending to your input. Those months and years of forgone income, time with children, time maintaining home and fitness, in order to put in time for kangaroos with the Department of Sustainability deserve full compensation, including holidays and penalty rates and medical expenses for stress.
There is a lot we can do about all these wrongs!
Complain
Write a supportive comment under this article.
Email Ron.Waters[AT]dse.vic.gov.au to voice your protest
Email Gavin Jennings, the Minister for the Environment gavin.jennings[AT]parliament.vic.gov.au to let him know how disgusted you are. His phone number is (03) 9888 1910.
Send us copies of emails you send to politicians.
Change your vote!
Join the Animal Justice Party, which is a new political party in Australia that is seeking members in order to become an effective voice for all creatures great and small in every state of Australia.
Alternatively, join one and or vote for both (using preferences) of the two parties which intend to reverse government policy for rapid population growth in Australia. After all, population growth and development are the greatest cause of suffering for our native fauna. The parties are The Stable Population Party of Australia and the New Australia Party. Support Federal ALP member, Kelvin Thomson's population reform plan and vote for him if you are in Thomson's Federal electorate (Wills), which borders on the areas discussed here. You can contact him at (03) 9350 5777 or email him at Kelvin.Thomson.MP[AT]aph.gov.au Tell other MPs that they should get behind Kelvin's plan.
Get the relevant State and Federal Members of Parliament to put pressure on the relevant ministers
The area in question falls under two different State electorates - Yan Yean (administered by Danielle Green MP - danielle.green[AT]parliament.vic.gov.au Phone: (03) 9432 9782) and Mill Park (administered by Lily d'Ambrosio MP - lily.d'ambrosio[AT]parliament.vic.gov.au Phone: (03) 9465 9033 . These members need to tell the Minister for Planning to refuse any new building or clearing permits for the area and to provide safe crossings for animals in extant roads and to stop inviting immigrants to Victoria because there is no room.
The Federal member responsible for this particular area - Scullin electorate - is ALP member, Harry Jenkins: Harry.Jenkins.MP[AT]aph.gov.au Phone: (03) 94678055. He needs to tell the Prime Minister to cut down Australia's immigration because it is causing kangaroos to suffer by driving housing and infrastructure development on indigenous habitat.
Memorial Protest for these victims of DSE and Victoria's overdevelopment and lack of fauna management
A memorial protest will be held in honour of these kangaroos, who became the innocent victims of development and lack of native fauna management by the government department responsible for their wellbeing. It will be held next Sunday 28 March at 2pm at Oleander Drive off McDonalds Rd in South Morang.
Please – tell everyone you can, it's really important that as many people attend as possible.
Enough is enough; this war against our wildlife has got to stop!
Kangaroo and Wildlife activists and carers hope to see many Victorians there from city and country areas.
The Department's media release in March about the shootings in January
The Department of Sustainability and Environment Media Release re the
"South Morang Kangaroosof 19 March 2010, [3] (reproduced in the "Notes" section of this article), was two months after the event.
It said that DSE had
'humanely put down a group of kangaroos that had been isolated on land at South Morang.' It said that "The welfare and safety issues associated with the capture and relocation of kangaroos were significant" and that "Finding suitable habitat to relocate kangaroos to is also a challenge."
The choice of the words 'significant' and 'challenge' is interesting. 'Significant' is a useful term for avoiding quantification, comparison or documentation. Why wasn't the decision on the kangaroos scientifically and ethically informed by the relocation study concurrently being carried out? 'Challenge' is a political word that covers a multitude of omissions, including the fact that there was a choice. DSE chose to kill the kangaroos. It chose to deprive them of life and people working on this problem of the opportunity to attempt to save their lives. Victorian observers could be forgiven for seeing this as expedient or cowardly or callous.
One long-time wildlife campaigner wrote:
"I may be wrong/out of line but as I've said before, probably the only way to save some kangaroos is to dart and move them illegally, at night. Government departments that are supposed to protect wildlife almost never help when we ask them to protect animals and seem to take every opportunity to kill them. I cannot help but wonder if there is a criminally corrupt aspect. Someone's brother may be a 'roo shooter. Wildlife carers get nothing for the work they do, but shooters get paid. What is the going price for shooting 20 kangaroos, I wonder, after you split it with someone in a department meant to help the roos?

Of course there must be people in departments that are supposed to protect wildlife who actually do care about animals, but they have to follow orders and the directions from the top seem to be universally callous."
Notes
[1] "in the area": This particular tragedy came to the attention of the public through a mob of about 30 kangaroos which became trapped behind Bunnings/Westfield in Mill Park. This mob was split as the roads became busier with increasing development and population growth. As the other side of McDonalds road is South Morang, they are known as the Sth Morang kangaroos as they were once the same mob. The mob over on the other side has farmland on the other side of the large residential development, but many have become increasingly locked in there as well under a transmission station and Melb Water land.
There are also other isolated and landlocked mobs in Somerton Rd, known as the Somerton mob, (see video) also pockets in Lalor and Bundoora, which are all in trouble.
[2] Most citizens are not aware of the Victorian government policy to invite immigrants from other states and from overseas to live in Victoria - hence the population growth, which drives undemocratic development throughout Victoria.
[3]

Department of Sustainability and Environment Media Release re the
"South Morang Kangaroos

19 March 2010

The Department of Sustainability and Environment (DSE) has humanely put down a group of kangaroos that had been isolated on land at South Morang.

DSE Wildlife manager Ron Waters said this was a difficult decision for everyone involved but the welfare of the kangaroos had to come first.

"The health and safety of these kangaroos was at risk. They were facing dehydration and starvation because of the progressive loss of habitat at the site," Mr Waters said.

"The site is largely private land and there's no long term future for kangaroos on this site that has effectively become enclosed by roads and commercial development."

"DSE had been monitoring the group of about 30 kangaroos closely for a number of years and had hoped that they might naturally disperse from the area as development proceeded."

"It became clear that despite significant and increasing disturbance at the site, animals were reluctant to disperse naturally and DSE took the tough decision to use professional shooters to humanely destroy them before they starved or were pushed onto adjoining roads.

"The welfare and safety issues associated with the capture and relocation of kangaroos were significant."

"Finding suitable habitat to relocate kangaroos to is also a challenge."