Not so livable Victoria - Melbourne rally calls on government to curb immigration and stop advertising for new settlers overseas for Victoria in view of environmental and amenity impacts of huge population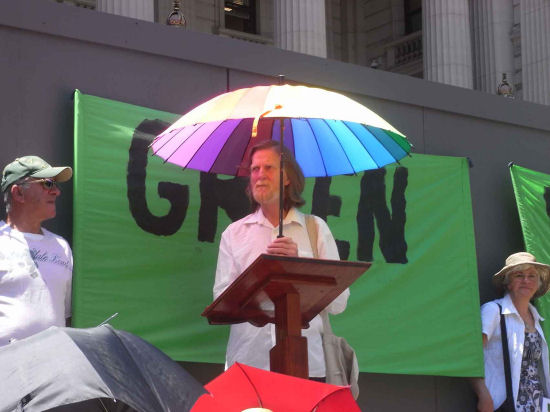 Despite record high temperatures - on 29 November, the hottest day on record for that month - about 80 concerned leaders of activist groups in Victoria attended the "Stop the Planning Disaster Rally" organised by Rosemary West of Green Wedges Coalition Victoria. Supporters gathered on the steps of Parliament on Thursday 29 November. Many representatives of peak group members of Protectors of Public Land Victoria were present.
Resolutions Moved
Resolutions Moved at Rally "STOP The Planning Disaster" 29 November 2012 on the Steps of Parliament
This rally calls on the State Government:
1 To abandon proposed changes to the commercial, green wedge and rural zones.
2 To revise new residential zones by:
i. Excluding retail, office and other inappropriate commercial uses;
ii. Excluding multi-unit development from the neighbourhood residential zone;
iii. Including mandatory height controls and density controls on all multi unit development in conjunction with local councils and residents; and
iv. Strengthening heritage protection through rewriting the heritage legislation.
3 To retain the democratic right of residents to object to and appeal planning/development proposals.
4 To abandon the East West Link tollway and implement the Rowville, South Morang, Doncaster and Tullamarine rail projects.
5 To lobby the Federal Government to curb immigration and stop advertising for new settlers overseas for Victoria in view of the environmental and amenity impacts of the huge population boom and of State Government failure to provide for infrastructure.
6 To refer legitimate planning zones review to the proper forum - the Parliamentary Standing Committee on the Environment and Planning – and to allow a new six-month public consultation period.
Moved Rosemary West, Green Wedges Coalition Inc.
Seconded Julianne Bell, Protectors of Public Lands Victoria Inc.
Some groups came from as far away as the Mornington Peninsula. Celebrity Rod Quantock performed the role of MC of the rally (see attached photo taken by Jill Quirk President Sustainable Population Australian Inc. of Rod against the Green Wedges banner.) Among the speakers were Professor Michael Buxton of RMIT; Colleen Hartland Member of the Legislative Council for the Western Metropolitan Region; and Brian Tee Shadow Minister for Planning and Sustainable Growth, Member of the Legislative Council for the Eastern Metropolitan Region. People also stayed to speak in the "Open Mike" segment at the end of the rally, despite the searing temperatures.