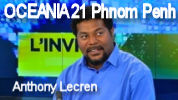 Anthony Lecren, the New Caledonian Minister for Sustainable Development and the Chairman of the Pacific Regional Environment Program (SPREP)[1] addressed the Oceania 21 meeting in Phnom Penh last week on 20 September 2013. He spoke of how the Oceania 21 meeting initiative was launched, under the guidance of New Caledonia, last April. This initiative, which represents the first Sustainable Development Summit in the Pacific region, was endorsed by 14 Countries and Territories from the Pacific region. With Melanesian subregion, Micronesian subregion and Polynesian subregion, the program represents an area of 25 million square kilometers. It aims at giving an audible political platform to strengthen joint efforts undertaken in the fields of Sustainable Development and Green Economy.
It hopes to protect marine resources and for sustainable management of Oceania's Tuna stocks, the biggest in the world, in the interests of food security. (For more detail see: www.oceania21.nc)
The First Summit of the Oceania 21 Initiative was held in Noumea last April to bring together decison-makers, scientists and representatives of Pacific Region Civil Society.
A working methodology was established, giving to each of the 14 States and Territories of the Pacific region the lead in one of the following themes:
- renewable energy policies, water and waste management.
New Caledonia, in charge of the Governance theme, has established a Think-tank to enable an interactive dialogue among participants. The Oceania 21 Initative was endorsed last August at the Pacific Islands Development Forum in Fiji, with United Nations Environment Program (UNEP) represented by Dr Park, whose active participation Lecren acknowledged in his speech. Pacific Islands Forum Leaders also endorsed Oceania 21 at their 2013 Majuro Summit.[2]
EU Climate Change Conference November 2013
Mr Lecren said that Oceania 21 Initiative's commitment to the general good has also received official support from the European Union. The European Union will pass on the Oceania 21 meeting Initiative's key messages at the 19th Conference of the Parties on Climate Change that will take place in Warsaw, Poland, next November. He also reminded those present that France will be hosting an International conference on Climate Change in 2015. He encouraged those present to get ready to take advantage of such global platforms to advocate the joint interests of the Asia-Pacific region.
Mr Lecren thanks the Kingdom of Cambodia for its warm welcome and invited UNEP and the distinguished representatives of the 3 Asia geopolitical groups represented there to attend the Second Pacific Sustainable Development Summit to be held in New Caledonia in April 2014. He added that he thought this could be crucial to UNEA's optimal preparation for the United Nations Environment Program (UNEP) Summit to be held in Nairobi in June next year.
Comment from candobetter.net editor
What on earth is going to happen to Australia's participation in these Oceania conferences and programs under the rule of Tony Abbott who seems to have left Mother Nature entirely out of his cabinet?
NOTES
[1] Previously "South Pacific Regional Environment Programme (SPREP)", the word "South" was dropped in 2004, in recognition of the Members north of the equator. The Acronym SPREP did however not change; its French equivalent name is PROE, Programme régional océanien de l'environnement.
• Recognizes the gross insufficiency of current efforts to tackle climate change, and the responsibility of all to act urgently to reduce and phase-down greenhouse gas pollution;
• Confirms the Pacific Islands Forum's climate leadership in the form of their ambitious commitments to reduce emissions and the significant benefit in transitioning to renewable, clean and sustainable energy, and their desire to do more with the cooperation and support of international partners; and
• Calls on others – in particular Post-Forum Dialogue Partners**, but also other governments, cities, the private sector, and civil society – to commit to be Climate Leaders by listing specific commitments that contribute more than previous efforts to the urgent reduction and phase-down of greenhouse gas pollution.
The Majuro Declaration is also a dynamic document, which strongly encourages committed Climate Leaders to continue to scale-up their action by listing new and more ambitious commitments over time.
As agreed by Forum members, RMI President Loeak will travel to New York in late September to present the Majuro Declaration to the UN Secretary-General Ban Ki-moon during General Assembly Leaders' week from 23 September. He will offer the Declaration as a "Pacific gift" to the UN Secretary-General's strong efforts to catalyze more ambitious climate action by calling together world leaders on climate change in September 2014 in an effort to mobilize political will for a universal, ambitious and legally binding climate change agreement by 2015.