What was the importance of Putin's attendance at the Caspian Summit, beginning on  June 29, 2022 and the progress of associated alliances?  This was a subject of some interesting speculation in a July 2 edition of The Duran, which I have embedded and transcribed below this introduction. For some time now the US and Russia have had increasing proxy confrontations in Russia's backyard, in the areas around and below the Caspian Sea and the Black Sea. Just look at the map below to get an idea of what I mean by Russia's backyard - notably Ukraine, Georgia, Syria, Iraq, Iran, Afghanistan - all those places that the USA  has found reasons to interfere with or invade - as well as Turkey, Israel, and Saudi Arabia.  The Caspian Sea is oil and gas-rich but the oil and gas is very deep, underground, under the sea, in a hostile environment, and has high sulfur content. This makes it very hard to exploit, but easy oil and gas prospects has been gone for some time, and so energy hungry giants, like the United States, where the hyped up promise of shale oil is sputtering, want to get control there.  Even before the Soviet Union, Russia controlled oil exploration in the area. Colin Campbell pointed out that, "F.N. Semyenov started a well there in 1840, operating under a concession granted by the Tsar of Russia, eleven years before the self-styled Colonel Drake drilled his well at Titusville, Pennsylvania, which is commonly taken to mark the start of the modern oil industry."[1] Stalin (a Georgian) organised workers there in Baku, Azerbajan, between 1906 and 1910. After the fall of the Soviet Union, rights to the area were disputed, in part according to whether it was a sea or a lake, which affects offshore rights and international rights. The countries that share its coastline, Russia, Iran, Kazakhstan, Turkmenistan and Azerbaijan, only reached an agreement about the offshore mineral rights in 2018.[2] The summit that Putin went to involved these neighbours.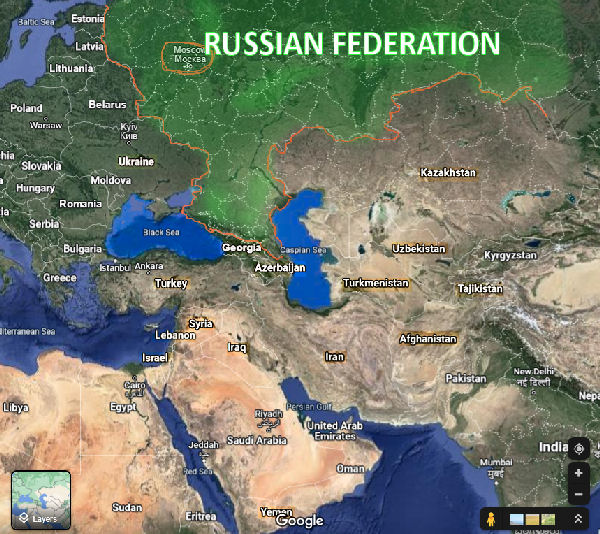 Putin's EU-Eurasia checkmate move, connecting Caspian Sea and Black Sea
The following transcript was made from the Alex Chritoforou and Alexander Mercouris Duran program, "Putin's EU-Eurasia checkmate move, connecting Caspian Sea and Black Sea,"  Published July 2, 2022  at https://rumble.com/v1auxip-putins-eu-eurasia-checkmate-move-connecting-caspian-sea-and-black-sea.html  The transcript starts at the 21.29 point in the program and lasts about 14.21 seconds. The program featured the two regulars: Alexander Mercouris and Alex Christoforou, who share this show and also have their own shows. You can watch them on rumble.com and also on youtube. My microsoft Edge browser tries to block them, even on rumble.com, but I have no problems with Firefox, and if you do, you can always use a Virtual Private Network (VPN) and use a South African IP address, for instance. Alexander Mercouris is the nephew of the late Greek politician Melina Mercouris and has a lot of insight into how politics work.
Transcript
ALEX MERCOURIS: Now, Putin going to Ashgabat in Turkmenistan is actually extremely important because this was a meeting of the Caspian Sea powers, the most important of which are Russia and Iran but, of course, they also include Azerbaijan, Kazakhstan, and Turkmenistan. So these, you know, the 'Stans' some of the former Soviet republics - Islamic republics now – which each became independent after the Soviet Union fell.
They all came together in Turkmenistan and they has this meeting there. The key point about this meeting is that they've all again agreed, but apparently it's even more formal this time, that no western shipping, certainly no western warships are going to be allowed, and no western bases, are going to be allowed in the Caspian Sea.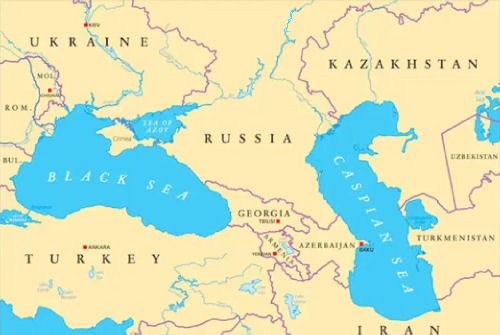 Now that makes the Caspian Sea a Russian lake. Now it's important to understand that this has strategic significance because the Caspian Sea, which is completely landlocked – or so it seems - is actually connected with the Black Sea by rivers and canals, which were built by the Soviet Union. So what the Russians can do is that they can keep reserve naval forces in the Caspian Sea. And, if they need, they can transfer them through this canal and river system to the Black Sea.
Obviously, we're only talking about small ships, but nowadays with missiles, including hypersonic missiles, these small missile boats can pack very powerful, punch. They can keep the Black Sea reinforced. They can send missile boats into the Caspian Sea via the Volga, from the major Russian industrial centers further north. They can reinforce the Caspian Sea, keep those Naval forces in reserve, and then redeploy them in the Black Sea.
So, it has an important military significance from the Russian point of view. It strengthens Russian control over the Black Sea - naval control over the Black Sea - and it also provides an important reserve area for the Russian Navy. And of course, it also means that NATO warships can't operate in the Caspian Sea where they might conceivably present a challenge to Russia itself, because the Caspian you know, pushes deep inside Russia. If you were to get western warships, there it would be very threatening for Russia. 
So the Russians have achieved that. They've also forged closer links with Iran. We're going to see an awful lot more trade between Russia and Iran over the next few years. I mean, they're already linking up their financial systems and that's an important story, which will debate and discuss in more detail later. And the other thing that they've done, is that, through these agreements, they are also binding three of the most important Stans - Azerbaijan, Kazakhstan, and Turkmenistan - closer within the Russian system.
So, Kazakhstan: there was that attempted coup back last year, which the Russians were able to quell. The current leadership in Kazakhstan seems to be much more aligned with Russia. Tokayev, who is the president of Kazakhstan, attended [the Heads of Caspian Sea meeting ?SPIEF ?], where he was the guest of honor alongside Putin. So Kazakhstan is now definitely, I think, slowly edging closer to Russia.  Now, Azerbaijan has been on the fence because of the Nagorno-Karabakh issue (https://en.wikipedia.org/wiki/Nagorno-Karabakh_conflict), but that has been to some extent, ameliorated because of the outcome of the war. The fact that Azerbaijan, its president, Alieyev, was present at this Summit meeting and fully participated, shows that he's also interested in entering into the Russian system.
Now remember Azerbaijan is an important oill and gas producer. The Europeans have been looking to Azerbaijan, to some extent, to replace oil and gas from Russia. It doesn't look like that's going to happen to anything like the degree that the Europeans hope. It's debatable whether there is, in fact, enough oil and gas in Azerbaijan to replace Russia, but that's not looking like it's going to happen after all.
And the last piece of this particular parcel is Turkmenistan. Now, Turkmenistan was … is a very strange place.  It came under the rule of, you know, very tough sort of regime, which was actually quite hostile to Russia in the 2000s, and it seems to be going very much its own way.  It refused to participate in the Eurasian Union. It refused to participate in most of the Russian and Chinese-led Eurasian institutions. It looks like that policy is changing as well. Putin was very warmly, received there.
One gets the sense that Turkmenistan, which is another major natural gas producer, Is also looking to integrate itself in the Chinese and Russian system, and it looks likely that at some point, it will also join the the Eurasian economic union and the other institutions that we see: The Shanghai cooperation organization and all of those. Perhaps even, eventually, the Collective Security Treaty Organization.
So, we seen a successful Summit from Putin's point of view. He's tightened Russia's grip on the Caspian, I should say Iran, which is a friendly country, also has a military presence on the Caspian. That's not a problem for Russia at the moment, but Russia has tightened its grip on the Caspian. And it's tightened its grip on Central Asia and on the energy resources in this region, in the Caspian region, and in Central Asia as well. And, at the same time as Putin was it in Ashgabat, attending the summit, you get this very interesting press conference, which you touched on. And of course, he was his usual waspish self.
Again, it's striking how calm and measured he was in responding to this abuse he endlessly gets from Western leaders, but he said, 'Look, Sweden and Finland joining NATO is no big deal, it's not the same as Ukraine. Ukraine is far more dangerous, far more important. Our military operation in Ukraine is proceeding according to plan. Our objectives in Ukraine have not changed. They're the same ones that we announced at the start of the war, the start of the special operation.
[Adverting to a remark from Alex Christoforou] And you are absolutely right. He had a go at Boris Johnson. Boris Johnson, and indeed Justin Trudeau, made I thought some utterly, frankly, crude and stupid comments about, you know, the fact that Putin has been seen, you know, riding a horse topless on one occasion. I mean that 
Photograph has been reproduced so many times. And of course, Putin made the point - because they were teasing and joking about, you know, also taking off their jackets and things of this kind - and Putin made the point that, you know, if these people did that, I mean, frankly, given how they look, it would be disgusting. Look, he said a few things about the importance of leading a healthy lifestyle, which frankly, you know, is a point that perhaps western leaders might want to consider. If you look at the way Boris Johnson looks, I think that was incredibly stupid thing for him [Boris] to say. And frankly, I think many Canadians would probably feel the same way about Justin Trudeau, though he doesn't have the bloated look, perhaps, that Johnson does, but
The other thing he [Putin] said and it was, I think really quite clever, was that Johnson comes along, engages in this this awful thing that we see so much of nowadays, saying Putin wouldn't have started this war if he was a woman. I mean really weird stuff. So Putin comes along and says,'Well, you know, Margaret Thatcher, who was Britain's primeminister, she conducted this war in the Falklands back in the 1980s and she was a woman.' And of course he had a jab at Britain. it gave him an opportunity to have a jab. 'Britain,' he says,'This was an imperialist adventure to sustain British Imperial delusions.' Many people in Britain might take issue with that but of course that will play well in Argentina, which is now maneuvering to join the BRICS.
So it actually was a good example of Putin responding, I think very effectively, to something, that Johnson said, and also, in a way, saying something which will please his new friends in Buenos Aires. So, here you see how skillful and how clever he is in handling these things. By the way, the quip he made about Margaret Thatcher has gone almost completely unreported in Britain.
ALEX CHRISTOFOROU: Of course it has.  They never report on what Putin says.  Not directly.
ALEXANDER MERCOURIS: No.
ALEX CHRISTOFOROU:  That's just what they've been doing for the past 20 years, but… Alright let's let's leave it there. Very interesting meeting with regards to the Caspian. I'm just thinking to myself, the Caspian, and if Russia does eventually make a move on Odessa and they get all of the Black Sea, with regards to Ukraine, it's a pretty powerful position. Isn't it? The Caspian, the Black Sea …
ALEXANDER MERCOURIS: Its an extremely powerful position. Well, let's just actually do mind experiment and look things a little forward. Now, I don't expect this to happen, but let's just say that all these Turkish rumbles about leaving, NATO, actually become true. Some people in Turkey are talking about it: So Turkey's no longer a NATO state [hypothetical]. So, you have this strategic Reserve area, this fallback position of the Caspian Sea. The Black Sea then starts to fulfill the same role that the Caspian Sea does for the Black Sea, except the Black Sea does it for the Mediterranean - for the Eastern Mediterranean? So you can have Russian warships going from the industrialized regions in the interior of Russia, through the Volga and the other riverine systems to the Caspian Sea, being held in reserve there, advanced into the Black Sea, then of course the Black Sea becoming increasingly a Russian lake. 
Turkey, perhaps, is becoming your friend. You can feed them [the ships] into the Eastern Mediterranean where you're already building up a major base in Syria, in Khmeimim, which is both a naval base and an air base. Now, I'm not saying that anything like this is going to happen. I mean, you know, this is far too far ahead, but you can start to see, you know, a possible shape, you know reshaping of the military balance in the Eastern Mediterranean, and that would be - that would cause NATO very serious problems. 
ALEX CHRISTOFOROU: Yeah, Greece, Cyprus - who else out of Romania, Bulgaria, take notice ? If Russia does go towards Odessa and things continue to be you know kind of tense with Turkey and the collective West, then, who knows? Georgia as well. I mean yeah. Absolutely, absolutely. Just look at a map and you can start to see that this could be a big game changing event.
[Winds up show.]
NOTES
[1] Colin Campbell, "The Caspian Chimera," in Sheila Newman (Ed.), The Final Energy Crisis, Pluto Press, UK, 2008.
[2] https://www.offshore-technology.com/news/caspian-sea-oil-and-gas-pipelines/#:~:text=Five%20Caspian%20Sea%20states%20have%20reached%20an%20agreement,with%20the%20consent%20of%20affected%20neighbouring%20states%20only.