Candobetter.net Editor: This article is about the US contribution to the radicalisation of the Middle East. In reality there is no dividing wall between the 'extremists' and 'America's supposedly moderate opposition allies'. Recently both Turkey and Saudi Arabia, which operate out of US-led command centers in Turkey and Jordan, signed a pact to coordinate support to al-Qaeda and other extremist groups in order to further attack the Syrian government.
Recent Rebel Gains a Result of US Support to Extremists
The rebel opposition in Syria has in recent months made a series of gains against the Syrian army, most notably in Idlib, Palmyra, and Ramadi in Iraq. However, given that from the very beginning the opposition had taken "a clear sectarian direction" and has been dominated by "ISIS and Jabhat al-Nusra… in addition to other extreme jihadi groups", itself consisting of "no moderate middle", and the fact that "in reality there is no dividing wall between them [extremists] and America's supposedly moderate opposition allies", it is no wonder why all of the recent gains have been made by hard-line Islamists.(1) The radicalization of the opposition was the result of a covert US/CIA-led program in collusion with regional allies to expand the dissent base in Syria and strengthen Islamist rebels against the Syrian government.(2)
These recent Islamist advances are the result of an increase in support from the US-led coalition to their proxies inside Syria. Recently both Turkey and Saudi Arabia, who operate out of US-led command centers in Turkey and Jordan, signed a pact in early March to coordinate support to al-Qaeda and other extremist groups in order to further attack the Syrian government. Huffington Post quotes Usama Abu Zeid, a legal advisor to the Free Syrian Army, as confirming that this new coordination had facilitated recent rebel advances.(3) The pact subsequently lead to the al-Qaeda takeover of Idlib in late March, where the two countries have since set up a joint command center to further coordinate and command their extremist proxies from the captured province. Syrian government sources thus accurately blame Turkish intervention as the key factor in the fall of Idlib. The city's fall however is only the 2nd provincial capital that has been captured by the opposition during the entire 4-year war, the other being Raqqa, which is now the de facto capital of the fake Islamic State "Caliphate."(4)
In addition to Turkish and Saudi support to al-Qaeda extremists, so too has the US increased its support to Islamists.
In early May Charles Lister of the Brookings Institute Doha Center confirmed that "US-led operations rooms in southern Turkey and Jordan" have specifically "encouraged a closer cooperation with Islamists commanding frontline operations", and while doing so have "dramatically increased [their] level of assistance and provisions of intelligence" to this Islamist-led opposition, all of which has led to the al-Qaeda victory in Idlib.(5) So not only has the entire support to the opposition from the beginning been coordinated and commanded by the US, so too has the US spearheaded recent support to al-Qaeda along with its Turkish, Saudi, and Qatari allies.
These Western-backed advances were facilitated by the delivery of "gamechanging" new advanced weaponry to the extremists, including TOW anti-tank missiles. The Guardian reports that the results of this "were shocking. The regional capital of Idlib fell within days. Several weeks later, the nearby town of Jisr al-Shughour also fell to an amalgam of jihadist."(6) All of this being "the outcome of the first heavy weapons to reach the hands of the Syrian opposition in years of civil war from Saudi Arabia, Qatar, the UAE and Turkey," which was "blessed by Washington after long hesitation."(7)
The US recently encourages support to Islamists while it's Saudi and Turkish allies openly support al-Qaeda linked militants, all of whom have been provided with new shipments of advanced weaponry and support which has been instrumental in their recent advances.
Qatar has made recent efforts to convince al-Nusra's leader to detach itself from al-Qaeda and portray Nusra as though it is not planning to attack the West in an attempt to justify this increased aid. However it is important to note that "if Nusra is dissolved and it abandons al Qaeda, the ideology of the new entity is not expected to change," while it's leaders would remain "close to al Qaeda chief Ayman Zawahri [sic]." In a recent interview with the Qatari channel Al Jazeera, al-Nusra's leader al-Golani was given a platform to say that Nusra does not plan to attack the West, yet he still reaffirmed full allegiance to al-Qaeda's leader al-Zawahiri against the wishes of Qatar.(8) Despite the failure of re-branding al-Qaeda's Syria faction the group still received a substantial increase in aid and support from its backers in the Gulf, Turkey, and the United States.
Given this, both the US and Turkey have in addition recently agreed "in principle" to establish a no-fly zone to further aid the forces on the ground they are supporting.(9) This is illegal, against international law, and would be de-facto support to terrorist organizations in the form of US aerial attacks against the Syrian state. It would be devastating to the region as well, only benefiting supporters of reactionary Islamic rule and Western imperial hegemony.
However, the al-Qaeda linked factions unfortunately are not the only groups that owe their recent battlefield successes to their Western patrons, so too does the Islamic State.
When the Islamic State recently took Ramadi in Iraq, they travelled a full 553km across open desert to the city from their de facto capital in Raqqa, Syria.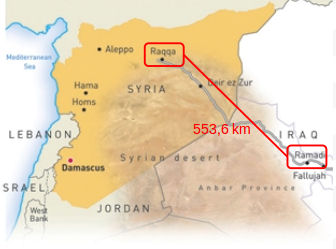 Despite the fact that destroying the militants along this route would have been like shooting fish in a barrel, the US "anti-ISIS" coalition did not expend a single airstrike against them, even though the US "had significant intelligence about the pending Islamic State offensive in Ramadi. For the US military, it was an open secret at the time." The US intelligence community "had good warning that the Islamic State intended a new and bolder offensive in Ramadi because it was able to identify the convoys of heavy artillery, vehicle bombs and reinforcements," which were coming from Raqqa, "through overhead imagery and eavesdropping on chatter from local Islamic State commanders." Furthermore, "It surprised no one," US intelligence officials said. (10)
Speaking on these developments, former British MI6 agent Alastair Crooke comments that "the speculation about a coming fractured Iraq has gained big momentum from ISIS's virtually unopposed walk-in to Ramadi. The images of long columns of ISIS Toyota Land Cruisers, black pennants waving in the wind, making their way from Syria all the way -- along empty desert main roads -- to Ramadi with not an American aircraft in evidence, certainly needs some explaining. There cannot be an easier target imagined than an identified column of vehicles, driving an arterial road, in the middle of a desert."(11)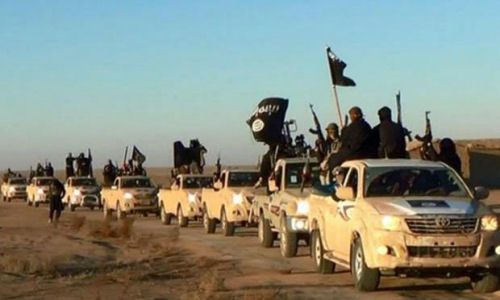 As ISIS arrived in Ramadi, the US-coalition launched a paltry 7 airstrikes against them, a number so low as to be entirely insignificant. To alleviate concerns that the US openly allowed ISIS to take Ramadi, the US military blamed a great and powerful "sandstorm" for their lack of airstrikes. However, just days later they retracted these false statements. ABC reports that "Col. Steve Warren, a Pentagon spokesman, told reporters today that last weekend's sandstorm had not affected the coalition's ability to launch airstrikes in Ramadi, though "weather was a factor on the ground early on.""(12) Further dispelling these excuses, the day after Ramadi's fall rows of Islamic State militants were pictured celebrated openly in the streets below crystal clear skies.

(Source of picture: MailOnline, May 19, 2015)
If the US-coalition had been serious about stopping ISIS they could have easily destroyed whole factions of the group at this time.  Instead, desperate for another excuse to explain their inaction, they changed their reasons and blamed concern for civilian deaths for the lack of strikes.  However this excuse is so patently absurd as to be laughable, and therefore can be completely disregarded; one need only look at the grave human death tolls inflicted during the invasion of Iraq, the US support for Israel's genocidal assault on Gaza last summer, the US-facilitated devastation of eastern Ukraine, the global drone campaign, the US' own "anti-ISIS" airstrikes, and the current crazed US-backed Saudi bombing campaign in Yemen to see that Western officials lose exactly zero sleep over the civilian blood that is on their hands.(13) 
The actions of the US leads to the conclusion that it either wanted or didn't care if ISIS took Ramadi and thus allowed it to happen, and very likely even facilitated its accomplishment.
Speaking the day after the city's fall, Wahda Al-Jumaili, an advisor to Iraq's parliamentary speaker, stated "Whether this was the result of treason, neglect, or conspiracy, or a regional or international plot… Even the international coalition has played a bad role.  People saw the international coalition dropping weapons for ISIS.  They dropped heavy weaponry to the forces of terrorism in Ramadi.  This is an act of treason by the international coalition forces."(14)
Coupled with this is the fact that ISIS' long time benefactor, Saudi Arabia, has recently increased its aid to the Islamic State. 
Given General Dempsey's testimony that it was the Saudi state who funded ISIS, there is no credible evidence that any of this support from them has stopped, save vacuous statements by the US and Saudi governments who of course would predictably say as much.  If any change has occurred, it is that the Saudi government has taken steps to distance its involvement in the eyes of the world while it continues to covertly go about business as usual, using wealthy donors, who were presumably providing the funds that would then be transferred by the Saudi state all along, as their proxies.  In other words, it is a PR concern, not one of policy direction.  Indeed, according to Britain's leading international security scholar Nafeez Ahmed, "informed sources in the region have told me that fundraising for ISIS is still being done openly across the Gulf monarchies at state-run mosques… Yet the US and UK have refused to exert any meaningful diplomatic or financial pressure whatsoever on these countries to change course."(18)
This US support for ISIS and al-Qaeda might seem strange if one follows the official narratives, however the picture becomes much clearer when you look at what is being discussed behind closed doors within the US establishment.
A declassified Defense Intelligence Agency document authored in August of 2012 reveals that the West accelerated support to the opposition in Syria knowing full well they were supporting extremists and that this would pave the way for an 'Islamic State' to emerge, seeing this as the desired outcome and a key geopolitical asset for their interests in the region.  "They were not only as they claimed supporting moderate groups, who were losing members to the more extremist groups, but that they were directly supporting the extremist groups. And they were predicting that this support would result in an Islamic State organization, an ISIS or ISIL… They were encouraging it, regarding it as a positive development, because it was anti-Assad, Assad being supported by Russia, but also interestingly China… and Iran…" said former Pentagon officer and legendary whistleblower Daniel Ellsberg, who is accompanied by many other knowledgeable ex-US-intelligence officials who draw similar conclusions from the leaked report.(20)
The strategy is divide and rule, dominance through 'controlled chaos', aiming to be both the arbiters of the sides "fighting" and those supporting the extremists, and thus insuring that destabilization and US hegemony result… by any means necessary. 
The recent al-Qaeda and ISIS advances are a direct outcome of this strategy, the result of the US and her allies increasing aid and the delivery of advanced weaponry to their extremist proxies in the region, all the while death, mayhem, and terror ensues upon the innocent civilian populations.
Judging by actions rather than by words, the US-led coalition is not at all serious about defeating ISIS.
In the beginning of May Hezbollah had achieved important victories over the Nusra Front-led Army of Conquest, the joint Saudi-Turkish coalition of extremist, and the ISIS militants that have been vying for control of the region.  By the end of the same month Hezbollah and the Syrian army had taken full control over Qalamoun.  Foreign Policy describes the victory as such: "Hezbollah fighters point out recently captured al-Nusra Front training sites and military positions, and describe how they've been able to clear the area of the jihadis. They pick their way over the remnants of the al Qaeda affiliate's makeshift camp, where clothes, tins of foods, and shell casings are strewn across the ground."  One commander had stated that they had cleared "about 40 positions belonging to the terrorists," and had "liberated 120 square miles."  While another fighter described that "80 percent of the recaptured area had been under al-Nusra Front's control" prior to the offensive.
Shortly afterwards, the normally publicly silent leader of Iran's elite Quds Force, Major General Qasem Soleimani, asserted that plans being made by Damascus and Tehran would "surprise" the world.  "The world will be surprised by what we and the Syrian military leadership are preparing for the coming days," Iran's official IRNA state news agency quoted the general as saying.  Following this news, Israeli intelligence sources speculate that "Tehran is believed to be preparing to dispatch a substantial Revolutionary Guards (IRGC) special operations unit to Syria to tackle the separate rebel and ISIS advances closing in on the Assad regime."(24)
It seems that the recent support to al-Qaeda by the US, the open intervention of Turkey and Saudi Arabia in support of jihadi extremists, the new Saudi king Salman's increased aid to Islamists, and the recently ramped-up aid and introduction of advanced weaponry to all of these groups has finally hit a nerve with Iran and Russia, and has sparked a backlash.  All of which has further corroborated who, in fact, is actually serious about defeating the scourge of Islamist radicals that have recently plagued the Middle Eastern region, and in contrast who only talks as if they do, as well as those who openly support such inhumane developments for selfish geopolitical aims and hegemony.
Notes: