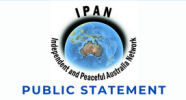 The Independent and Peaceful Australia Network calls on the Australian Government to stop its support of the Israeli occupation and condemn the theft of Palestinian homes and land by Israel.
The Australian Government cannot pretend it does not have a role in the violence perpetrated by the Israeli military against Palestinians.
The Government has given a substantial amount of money to Israeli weapon manufacturers who supply the occupation, including $1.8 billion worth of Government contracts to Israeli weapon manufacturer Elbit Systems since 2010.
Furthermore, the Government's claim that occupied Jerusalem is the capital of Israel and failure to recognise both the Palestinian State as well as Palestinians' right to self-defence, amounts to support of the illegal occupation of Palestinian land.
Over recent days, we have also seen the Israeli military raid Al-Aqsa Mosque, which may amount to a war crime; kill over 100 people, including 28 children; assist extremists in stealing Palestinian houses; and conduct a ground invasion of Gaza.
Due to these events, the ongoing occupation and, as Humans Rights Watch recently reported, Israel's perpetuation of an Apartheid system, IPAN calls on the Government to:
- Unequivocally condemn the violence against Palestinian protesters
- Call for Israel to immediately stop its occupation of Palestinian territory
- Pursue a policy of diplomacy and non-violence
- Stop awarding contracts to weapon manufacturers who supply the Israeli military
For more information got to https://www.ipan.org.au or email [email protected]