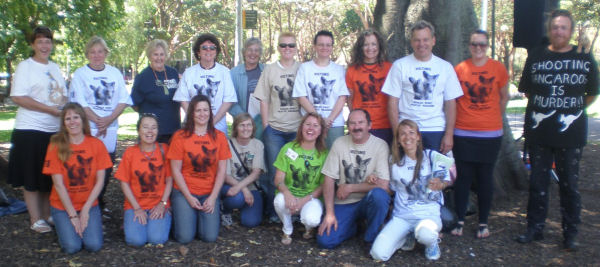 Photo: Rally participants
The National Kangaroo Awareness Day Rally, yesterday, 24th October, 2009 was organised by Gail Browning and attended by about 100 enthusiastic people, with many passers-by also stopping to listen to the speakers during the 2 hour rally in Belmore Park, NSW. Many people also took literature and signed the petition. All stickers and almost all t/shirts were sold.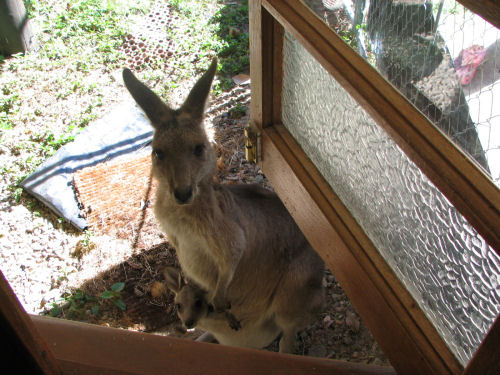 Photography by Wildlife carer Anne-Marie Dineen of "Ash", a kangaroo she rehabilitated who returned to visit with her joey, "Charcoal", recently.
MC, Anna Warick's speech revealed that she had put a lot of time and energy into her research for the kangaroos. She was able to add more information on several issues in between each speaker. Wildlife activists commented that she could have been mistaken for an NGO activist herself, due to her amazing knowledge of the kangaroo industry.
Nikki Sutterby impressed a captivated audience with her review of the facts and figures.
Extraordinary act of social altruism by male kangaroo
People in the audience wept openly at her passionate account of a male kangaroo trying to save the little joeys by herding them all towards a hole in the fence, during the massacre in Canberra recently. Ms Sutterby gave a shockingly detailed account of what lies behind Australia's worst wildlife massacre in the world.
John Lyle, the carer of the only surviving joey from the Bathurst Mount Panorama massacre, spoke with powerful emotion. There were shocked faces in the audience as he described the senseless killing of so many kangaroos.
Greens Member of Parliament, NSW, Lee Rhiannon made a spontaneous appearance and gave a very disturbing speech on the business between the Labor Government and the Shooters Party. The Shooters are being offered a deal by the Rees government for hunting to be allowed in 13 national parks, in exchange for the support of the 2 Shooters Party MPs in the Upper House to pass government legislation. We should all ask what this legislation is that it requires the Rees government to stoop to such low and unAustralian manoevres. John Lyle and other people who were at the rally will be attending the Greens and WLPA Protest against shooting in our National Parks, this Tuesday 27th October, at midday, outside Parliament House.
Speaker Carol Maroun has witnessed first hand what it is like to be in a National Park while shooting is taking place. Her account was alarming.
In Britain, Philip Woolley had publicised our rally on behalf of the Australian Wildlife Protection Council, for which he is the English representative.
Although Foxtel, SBS, and photographers from Associated Press and Reuters attended, the successful rally which was an important political marker, was not well reported in the mainstream press. This is not surprising because the mainstream press, whilst sometimes doing cute and cuddlies on wildlife, tends not to empower the public with useful information about how to protect it. Typically the many attempts of wildlife activists to stop wholesale wildlife destruction are very underreported. The press supports property development above all and property development is anti-wildlife. The Sunday Telegraph for South Sydney, for instance, reported on its front page "Treasury boss predicts we'll 'roo the day", with a small photo of Ken Henry and two joeys, an article against the commercial culling of the kangaroos, but nothing about this very newsworthy rally and important protest.
Rally organiser, Gail Browning, said that the rally proved that, "no matter what your academic level, your class or your race, we can all manage to unite to make people sit up and take notice of the ugly truth behind the worst wildlife slaughter in the world of our national icon, the kangaroo.
Here is most of the speech she made:
"Gail's Speech for 24th October 09, National Kangaroo Awareness Day.

Welcome to everyone who has made the effort to unite here today, to make a difference for an Australian animal who without our support and caring attitude, could become extinct. Today , the Australian Society for Kangaroos, Animal Liberation, Humane Society International, World League for the Protection of Animals, Sydney Wildlife , DABS, and Sydney Pet Rescue, have all come together on this Historic Day to explain to the Australian public, exactly what is happening to our precious own unique animal, the kangaroo.

Our kangaroos are an Australian National Icon. They represent us on our Coat of Arms, our Australian football Team, our Cricket team, our Qantas airplane and many more Australian products. Our kangaroos are Australia's unique tourist attraction, nowhere else in the world is there a beautiful animal, who nurtures her young in her pouch, and then has her joey stay with her for 10 months after leaving the pouch for feeding purposes and protection.

The mothers and joeys hug each other, kiss each other and console each other, just as we humans do. The alpha male is the Leader of "The Mob", or Extended Family, in human's terms. He is targeted by shooters due to his size. Without him, the entire structure of "the Mob" becomes confused, scared, and the structure of the whole family is sent into a panic. A kangaroo can die from sheer stress. This family unit then disintegrates. The gene pool is then upset, which can lead to kangaroos being in even more danger of becoming extinct.

It is therefore up to all of us here today, caring Australians, to speak out for our kangaroos, and to say "Don't eat us, Love us". We must stop using the kangaroo for a Resource for human consumption, pet food, skins and shoes. Tourists would much rather come to see our kangaroos alive, hopping around our beautiful country side, and our rugged outback, instead of dead, under plastic wrap, in butchers, pet shops, or supermarkets. It is time to tell the media and the Government, that enough is enough. Stop killing of these wonderful animals. We can make money from them by leaving them to live where they were meant to live, FREE in their natural habitat. That is what people want to see when they come to Australia. Kangaroos are part of the Australian Landscape.

Steve Irwin was our Greatest Australian Wildlife Warrior. Steve said, and I quote " It's embarrassing for Australia that we eat our own wildlife. Do you think the Americans would eat bald eagles? I'm a wildlife warrior, and I'll fight… fight to the death, for our wildlife. Every person can make a MASSIVE DIFFERENCE to global conservation."

SIMPLY, DO NOT USE OR EAT KANGAROO PRODUCTS.

Last but not least, thankyou to everyone who has helped make this day come together, with out all of your support throughout the past 6 weeks of organizing this rally, we would not be here today fighting for our precious kangaroos.

Please don't walk away empty handed, take the literature and make sure you sign the petitions. Buy a t/shirt, and a sticker THANKYOU."