Poaching skilled workers and removing political activists; dividing and conquering; restructuring communities to remove democratic organisation, multiculturalism as a cover for big business links with politicians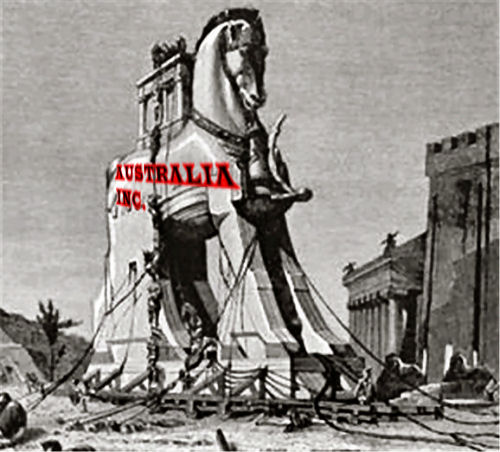 Political outcome of poaching skilled and educated elites

The poaching of skilled and educated people from other overpopulated countries is a way of removing a class of people in those countries, who might otherwise lead their compatriots to struggle against overpopulation and exploitation by corporations and crooked governments and religions.
It serves a base political purpose and helps keep people of the third world in misery.
What is more, when large volumes of skilled and educated people come to a new country, they naturally focus initially on establishing themselves and their families. It takes quite some time to establish oneself materially. They do not tend to focus on the political well-being of their new country any more than they did on the political well-being of their old country. It may not be until the second generation that most immigrants become spontaneously politically active.
If and when they are ready to look at real political integration here, they will discover that their new country is ruled by the same corporate press and the same two 'pretend' political party system as existed in their old country. They will discover in Australia the same globalising, ecociding and populationist policies, the same lack of democracy, the same cynical and evil marketing of water and soil as commodities, and the same breakdown of local networks and self-government in the suburbs where they settle. They will see, if they can see through the political propaganda all around, that Australia is a country on the way down to the condition of the countries that they left. They will see that Australians are being forced into a struggle to survive debt and dispossession that is also taking their energies away from useful political activity.
Australian elites keep new and old Australians apart on purpose
When I said that immigrants are usually not politically active until the second generation, that does not stop them from being organised into silence and against national solidarity for the political ends of the dishonest elite that dominate Australia's media and government. I would identify the daily allegations by the press and by national and state politicians of Australians as 'racist' or 'selfish' as being a calculated way to keep the new immigrants and the native-born apart, thereby atomising any likelihood of national solidarity. As long as new immigrants believe that Australians are racist or stupidly selfish, they are not going to trust us, so they will not help us to defend the nation they have come to be a part of, against exploitation, degradation, poverty and dictatorship. Also, as long as new and old Australians believe what the government and the mainstream media tell them, they will not be able to see what is really happening around them and find common cause with their neighbours and workmates.
How Developers structure political disorganisation
There is a new land-use planning structure which also has the effect of keeping new and old Australians apart and ruining natural organic settlement and social organisation. This is the streaming of overseas immigrants into newly built suburban enclaves. When property is advertised off the plan to people overseas, along with visas and job contracts, you can finish up with entire suburbs where most of the inhabitants are new Australians from the same region, with similar incomes (defined by the cost of the housing), possibly even with similar occupations (suburbs full of doctors, nurses and town planners according to the 'needed occupations stream'), all arriving more or less together, as the houses are built. This is also convenient for politicians who wish to target voters in blocks by identifying common local or ethnic or social concerns. It is convenient for business wanting to build new private schools, swimming pools, hospitals and infrastructure. They know that they will have a captive market. It is essentially a money-making proposition for business and a vote market for politicians. It artificially segregates people from others with common interests.
In the workplace as well, those new nurses and doctors won't dare to speak out for fear of losing their contracts or not being able to acquire citizenship. So once again, you have silenced a community. As for the imported town planners - well, they have probably already been brainwashed by the industry. We cannot expect them to uphold democracy, only capitalism.
(I welcome contact with any planners who can demonstrate support for organic democracy. I will be happy to publicly apologise and to publicly support them. Here is hoping some contact us at candobetter.org!)
Australians need solidarity with new Australians and real democracy
Australians need solidarity with new Australians. This means that the people here need to find a way to identify as a nation despite the political and media classes and to communicate to new Australians that what they read in the papers and hear from our Prime Minister and Premiers is not what is important to the people.
We all have to start to distinguish reality from media production and government spin.
The importance of national identity is the ability to organise to get real rights and real political choices and a real press. This is what the French Revolution got the world. The French Revolution is the basis of modern democracy. Capitalism is not the basis of modern democracy; it did not bring democracy to the USA or anywhere else; it brought exploitative capitalism. Just look at the sub-prime global heist as taxpayers are forced to subsidise banks. That ain't representation! Democracy and capitalism (and communism for that matter) should not be confused, but are, constantly, by the global anglo elite and their colonial and emerging partners in ransacking this planet. (Communism is just a reaction to industrial capitalism, with similar values which include population growth = wealth and centralised authoritarian government in huge polities.)
If we are not a united nation, with clear rights to self-government at all levels, and the ability to control our numbers and the size and impact of our cities, and to choose whether we live as hunter-gatherers, farmers or as industrialised workers in cities, we are not free and we are not a democracy and we have no power to stop what is being done to us.
Structural disorganisation means political disempowerment of grass-roots
A further point is that, apart from the structure of new enclaves, we are being physically disorganised in other ways by mass immigration and by our economic structure. People have little time, due to travel and long hours, to participate in community. Their neighborhoods are being disorganised by infilling, huge highways, winding new roads in new suburbs, and other infrastructure, including things like desal plants and new heavy industry. Even the delivery of services has been disorganised by outsourcing. This has the effect of disorganising political expression about these services.
Our local governments have lost their power which now lies with the State governments and the state governments have been infiltrated and outsourced to property developers. Public servants now serve private interests. The National government takes its cues from banking and big business. The ruling clique - the ALP - owns massive investments in property and banking - set up, amazingly, by our Kevin Rudd and Wayne Swann in Queensland before they entered Federal politics, notably in the form of Labor Holdings P/L and Labor Resources P/L. I don't pretend that the Liberal Party is not underpinned by the same business interests, but they are not as 'successful' as yet. That clique belongs to a bigger mysterious clique which manifests in arcane coalitions, such as the Australian Multicultural Foundation, which has a host of connections which would not be of any interest were it not that its small membership is mostly made up of very high profile politicians from Liberal and Labour - The Hon. Kevin Rudd MP (Prime Minister of Australia), The Hon. John Howard AC, The Hon. Kim Beazley AC, The Hon Mr Simon Crean MP, The Hon. Alexander Downer, The Hon. Robert Hawke AC, Dr J. R. Hewson AM, The Hon. Paul Keating, Mr Mark Latham, The Hon. Andrew Peacock AC... [More interesting membership details and page info reproduced at end of this article.]
These are some reasons why Australians must organise politically outside the established political parties. We need many more independents to form coalitions of common interests and we need to ensure that those independents are not actually fakes, ready to vote with the dominant political parties.
Australia's history of political oppression
It is likely that many of the convicts sent to Australia were in fact political prisoners. Removing them from Britain made it all the easier to keep the British from demanding real rights as citizens. Many other protesters were, of course, executed in England.
This is something that Australians should be able to make clear to new Australians. Our country was founded on political oppression - of the indigenous people and of the first convicts and indentured servants. Unfortunately this condition has continued because of the structure of representative government and the power of the mainstream press to support and manipulate it for economic ends.
We are still a colony and treated legally like colonial citizens. This needs to change, but not through top-down republicanism.
Notes
Do also have a look at this page which shows the Australian Multicultural Foundation in the bigger political and corporate picture.
[Links to information about members are made by candobetter.org and do not appear on the AMF page itself.]
Australian Multicultural Foundation (AMF)
Board of Directors
The Hon Sir James Gobbo AC CVO (Chairman)
Major General Peter Maurice Arnison AC CVO
Ms Carla Zampatti AM
Professor Kwong Lee Dow AM
Executive Director and Company Secretary
Dr B. (Hass) Dellal OAM
Administrative Assistant
Mrs Brigit Murikumthara
Ms Azmeena Hussain
Project Co-ordinator
Ms Athalia Zwartz
Training and Project Development Manager
Ms Lynn Cain
Members of the Foundation
The Hon. Kevin Rudd MP (Prime Minister of Australia)
The Hon. John Howard AC
Dame Beryl Beaurepaire DBE AC [Generally noted for activism in girls' education and women's affairs in Liberal Party and historic involvement in WAAF, but described as company director in the registration of the Foundation.]
The Hon. Kim Beazley AC
The Hon Mr Simon Crean MP
Mr Ivan A. Deveson AO
The Hon. Alexander Downer
Sir Llewellyn Edwards AC
Mr William Charles Fairbanks [?Secretary of Landcare Australia P/L)
Ms Gaye Rosemary Hart AM
The Hon. Robert Hawke AC
Dr J. R. Hewson AM
Ms Vivien Suit-Cheng Hope (Careers and Counselling Centre Tutor, Centre of Asian Students, University of Adelaide)
The Hon. Paul Keating
Mr Mark Latham
Mrs Irene Kwong Moss AO [Home Building regulation]
Mr Robert Brooker Maher AM Executive Director, American Chamber of Commerce in Australia, Paddington NSW and Former board member of The Australian Rail Track Corporation and with the
Ms Wendy Elizabeth McCarthy AO Interestingly, this woman is also a patron of the Australian Reproductive Health Alliance, which has links with Sustainable Population Australia. Interestingly, she is also Chair of McGrath Estate Agents, currently expanding into Australia's iconic Blue Mountains.
Mr Lindsay Gordon Crossley Moyle AM
Professor John Nieuwenhuysen AM
The Hon. Andrew Peacock AC
Lady Stephen
Mr Ross Tzannes AM
Mr George Wojak AO MBE
Source: http://amf.net.au/about/australian-multicultural-foundation/
Further documentation
Also, here is the Memorandum of Association of the Company, known as the Australian Bicentennial Multicultural Foundation Limited.
Dated 1988, with illegible month, it is signed by R.J.Hawke, (witnessed by his senior private secretary in the prime ministerial lodge in Canberra); Sir James Augustine Gobbo (Judge of the Supreme Court of Victoria); Michael George Kailis, Governing Director of M G Kailis Group of Companies, West Australia [Seafood and pearl culture industries]; George Wojak; Lindsay Gordon Crossley Moyle, Chief Executive Officer, State Bank of Victoria, 131 Powlett Street, East Melbourne; Sir David Ronald Zeidler, Company Director, Park Avenue Towers, Parkville, Victoria [Past Chairman of ICI and 1983 - 1988 President of the Australian Academy of Technological Sciences and Engineering];Dame Beryl Edith Beaurepaire, Company Director, Mt Eliza, Victoria; Vivien Suit-Cheng Hope, Careers and Counselling Centre, Tutor, Centre of Asian Students, University of Adelaide, S.A.; Ross Tzarthes, Solicitor, Pryor, Tzannes, Glebe, NSW; Marie Anna Elizabeth Blake, Managing Director Jetset Tours (Old) Pty Ltd, New Farm QLD; William Charles Fairbanks, General Manager, Finance and Management Services, The Australian Bicentennial Authority, Wahroonga NSW; Gaye Rosemary Hart, General Manager Programs, The Australian Bicentennial Authority, Elizabeth Bay, NSW; James Frank Kirk, Chairman and Chief Executive, The Australian Bicentennial Authority, Edgecliffe, NSW; Wendy Elizabeth McCarthy, General Manager Communications, The Australian Bicentennial Authority, Mary St., Longueville, NSW.