On February 12, Sheila Newman wrote a blog about Wildhaven which burnt to the ground in the horrific Black Saturday Victorian bushfires last year (see http://candobetter.org/node/1064 ).
Stella and Boof,
before the fires of Black Saturday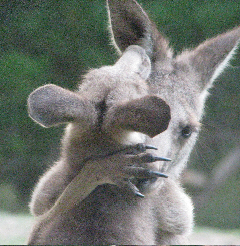 Both lost tragically in the fires last year.
Gone forever now.
Those of us who were privileged to have come to know her magical animals through her photos were devastated. It's heartbreaking to think of kangaroos like the following are now gone forever ... and even more heartbreaking to consider the terror they must have experienced while running for their lives and being burned to death.