A community event
If I had closed my eyes and angels had transported me to another 'Community Event' near a creek, how long would it have taken me to realise that I was somewhere else?
The Ecologist
He stood facing towards the creek and the sea on the concrete esplanade amidst passing groups of people. Behind him were tent stalls, housing the advertising of corporate sponsors as well as local environmental information. There was a stage to the side and an array of white plastic tables and chairs arranged for the celebration and the re-enactment of a grand parade of 1918. A flotilla of floral decorated boats glided down the creek, their occupants dressed in costumes of the early settlers a century prior.
I got into conversation with the man because I knew him through his specialised knowledge and writing about local fauna and the environment. Immediately we were in tune ... but it was a sad tune. We both remembered another time when pleasure in our local environment was spontaneous and personal, solitary or otherwise, in a time well before the concrete we stood on had been poured.
He told me he remembered Australia with its wildlife, wild places and wonderful freedoms even within our suburbs encountered on his arrival from Europe in 1953 .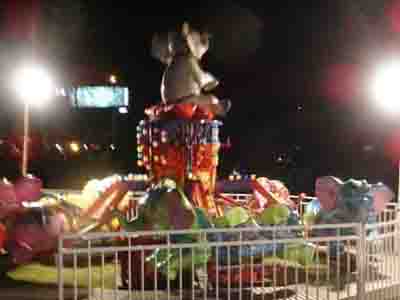 Life as a fun fair
The re-enactment event that day was orchestrated, organised for the community's enjoyment and to show pride at the achievements of the creek conservation group.
Neither the ecologist nor I were at that moment engaged by the celebration.
Remarking on how activities in our city are increasingly organised, he echoed my thoughts.
This rings true, when I think of the festivals, marches, parades, Big Day's Out, Fun runs, triathlons and marathons that dot our calendars now. Maybe it's good for some but is it a sign of a change in our society? Is it a sign that we are increasingly looking to government authorities and commercial groups to commemorate community events and to organise that which did not always require organisation - our own leisure?
The conversation moved fast to wildlife matters, especially the local bandicoot population now threatened by a major road development about to bisect its habitat. I shared his concern at the prospect of the loss of this precious remnant of habitat and of an Australian animal that I never yet seen in the wild.
As we talked, a young woman in pink tights and little satin shorts loped past on very high stilts waving stiff elongated wooden arms draped with painted gossamer to give her the look of a butterfly. Behind us a row of tents held photographs and information about the local natural environment compiled by local groups of concerned naturalists.
The man took his leave but not before telling me that he thought it was "all over" and that massive change would be so fast that most of us would not be able to comprehend what is happening.
We said "goodbye" and I re-joined the table with my friends. A local member of parliament sat with us for a short while. I could not focus or communicate my amorphous concerns which felt more like internal alienation or anxiety than a problem for a can-do politician to tackle.
The band for whom I had been waiting eventually played their new and unfamiliar repertoire, at the end dipping back into past favourites with a masterful mesmerising performance of Leonard Cohen's "Hallelujah" which had an intensity that fulfilled my yearning at that moment.
A little later we all adjourned to the pub where I looked through the windows to little snatches of dark blue sea scalloped with land and vegetation. The sea marked short straight lines across the sky with no hint of the Tsunami that I had heard was on its way across the Pacific.
To the right of my view was a very ugly new concrete bridge crossing what looked like a canal with straight sides but which was actually the creek around whose past and future the day's celebrations had focused.
At the timber pub table, the crew, bonded by years of local environmental struggles seemed happy that the day had gone well and got stuck into their celebration ..........But the next campaign looms .............if it is not already lost - an unwanted marina over-development.
Will our future leisure time be increasingly taken up with campaigns to preserve our environment from unwanted development? Will our social connections and celebrations also be related to these combats? Will our future be marked with more fun fairs but less real fun?