This article follows on from a previous article I posted on CanDoBetter 17th August 2011 entitled 'Euro zone aristocracy transfixed in 'Eurothink''.
But rather than replying to a comment to that article by way of a response comment, this article takes its place. The recent austerity measures imposed on the people of Ireland and likewise by selected European countries are treasonable. Insolvent developers and bankers have wrongfully been absolved from their reckless gambling. Governments bailing out these gamblers with public moneys have immorally burdened the public with private debts of the reckless. This is gross malfeasance and blatant betrayal of national wealth and so is treason. I fail to understand why civil rebellion has not broken out and call for the guillotine.
Back in October 2010, The Irish Times published the following article of a reader's response to her government's announcement of the possible €50 billion bill for the bank bailout.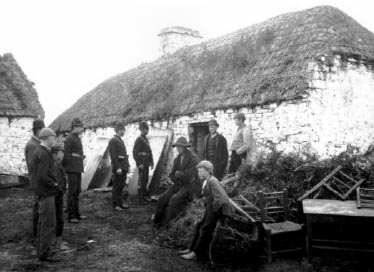 Eviction of Thomas Considine, Tullycrine, Ireland, July 1888