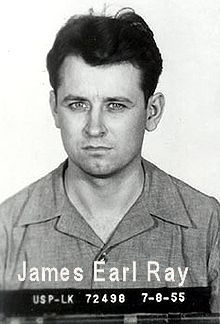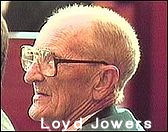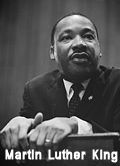 In 1999 a civil trial jury found that Loyd Jowers participated in a conspiracy with the US state to kill Martin Luther King. Even though Martin Luther King is world renowned, the results of this trial are still not widely known and probably few Australians have any idea of the truth. The man officially convicted of the assassination, James Earl Ray, died in jail. The civil trial exonerated him. Successive governments had refused to reopen his case. Part of this remarkable story is about the efforts of the King family and friends to bring about a thorough investigation and the absolute recalcitrance of the US government.
Martin Luther King was shot and killed by a sniper on 4 April 1968, while standing on the second-floor balcony of the Lorraine Motel in Memphis, Tennessee.
James Earl Ray
James Earl Ray was charged with King's murder and confessed on 10 March 1969, but then recanted three days later. He was sentenced to 99 years prison. Ray later claimed to have been talked into the guilty plea by his lawyer, in order to avoid the possibility of the electric chair. Members of the King family and friends, notably Dr William Pepper, made unsuccessful efforts to obtain a retrial for Ray. Pepper actually represented Ray in a mock trial on television.
Ray died in prison on 23 April 1998, at seventy years of age. He had his ashes buried in Ireland because he did not wish to be buried in the United States because of the injustice he had suffered.
In response to gathering murmurs of dissent, Gerard Posner wrote Case Closed in 1998, where he claimed to conclusively lay controversy to rest, arguing that James Earl Ray did indeed murder Martin Luther King
Trial finds Loyd Jowers participated in US State conspiracy to assassinate King
In 1999, however, a civil trial jury found that Loyd Jowers, owner of the premises in which Martin Luther King was slain, was guilty of participating in a conspiracy with the US state to murder King. The Complete Transcript may be accessed here (erroneous link removed 20 Oct 11 - admin). The jury's finding was conclusive and exonerated James Earl Ray:
Trial findings
"On the evening of April 4 1968, Martin Luther King was in Memphis supporting a worker's strike. By the end of the day, top-level army snipers were in position to knock him out if ordered. Two military officers were in place on the roof of a fire station near the Lorraine Motel, to photograph the events. Two black firemen had been ordered not to report to duty that day and a black Memphis Police Department detective on surveillance duty in the fire station was physically removed from his post and taken home. Dr. King's room at the motel was changed from a secluded ground-floor room to number 306 on the balcony. Loyd Jowers, owner of Jim's Grill which backed to the motel from the other side of the street, had already received $100,000 in cash for his agreement to participate in the assassination. He was to go out into the brush area behind the grill with the shooter and take possession of the gun immediately after the fatal shot was fired. When the dust settled, King had been hit, and a clean-up procedure was immediately set in motion. James Earl Ray was effectively framed, the snipers dispersed, any witnesses who could not be controlled were killed, and the crime scene was destroyed." (cited at http://911blogger.com/node/22402#comment-225954)
The King family has since concluded that Ray did not have anything to do with the murder of Martin Luther King. You can read a transcript of their press conference to that effect, summing up the outcome of the trial.
Writer, Jim Douglas, one of few members of the public who actually attended the trial was amazed at how little coverage it received. He commented that
Public and press hypnotised by official story ignore trial
This historic trial was so ignored by the media that, apart from the courtroom participants, I was the only person who attended it from beginning to end. What I experienced in that courtroom ranged from inspiration at the courage of the Kings, their lawyer-investigator William F. Pepper, and the witnesses, to amazement at the government's carefully interwoven plot to kill Dr. King. The seriousness with which US intelligence agencies planned the murder of Martin Luther King, Jr. speaks eloquently of the threat Kingian nonviolence represented to the powers that be in the spring of 1968.
An interesting article about both Killing the Dream and Case Closed is "He's Baaack! - The Return of Gerald Posner" by Jim DiEugenio at http://www.ctka.net/pr798-posner.html
It may also be of interest readers of http://candobetter.org site to know that our article about King's attitude to family planning is among our most visited ever. King was certainly a popular man with a transforming vision which has retained enormous power to inspire.
This little article has been written using notes from candobetter editor and writer, James Sinnamon, plus the articles linked to above, but I am also grateful to wikipedia for two articles and photos on their sites about Loyd Jowers and James Earl Ray.