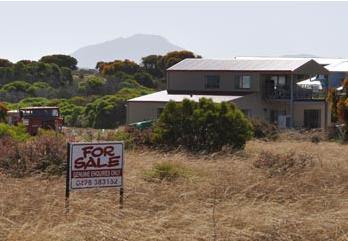 The so-called 'skills shortage' in Australia is mere industry propaganda to avoid training costs. This is despite Australia have an advanced industralised base and a deep capacity as an education training nation and indeed exporter of education! Industry argues that it doesn't spend on training because their trained staff leave - what an excuse!
Yes, government and industry bleat unsubstantiated a 'skills shortage' so they can bring more and more immigrants for selfish short term economic ends while avoid financial cost of education and training locally and moral obligations to do so.
Mining companies are the worst. Their international ring-in approach sourcing foreign contractors suits mining companies to a tee - no give and all take!
Remember BHP Billiton's immoral abandonment of Ravensthorpe in WA in January 2009?
[Read More]
BHP had promised the Ravensthorpe community that it was to be there for the long haul so workers came and small businesses invested, only to see BHP Billiton suddenly close its nickel mine near Ravensthorpe, move out and leave about 1450 locals out of work and up to 5000 dependent people devasted.
Mineral commodity prices are fickle, but mining companies don't care about human resource planning and training. They know to just run to Australian politcians and cry we can create jobs so give us trained workers. So another round of flood gate immigration rolls to stay long after the work has gone.
Now two years on and mining companies are again crying 'skills shortages'.
[Read More].
But did they invest in skills training of the pervious workforce. Don't be silly, training cost seat into profits and dividends and Marios Klopers' bonuses.
Contracting is rife in many industries where employers treat workers like disposable razors. Desperate workers from developing countries will do almost anything. It is a dumbing down of Australian standards. It has encouraged 'flood gate migration' and the Laborals have no population vision.
---
Read More about what BHP did by abandonning Ravensthorpe and Hopetoun...
#FFF380;">
'Anger rising over Ravensthorpe as BHP departs'
by Andrea Hayward, AAP 4th February 2009.
'FADING DREAMS: A home stands waiting for buyers at Hopetoun.
TWO weeks after BHP Billiton announced it would close its Ravensthorpe nickel mine, shock has turned to despair and anger. Despite their stoicism and resolve to make the best of a bad situation, the residents of Hopetoun and Ravensthorpe face a grim reality. Some business owners face financial ruin, many will go bankrupt and those left behind could end up living in a ghost town.
Houses purchased at peak prices as lucrative investments will be worth little and the rental market will be virtually non-existent.
The shire's population which doubled with the mine's operation will halve. Many low-income earners were driven away as rents and property prices trebled.
Most of the BHP workers who moved to the idyllic seaside haven of Hopetoun will have left by the end of the month and the number of students at the new school is expected to drop from 195 to 50.
Rumours the mine would close had circulated for months. But in every small town there are rumours about something or someone and it seemed it was business as usual for BHP.
Local businesses were being encouraged and supported to set up shop and workers were continuing to arrive with their families to live in Hopetoun just days before the mine closure was announced.
Family upheaval
Darren Swain, a site manager for maintenance and project services company Ativo, moved from Roxby Downs in South Australia to Hopetoun on December 21 with his wife and five children. He will have to again uproot his family, along with 80 Ativo employees who are now jobless.
Mr Swain said the decision to close the mine shocked everyone.
"The rumours, you just sort of dispel them the best you can because that was part of my job, to keep everyone focused on what they were doing,'' he said.
"We expected maybe cutbacks but not closure of the plant.''
On the day of the announcement, workers and contractors were told to attend safety meetings - what came next was a bolt out of the blue.
"They segregated the BHP workers from the contractors and put us up in the wet mess on the site on the 21st and said we're going to have a stop for a safety meeting and then... someone got up and read out to everyone the ASX press release and mentioned that we would all be demobilised that day,'' Mr Swain said.
No one was more shocked than the workers who arrived just days before, from as far away as South Africa, to live in Hopetoun and work at the mine.
Never the same
Life will go on for the BHP workers - the company is redeploying them to work at other mine sites and have reportedly given them packages of up to $70,000 for their troubles.
But for those who lived in the two towns before BHP, life will never be the same.
While Ravensthorpe was put on the map when gold and copper were discovered in the late 1800s, the backbone of the town has been agriculture.
Mines have opened and closed over the years but agriculture has remained the backbone of the community.
It will continue to be but the shire has been left to deal with the prospect of 250 empty houses in Hopetoun, which has been transformed from a sleepy holiday destination into a mining community with no miners.
Both Hopetoun and Ravensthorpe have been left with a scar that will never heal, shire president Brenda Tilbrook said.
"They talk about zero harm on their minesite, I would like to see them talk about zero harm to our community,'' Ms Tilbrook said.
Already someone has told her they have thought of committing suicide and the worst is to come as people struggle to keep the banks at bay.
Ms Tilbrook is convinced the mine will never reopen. In fact, she went as far to say she would bet her first born child on it.
BHP said the decision to close the mine was the result of diminished prospects for profitability.
A bleak outlook for the nickel market and the capital expenditure required to meet projected production volumes at Ravensthorpe were behind the decision, BHP said in a statement to the ASX.
Little comfort
BHP recognised the concerns of the local community and would honour any agreements made and keep the community updated, stainless steel materials president Jimmy Wilson said.
It is of little comfort for local farmer Brad Clarke who has set up the Stuffed Cocky cafe in Ravensthorpe.
Mr Clarke and his wife Lisa are yet to officially open the cafe but will push ahead with their plans because they have already invested in setting the business up and have no prospect of selling it.
BHP's refusal to speak to small business owners like the Clarkes has been a source of frustration.
Mr Clarke said.
"There's been very little information to allow us to know if the mine is a dead duck and it's never going to reopen or it's just gone into care and maintenance...''
It's a David vs Goliath type situation.
"The way they do business is not the way people here do business. I mean, we are up front, open with people and you tell people when you have an issue, you explain it to them and you hope they'll understand,'' Mr Clarke said.
"BHP as a multi-national company or as a huge corporate entity don't operate that way.
"I just don't think BHP takes any notice of the effects on people - collateral damage if you like.
"I don't think anyone realised that on enter this community. I'd like to see them put as much money into a suitable exit strategy.
"I don't feel that's happening.''
BHP spokesman Peter Ogden said the company was liaising with community leaders and the shire.
The company's focus remained on redeploying its workforce and buying back houses it helped them buy.
``In addition, we have undertaken one-on-one discussions with a number of local businesses to understand the impact of the announcement on them,'' Mr Ogden said.
No second chance
Yesterday, BHP announced a half year profit of more than $4 billion.
CEO Marius Kloppers said the Ravensthorpe mine was not ``the finest investment decision the company had made'' and said it was unlikely to reopen.
As locals rally together and regroup, attention has been drawn to putting a $100 million road through the world famous Fitzgerald River National Park.
But that's a long-term prospect and it's too far away to keep businesses going.
It also risks splitting the community, with some opposed to exploiting the UNESCO listed biosphere.
WA Regional Development Minister Brendon Grylls is applying pressure on BHP to fly its workers in and out of Hopetoun to other mine sites so they can stay in their homes.
But Ms Tilbrook isn't convinced it will solve many problems.
"There may be a small percentage of people who may be willing to do that, but it will not be a large, significant amount of people,'' Ms Tilbrook said.
"They came here so their husbands didn't have to fly in and fly out, and most will go back to where their support systems are.''
The greatest tragedy is all eyes were on Hopetoun.
"This was a template for the rest of Australia on how to grow a community, a residential community, how to bring in a residential workforce for a mine and it was working,'' Ms Tilbrook said.
And, perhaps the biggest question that remains is how did the world's biggest miner and Australia's biggest company sink more than $2 billion into a mine that was flawed?
The author is a shareholder in BHP Billiton.'
---
I think mining companies are more contemptible than the banks. Why should anyone listen to their pleas to avoid a super mining tax?
Related comment: 'The List' determines their 'course'