Two 19 year old men recently appeared in court charged with animal cruelty, this is the story that appeared in the Albany and Great Southern Weekender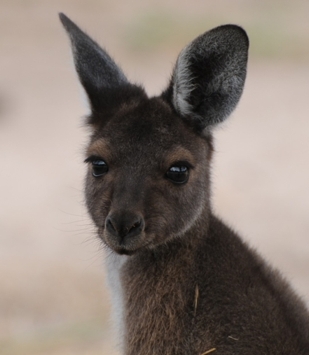 TWO 19-year-olds appeared in the Albany Magistrates Court on Tuesday for allegedly striking a kangaroo and then dragging it behind their car.
Jeremy Robert Lutley (19) from Kalgan appeared on reckless driving, ill treatment of animals and drink-driving charges.
Grayson Delury (19) from Albany also appeared before the court on the ill-treatment of animals.
Police prosector Sergeant Ron Watkins said police were still waiting on paperwork relating to the charges.
Sgt Watkins said it was unusual police had charged the two men because the RSPCA often deal with these types of charges.
He said the cruelty charges might be dropped if the animal was found to be dead before it was tied behind the car.
Magistrate Elizabeth Hamilton adjourned the case until May 18 for hearing.
Of course this sort of thing is nothing new. Usually however the offenders are not caught and all we are left with is a dead kangaroo with a rope tied around its tail as was the case in Gidgegannup, WA last year. Another exception to the rule was in 2006 when 2 police officers, a ranger and a security guard in Perth were charged with animal cruelty. In this case a kangaroo that had escaped from a golf course was dragged behind a rangers vehicle for 250m while a security guard and policeman walked alongside. The case against these individuals was dropped as the DPP accepted they had not intended to injure the kangaroo.
2009 incidences involving kangaroo cruelty in Western Australia alone include:
A beheaded kangaroo found in Ellenbrook
A kangaroo found hanged in Manjimup
In Mandurah a kangaroo was found with its front paws cut off along with another that had been cut in half
In Byford a female kangaroo was euthanised after being shot with a crossbow leaving behind an orphaned in-pouch joey
5 kangaroos were shot with either a crossbow or a bow in the Mandurah area over a one month period
An orphaned joey was attacked with a whipper snipper in Preston Beach, the same area where a proposed cull of 100 individuals is due to take place this year on a golf course
2 Dawesville men who struck a kangaroo with their car later returned to behead and gut the injured animal. 18 year old Shannon Christopher Conway was fined $3000 for his involvement yet 20 year old Thomas Forward had his charges dismissed and was awarded $5000 in costs. In this case the body of the kangaroo went missing and the prosecution was unable to prove the kangaroo was still alive when the men mutilated the animal