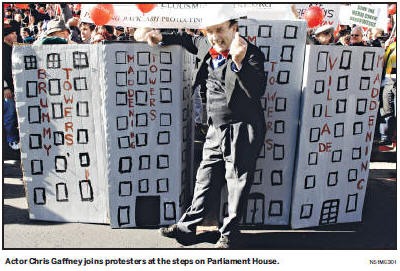 "Dave the Developer" at the Restore Residents' Rights protest rally, June 10, Photo: Progress Leader


Development Assessment Committees' Legislation Stopped In Upper House
Ed. The following story is adapted from the MRRA Macedon Ranges' Residents Association site: It describes a really important battle in the ongoing war for democracy in Victoria which will probably be reported on in other articles at candobetter.
Where to from here?
'Where to from here' depends on whether government finds a way around needing parliament's consent to change the law
The day after the "Restore Residents Rights" rally at parliament house on June 10, which was attended by 600 [1] people, Victoria's upper house rejected changes to the Planning and Environment Act that would have introduced Development Assessment Committees [DACs] to the State.