After years of residents battling to preserve Frankston Reservoir as a safe habitat for indigenous flora and fauna by preventing it being used for boating, biking etc, instead keeping it for passive enjoyment of nature, the latest Frankston ALP member has clawed it back under the management of the discredited Parks Victoria.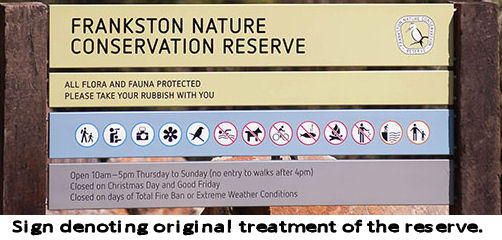 The Andrews Labor Government recently decided to not renew a community Committee of Management as managers of the Frankston Nature Conservation Reserve for a further
period at the expiration of its term last March. Wildlife experts, hydrologists, conservation management specialists, friends' groups and community members are shocked and outraged by this decision.
The volunteer community Committee of Management are all local residents of Frankston who are highly qualified with expertise in diverse professional fields. They have given endless hours of their time, at no cost to ratepayers and, with the support of local community groups and organisations, have been highly successful and prudent in managing all operations.
Detailed and approved management plans, policies and programs for the wellbeing of the Reserve for generations to come have been put in place.
Thanks to the voluntary efforts of the Committee and over 300 Friends, the Reserve has been opened to the public for the first time in 100 years for recreational enjoyment and activities that complement the serious conservation work of safeguarding and enhancing Frankston's extremely depleted native fauna and flora.
More than 7000 enthusiastic visitors to the Reserve in the past four years can testify to the highly successful management practices and outcomes.
Local jobs are lost.
Local investment is lost.
Our community loses.
Our Member of Parliament, Paul Edbrooke, has turned his back on the Frankston community. The Reserve is now set to cost the taxpayer many millions of dollars in operational costs under management by a government body. A great outcome?
Source: Press Release sent on May 5, 2017 from Frankston Nature Conservation Reserve Committee of Management Inc.