Randy possums? breeding like rabbits? $160,000 of rate payers money for intrusive experimental possum birth control?" Maryland Wilson of the Australian Wildlife Protection Council also praises the Yarra City Council for enlightened aspects of its wildlife and possum program, but she suggest that their imaginative program could be order of magnitude more imaginative and lead a scaling up to connect with other councils. The Australian Wildlife Protection Council is the oldest organisation that specifically protects Australian wildlife and promotes wildlife corridors at local, state and national level. Maryland Wilson is a physically diminutive woman who punches far above her weight for wildlife. She works seven days a week entirely voluntarily, and has campaigns on behalf of Australian wildlife that reach to the United States and the European Union. Part of her great strength is the support she gives to wildlife carers round Australia. She never loses sight of the animals or the activists.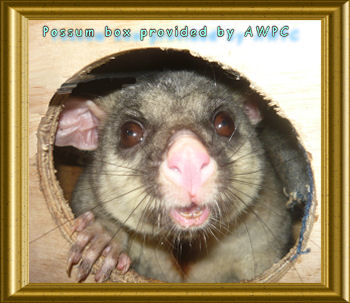 Yarra Council's Urban Wildlife Management is good but could be even better...
Maryland Wilson, President of The Australian Wildlife Protection Council acknowledges that Yarra City Council has a great Wildlife Policy entitled "The Yarra Urban Wildlife Management Plan 2009." She says, "We thank you, but ..."
1. Yarra Council needs to introduce Australia's fodder trees-
These trees provide good possum food:
Among the Eucalyptus-

Peppermint gums
River Red Gums
Spotted Gums
Manna Gums
Stringybark
Forest Red Gums
Mountain Ash
Lemon-scented Gums
Red Flowering Gums-

These are all suitable hardy and good for possums with tannin/oil in their leaves
Amongst the Melaleucas-

Swamp Paper Bark
Willow Myrtle
Lilypilli
Gravillea
Amongst the Acacias

Silver Wattle
Black Wattle
Blackwood Wattle
Flinders Range Wattle
These trees provide not only leaves, but flowers for diverse insects, seeds for birds and are good for possums
The above provide such a diversity of native trees that are attractive and provide native fauna with food, shelter and they also provide shade for Visitors to the Park.
It would be ideal to introduce these as semi-mature trees rather than seedlings
2. Continuous Urban Canopies-
What is more important, is to generate interconnecting canopies that link up to Nature Strips beyond Curtin Square (the Park) providing moisture at ground level that keep grass green-
All we are saying is give possums a chance
This would give possums a chance to move outside the Park to link up to Nature Strips- allowing them to move out and create far less dense populations within Curtain Square-
Trees can create canopies and wildlife corridors, giving possum's safe exit from the Park.
3. Interpretive Signs need to be Introduced
Interpretive signs need to be erected in Curtain Square which encourages the public to value native wildlife- Signs need to educate that:
• Possums are Protected Wildlife
• Teach children to value them and engage with them
• In Council's interests, will change attitudes and reduce complaints
Council should stop, halt, and cease exaggerated claims that possums are killing the trees.
Possums have lived with the trees for almost a Century – it is nonsense to scapegoat them
AWPC will disagree absolutely with culling and fertility control of native species as both are inhumane intrusions and doomed to fail. Any diminished populations will be overtaken by fertile territorial possums from surrounding areas.
Fertility Control is an experimental trial whose long term health effects on possums is unknown.
Thank you for this opportunity to help find humane and exciting ways to protect the possums, all our native birds and insects and all of Nature those remains-
Please keep in mind that Australia has the highest rate of extinctions in the world.
This plan to plant native trees will help reduce Pollution and Climate Change, provide food and shelter for our native birds and animals, and create peace in Curtain Square.
Notes
[1] This article is based on suggestions by Maryland Wilson, President of the Australian Wildlife Protection Council, addressed to Councillor Sam Gaylard of Yarra City Council on September 5, 2011.