| | | |
| --- | --- | --- |
| | Australia is in a bad place. Our unemployment rate and our cost of living are rising. Youth unemployment is over 20%, the highest since we began recording such statistics. Candobetter.net Editor: Australian law makes general strikes impossible. This is probably the next best thing. (CFMEU) Take a sign about what bugs you. | |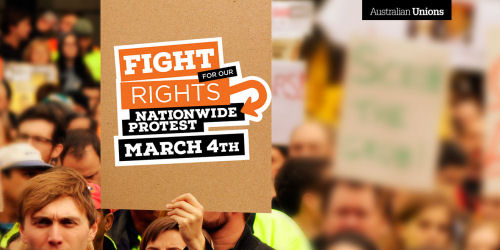 Tony Abbott is wilfully destroying our jobs, our families and our communities through his policies on 457s and his free trade deals. He is letting the big end of town get away with dodging taxes and he's destroying our living standards by increasing the pension age, cutting superannuation, slashing Medicare, and cutting wages, conditions and our rights at work.
But on the 4th of March we'll be raising our voices as one. Throughout the country we'll be fighting for our rights as part of a National Day of Action. And regardless of the Murdoch media, we will be heard.
Can you join us on the 4th of March and stand up against Tony Abbott's attacks?
We want everyone who goes to take a picture of themselves at their rally and tag it #SolidaritySelfie. It doesn't matter if it's on Twitter or on Facebook, we want to see social media light up with thousands of pictures of Australians rallying against attacks on our rights and conditions. And if you can't attend a rally we want you to take a photo of yourself wherever you are, tag it #SolidaritySelfie and show that you're with us.
#333333">There are events being held in 14 different locations around Australia. Even Tennant Creek in the Northern Territory is holding a rally. This National Day of Action could be the biggest show of strength against Abbott's agenda, but we need your help.
#333333">Find out where the locations of the rallies around Australia are and come along.
#333333">Together, we can win this fight and get Australia back on track.
#333333">In unity
#333333">Michael O'Connor
CFMEU National Secretary
#333333">P.S. Have you seen the Victoria Trades Hall Council commercial they're showing on TV yet? Watch it here or below.
Our rights at work are again under attack from Abbott's Coalition Government and big business.
We aren't going to stand by while they destroy our living standards.
The time to stand up and fight back is now.
Regardless of the Murdoch media, this time we will be heard. We want everyone who goes to take a picture of themselves at their rally and tag it #SolidaritySelfie.
Here are the locations and times that rallies will be held around the country - we'll be updating them as more are confirmed.
Adelaide - 12:00pm - Light Square, Currie Street, Adelaide
Brisbane - 12:00pm - Parliament House, George Street, Brisbane
Canberra - 12:15pm - New Parliament House, Parliament Drive, Canberra
Darwin - 4:30pm - Bennett Park, Darwin
Gold Coast - 1:00pm - Pratten Park, Old Burleigh Road, Broadbeach
Hobart - 12:30pm - Franklin Square, Hobart
Launceston - 8:00am - Prince's Square, Launceston
Mackay - 4:30pm - 2/21 Milton Street, Mackay
Melbourne - 10:00am - Victorian Trades Hall, Cnr Victoria & Lygon Streets, Carlton
Newcastle - 10:00am - Newcastle Town Hall
Perth - 12:30pm - Parliament House, Harvest Terrace, West Perth
Sydney - 12:30pm - Parliament House, Macquarie Street, Sydney
Tennant Creek - 4:30pm - Peko Park, Tennant Creek
Townsville - 4:30pm - 340 Ross River Road, Cranbrook
Block Wednesday 4 March in your diary and start encouraging your friends, family and co-workers to join us. Because the bigger the crowd, the stronger the message we send.
We can't stand by while the Abbott Government destroys our living standards by:
cutting wages, conditions and our rights at work,        
slashing Medicare and hiking up the cost to see a doctor,
introducing $100,000 university degrees,
cutting the ABC and our public services,
cutting the pension and superannuation,
implementing harsh changes to unemployment benefits, and
cutting community services that support our most vulnerable.
Times and location will be confirmed in coming days, but you can register your interest in attending and we will send you updates.