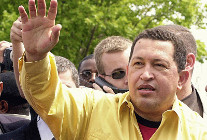 Hugo Chavez:A true and passionate Latin American leader.
Latin America was always material for big movies and great stories of literature of South America. It's always been the cradle for big revolutionary leaders such as Pancho Villa, Emiliano Zapata, Salvadore Allende, Fidel Castro and Che Guevarra. Always unsuccessful but their work rarely finishes because The United States of America always interferes. Chavez was inspired by all these leaders. (11 March, 2013 Two Venezuelan diplomats were deported from USA).
Early influences
Hugo Chavez was born in 28th July, 1954 in a small town forgotten and remote. This town had no electricity. His great grandfather was a Commander in the army, Pedro Peres Delgado.
He considered himself blessed as this was Peru's Independence Day, and he felt something of his importance as a child. He was excited to visit a relative in the next town, and was amazed by their generator. His childhood was poor, and his mother and father were primary teachers.
In the family book collection he found a book of the Liberators, and he began to be a reader of the Latin American leaders like Simon Bolivar. He read about Neruda, a celebrity Chilean writer. All the books he remembered in his head, and the American writer and Nobel Prize winner Walt Whitman.
Walt Whitman (1819 - 1892) was an American poet, journalist, and essayist. The work for which he is best known is "Leaves of Grass," which has been controversial and banned. He has been called the greatest American poet of his time.
The story starts in Venezuela was the when Juan Vicente Gomez was a dictator for 36 years, but he influenced Chavez because his image was distorted by the influence of the rich people, and USA. Chavez admired him as a great man, even though he never met him. He liked to listen to the old farmers and the old people.
Chavez sold sweets and fruit in the street to help the family budget. He was incensed by the poverty of the people.
The Church was a big influence, and he was a popular alter boy. He played with the bells. Everyone recognised his cheeky calling of the bells. His mother influenced too by his her morality. He wanted to be a baseball champion, but he saw many injustices and the abuse of the working class people.
He was a cadet in the military army to be a baseball player, and he was sent to study in Peru in 1974. He was young and enthusiastic and learnt to play soccer. He met the President of Peru, Juan Velasco Alvarado. The social change gave opportunity for the workers in Peru, but America didn't like this progress and he died mysteriously! (A military secret).
Patriotic fervor
He then saw the corruption of "democracy" and American corporations and the minority of white people and discrimination and lack of equal opportunity. He wanted to secretly get people to love Venezuela through the through the Bolivar Alliance for the Americas.
He had a strong admiration for Fidel Castro and for Che Guevarra. The more important thing that he was a commander in the army and had a comfortable life and elite status. He could have been selfish and closed the eyes. He studied a lot, and he was intelligent, astute, cunning, athletic and young. He was passionate for the love of his country.
When Allende of Chile died, he asked if he was elected then why did the army kill him?
Carlos Andrez Perez was a corrupt president of Venezuela and the revolution to remove him failed. Chavez was two years in prison, along with his friends and his political party. CARACAZO was the name of the day of rebellion. He served two years (out of 10 year sentence) because the next president released him.
Campaign against corruption
All the mining companies and corporations brought their own workers and this make him so angry. Everyone knows the skills of the American government. If you a re good leader in South America, they distort your name and defame the good quality thinking of the leaders. America always looks for leaders that cave into them and allow the corruption to enter. They sell the tools and arms to the terrorists, and Chavez discovered this. He had a vision of the dream of Bolivar, and he was NOT a good manager of money. That was his defect. His strength was intrinsic, and his passion. He discovered many traitors in his own group,his political party! Chavez was not the perfect leader. He worked from 7am to 1 am in the morning, and he used to drink 30 cups of coffee per day – addicted. He suffered a lot of stress. He travelled a lot.
He provided free hospitals for the poor people, and health care cover, free schools, free food for the kids, public housing for the poor, and he had many envious enemies. He taught ethics and morals. He taught compulsory patriotism and values that the country never had before. People were used to seeing corruption. He taught by good example. He nationalised the petrol. Venezuela has 300 years of petrol. This is not for sale. He knew the petrol would not last.
He was hated by foreign investors and the very rich exploitative people who used to pay low wages, not enough to survive. This was part of the revolution, looking for social justice. He wanted to wake up and remind the people of the vision of Simon Bolivar. The universities wanted to air-brush the memory of Simon Bolivar, and his vision of a unified South America – the Gran Colombia (the original name of South America). America Vespucio was writer who was a drafted of maps and put the name "America".
Chavez couldn't control the mafia, the terrorists, the drug and weapon traffickers. There was so many stresses trying to control the borders, the schools and the task of unifying South America. He taught not to steal, but the generational fault was to continue to be criminals with the "DNA" of the conquistadors! The generational wrongs was in the blood. They enjoyed the crimes. He was a Christian and tried to change the people.
Chavez's legacy
The future generations will remember him. There was a 7 day procession after he died. America didn't let him finish what he started.
In Australia the principle is of open house for foreigners. In Venezuela the nationality is not for sale. Anyone can be "Australian", but in Venezuela the jobs are for their own people.
He had the skill of keeping secret the country's reserves of petrol. He was Latin America, and passionate.
He had a great gift of speech. He said things as they were. Diplomacy was not his skill, and he didn't follow protocol. He was not scared to speak the truth. He would swear in front of the cameras to protect the poor people.
Chavez was a friend of Gadaffi and he knew America wanted to take the petrol of Venezuela. He gave an award to Gadaffi for the petrol business, and he protected Palestine.
Many people thought he was crazy and eccentric. If you are opposite America they make a scandal for you. He was not a good manager and there was corruption in his own party. However, he was NOT a dictator but was elected 4 times -with big margins. He unified all Latin America and created a fraternity. He gave money to Bolivia and Peru and Haiti for petrol and medicine and professional assistance. His vision was for all South America to be one Bolivariano country. American wanted them separate and dis empowered. The United States accused him of theft, but it's not true.
Writer Mario Vagas Llosa wrote an article about the death of the Chavez, and he criticized his poor manager. He was a big "Caudillo" (leader) but poor financial manager. Garcia Marquez wrote an article "Sun of your bravery" regarding Chavez -the "Two Chavez" in one. He wasn't as despotic as claimed by The United States of America. He was a typical happy "Creole" (Criollo).
Why did millions of people go to the funeral? If he wasn't a good leader, why would world leaders to to the funeral? President Obama didn't go. USA ("the Empire") wants elections now, but it is not their country!
Now he's dead, there's a plan to mummify his body and be on public display, like a freak show! He created a museum for the revolution, but would not expect to be an exhibit.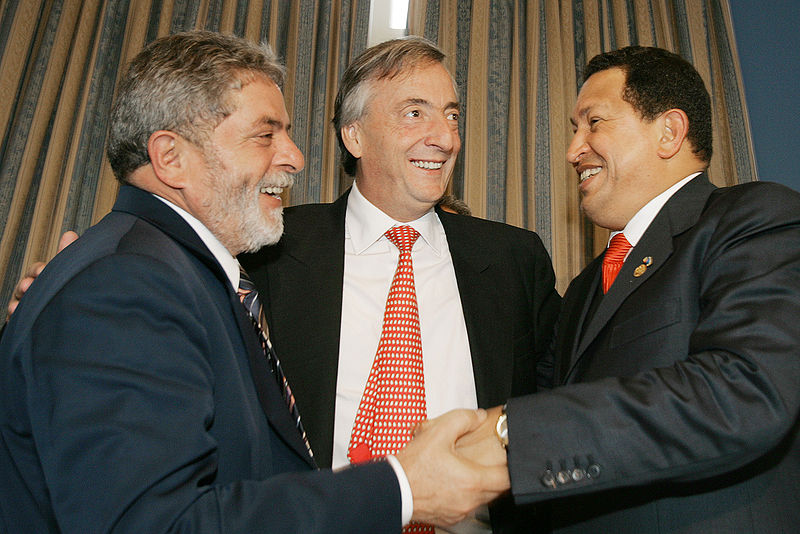 Photo: Three countries united, part of the Cono ( Cradle) Sur:
Three socialist leaders of the ConoSur (South Corner): Presidente Lula e os presidentes da Brazil, the late Néstor Kirchner, e da Venezuela, Hugo Chávez, durante reunião tripartite .