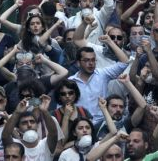 Report of 2 Jun 2013 is republished from PressTV. Like Melbourne's Royal Park, Taksim Square is one of Istanbul's few remaining public spaces. It is also threatened with destruction to suit the selfish needs of developers who wish to erect high-rise residential towers. See also: OccupyGezi! OWS activists stage pro-Turkish rally in New York of 1 June in Russia Today, OWS activists in US rally in solidarity with Turkish protesters of 1 June in PressTV.
Thousands of anti-government protesters have reoccupied Istanbul's iconic Taksim Square despite heavy-handed police crackdown.
Thousands of people returned to Taksim Square on Sunday following two days of violent demonstrations that saw almost 1,000 people arrested.
They chanted anti-government slogans and called on Prime Minister Recep Tayyip Erdogan to resign.
"We will stay until the end. We are not leaving. The only answer now is for this government to fall. We are tired of this oppressive government constantly putting pressure on us," one protester, Akin, told Reuters.

There have been no reports of clashes between protesters and security forces.

Istanbul has been the scene of anti-government protests since Friday after security forces attacked a peaceful four-day sit-in by environmental activists against the demolition of Gezi Park at Taksim Square.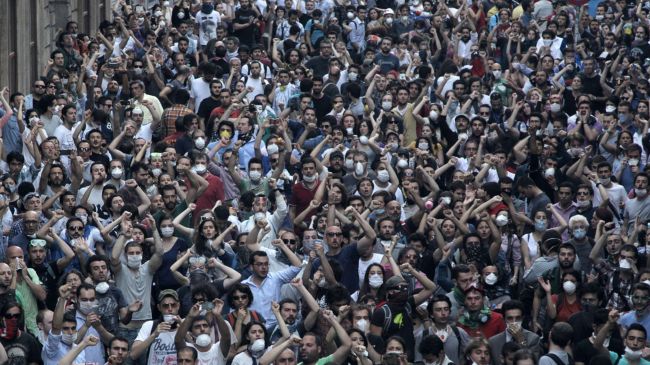 The tough police response to park protesters has sparked mass anti-government demonstrations in Istanbul and nearly 50 other cities, including the capital Ankara, Izmir, Mugla and Antalya. The protesters condemned the Turkish government as a "fascist government" and called Erdogan a new "Sultan."

Amnesty International has described the police use of excessive force against the demonstrators as disgraceful.

The group noted that at least two people have been killed and more than a thousand others injured in Istanbul alone. It also said some protesters have been left blinded by the massive quantities of tear gas used by the police.

Turkish prime minister on Saturday admitted that "there have been some mistakes, extremism in police response."

Protesters had occupied Gezi Park since May 28 to prevent bulldozers from uprooting the trees and demolishing the park in order to replace it with a shopping mall.

The protesters say Gezi Park, which is a traditional gathering point for rallies and protests as well as a popular tourist destination, is the city's last public green space.