Flyers will be handed out at various public transport venues tomorrow. It is suggested that you use their template to write to your local member and State ministers. They are protesting the Inner Melbourne Toll Road proposition and the neglect of public transport.
To download a pdf file of the "Fix Public Transport Now" document, click on it.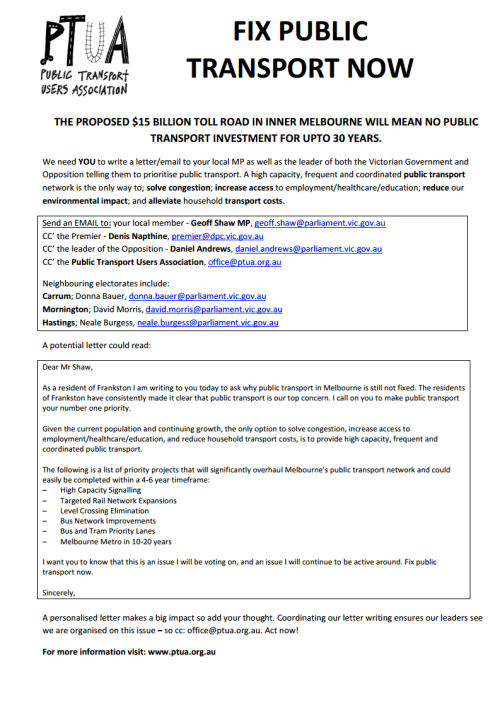 PTUA Public Transport Community Forum, Newport, Thurs 8 August
Community Forum:
The 2013 Federal Election and Public
Transport in Melbourne's West
Thursday 8 th August 6.30pm doors open 6pm, food and drinks available from the bar
Newport Bowls Club, 4 Market St Newport
The Public Transport Users Association is hosting a community forum looking at public transport issues in Melbourne's Western Suburbs. With a federal election imminent, residents are concerned about how transport policy will impact on access to jobs, education and services, as well as household transport stress.
This community forum is an opportunity to hear from transport planning experts alongside local Members of Parliament, Councillors and federal candidates. Come along and ask your questions and learn what they plan to
do to solve public transport in Melbourne.
Guest Speakers will Include:
Dr Sophie Sturrup, University of Melbourne
Janet Rice, Greens Lead Senate Candidate
Tim Watts, ALP Candidate for Gellibrand
Lisel Thomas, Maribyrnong Truck Action Group
Any questions please contact
Cait Jones: 0412 549 589